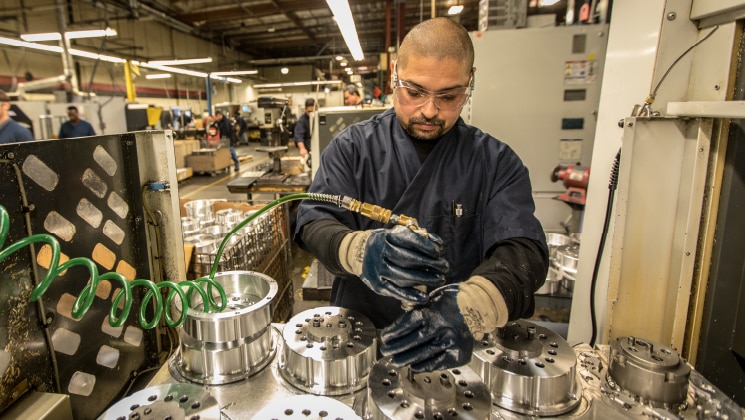 Guarding against manufacturing risk
In the specialized world of manufacturing, customization is key. Every operation — from metals to plastics, wood, and masonry – contends with unique challenges.
We respond to those challenges with tailored solutions.  Uncertain about supply chain disruption? Count on us. Shifting to advanced industrial technologies? We're prepared for that, too. For more than a century, a broad spectrum of manufacturing businesses has relied on us to help protect their employees, equipment, products, facilities, and customers.
A protective partnership
Solutions for complex risks
It takes a deeply experienced insurer to understand the similarities – as well as the nuanced differences – among manufacturers, their products, and the risks inherent to their current and emerging operations.
Our underwriting professionals specialize in all-lines solutions across core, specialty, and surety lines that help manage today's manufacturing risks – and tomorrow's. Coverage options include:
Commercial auto
Cyber liability
Directors and officers
Environmental
Equipment breakdown
General liability, including manufacturers errors and omissions and product recall expense
Property, including business interruption
Trade credit
Umbrella and excess liability
War and terrorism
Workers compensation
Commercial surety bonds
In addition, we offer protection for global exposures, from sales samples to foreign property, in a single package policy.
With flexible program options including guaranteed cost, large deductible, retrospective, aggregate stop loss, or captive, our underwriters are prepared to design solutions that meet manufacturers' needs.
And every solution is backed by our financial strength and stability as a Fortune 100 company.
Whether our customers want to transition to connected technologies, reduce the risk of product recalls, or diversify their supply chains, our underwriting, risk control, service, and claims teams work in lockstep to help keep complex manufacturing operations moving ahead.
Understanding the interconnection between manufacturers, their suppliers, and vendors, we dig deep into the challenges facing the industry to help identify and respond to key risks like:
Manual material handling and machine-work injuries
Expenses related to product safety and recalls
Chemical exposures and site pollution
Supply chain disruptions
Our teams take a consultative approach to develop practical, holistic risk mitigation strategies specific to the manufacturing industry.
Whether we're helping a customer onboard smoothly, implement automated processes, launch direct-to-customer fulfillment, or get back on track after a product recall, our teams see every interaction as an opportunity to exceed expectations.
With our manufacturing offering, customers can benefit from:
A complex liability claims team that efficiently manages product liability, data breach, and errors and omissions issues
Dedicated claims teams for environmental, directors & officers, surety, and workers compensation that are empowered to help deliver positive outcomes
Sample testing through our industrial hygiene lab
A secure portal for account management and to report casualty claims via our risk-management information system
Safety and risk mitigation guidance and materials available online and by phone
Look to us for flexible insurance programs, proactive service, and high-quality claims experiences to help lower total cost of risk.
Get in touch
Our commercial and specialty insurance products and services are distributed through brokers and agents. If you are interested in our solutions for your business, please contact your agent or broker. If you are an agent or broker, please reach out to our team for more information.
This website is intended to be informational. Descriptions are provided only as a summary outline of the products and services available and are not intended to be comprehensive and do not constitute an offer to sell or a solicitation. The products and services described may not be available in all states or jurisdictions. See your policy, service contract, or program documentation for actual terms, conditions, and exclusions. Any inquiries regarding the subject matter set forth herein should be directed through licensed insurance professionals.
Coverage and insurance are provided and underwritten by Liberty Mutual Insurance Company or its affiliates or subsidiaries. When we offer insurance products, we will state clearly which insurer will underwrite the policy. Some policies may be placed with a surplus lines insurer. Surplus lines insurers generally do not participate in state guaranty funds and coverage may only be obtained through duly licensed surplus lines brokers.