3 MIN READ
Published 12/03/2020
Workplace productivity in a pandemic: maintaining a holistic approach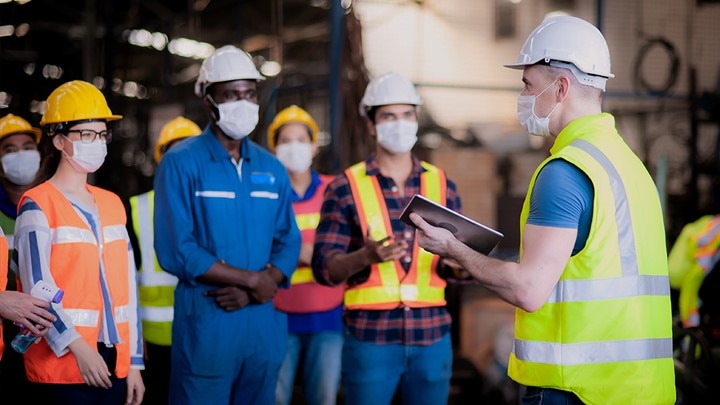 To help keep employees, customers, and other visitors healthy and safe during the continuing COVID-19 pandemic, businesses are focusing resources on cleaning, sanitation, and personal protective equipment (PPE) like never before. Case in point: several large businesses say they have spent anywhere from hundreds of thousands to almost a billion dollars to address COVID-19-related issues, to cover extra pay for employees, cleaning and sanitation, personal protection equipment (PPE), and more.
While these investments are critical to help reduce the virus's impact, a risk manager should not shift focus from other areas within the business operation that are known to be drivers of injuries, claims, and loss. Those drivers likely won't go away because of the pandemic.
A risk manager should not shift focus from other areas within the business operation that are known to be drivers of injuries, claims, and loss. Those drivers likely won't go away because of the pandemic.
The bottom line: Organizations are faced with many challenges in their efforts to safely get back to business while managing change and mitigating risks for their employees and customers. Here are four areas to consider as part of resource planning.
1. Reevaluating and resuming business operations
The COVID-19 pandemic has forced scores of businesses to pivot, often adapting processes rapidly. Many businesses are changing hours of operation, using property and vehicles differently, partially reopening locations, and making other adjustments – all of which may usher in different risks.
For example, to adhere with guidance from the Centers for Disease Control and Prevention or the Occupational Safety and Health Administration (OSHA), many companies may change workspace layouts to allow for social distancing, update scheduling to allow for cleaning in between shifts, and introduce new safety measures like physical barriers and sanitizing stations. Companies should review how these changes may affect how employees do their jobs and if they introduce safety risks that could lead to injuries.
Companies should also review their supply chains, understand how disruptions may affect operations, and identify what steps to take to address any issues. It's critical to verify availability of materials and vendor service capability – to confirm that renewed demands can be met with the same level of quality and reliability as before.
2. Making sure building systems and equipment work properly
When it comes to workplace safety and productivity, paying attention to systems and equipment is also important. In response to COVID-19, many businesses shut down and were unable to conduct routine maintenance. Before resuming operations, address any safety issues related to restarting equipment like machinery, HVAC systems, and boilers.
Confirm with qualified operators or vendors what, if any, maintenance has been performed, if the necessary inspections and testing are complete, and when equipment can be restarted. Failing to take these steps could result in equipment and other property damage and injuries to staff or visitors. And once operations resume, follow manufacturers' maintenance instructions so equipment continues to work as it should.
3. Changing and monitoring access, transportation, and delivery
Controlling access by staggering shifts, limiting visitors, offering dedicated hours to those defined as high risk, and implementing one-way traffic patterns throughout a facility can help protect workers and visitors at offices, fulfillment centers, and delivery stations.
Identifying how employees travel for work is also important to help guide modifications to control exposures. Do personnel, for example, use carpools, company-owned fleet vans, or have assigned company cars?
Improving safety during transit may include reducing travel and limiting the number of employees allowed in vehicles at one time to help maintain social distance. Practicing contactless deliveries, avoiding sharing scanners and other handheld equipment, and managing interactions electronically are all ways to help reduce risks.
4. Reshaping company culture to emphasize support and safety
Major change, whether caused by a pandemic, reorganization, or other disruption may affect employees in different ways.
And to successfully adapt business operations and maintain productivity and employee morale, continuing to demonstrate a commitment to staff safety and well-being is a critical element. This commitment can be shown in a variety of ways, including offering more flexibility via working from home or shifting schedules; encouraging safety via implementing social distancing, training, PPE, and cleaning measures as part of daily procedures; and communicating frequently.
Taking these steps not only reinforce the message of safety, but they can also strengthen a company culture based in trust and support. Navigating uncertain times is never easy but showing respect for and protecting your workforce and ensuring business continuity are top priorities in any climate.
This website is general in nature, and is provided as a courtesy to you. Information is accurate to the best of Liberty Mutual's knowledge, but companies and individuals should not rely on it to prevent and mitigate all risks as an explanation of coverage or benefits under an insurance policy. Consult your professional advisor regarding your particular facts and circumstance. By citing external authorities or linking to other websites, Liberty Mutual is not endorsing them.