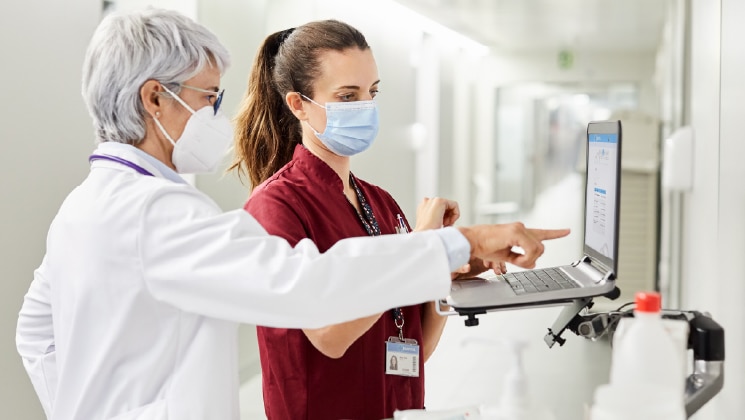 Managed care E&O and D&O liability
Comprehensive protection for managed care
Businesses in the managed care space, from HMOs and PPOs to disease management companies, are facing higher scrutiny than ever before. The business landscape is shifting, with treatment models, new regulations, economic volatility, and mergers and acquisitions all creating new exposures.
With so much at stake, having the right insurance coverage is critical to help protect your organization's finances and reputation in the event of lawsuits, whether they're alleging errors in care or oversights by directors, officers, or other leaders.
Our managed care liability solutions can offer errors and omissions (E&O) and directors and officers (D&O) liability protection to help safeguard managed care organizations against legal, financial, and reputational risk arising from the services that they provide.
A protective partnership
Our managed care E&O liability solutions can help protect organizations against a variety of allegations related to the quality of care they provide, from negligent provider selection to wrongful denial of treatment.
Key coverage highlights:
Primary and excess coverage
$10M capacity
Coverage available on a duty to defend or reimbursement basis
Offered stand-alone or with D&O coverage
Minimal exclusionary language
Broad definition of Managed Care Services
Worldwide coverage
 Additional coverage highlights:
Coverage for fines and penalties imposed under HIPAA and any other similar federal, state, or local privacy law or regulation
Vicarious liability for medical services as well as all managed care services and private information protection
Definition of insured includes spousal coverage
Punitive damages with most favorable venue wording
Our D&O liability solutions can help protect managed care organizations and their leaders against costly lawsuits related to issues such as:
Breach of fiduciary duty
Libel, slander, or defamation
Noncompliance with regulation or laws
Reporting errors or misrepresentation
Key coverage highlights:
Primary and excess coverage
$10M capacity
Offered with managed care E&O coverage
Coverage for regulatory claims including Medicare and Medicaid fraud and abuse claims
Broad definition of insured person includes leased and contracted employees, volunteers, and spousal/domestic partners
Broad definition of claim, including civil, criminal, governmental, regulatory, administrative, and arbitration proceedings
It takes more than teamwork to provide top-tier coverage and services; it takes specialized expertise – something we're proud to bring to every customer relationship.
Our knowledgeable underwriters have deep expertise in the healthcare sector and bring strong problem-solving capabilities and creative solutions to address the unique risks and conditions of each insured.  We can design programs for an array of managed care organizations, including:
Health maintenance organizations (HMOs)
Preferred provider organizations (PPOs)
Independent physician associations (IPAs)
Physician-hospital organizations (PHOs)
Accountable care organizations (ACOs)
Utilization review organizations (UROs)
Management services organizations (MSOs)
Third-party administrators (TPAs)
Peer review organizations (PROs)
Quality improvement organizations (QIOs)
Credentials verification organizations (CVOs)
Care management and disease management companies
And we leverage the skills of dedicated healthcare liability claims specialists to help minimize litigation and control costs. From program design to claims response, count on us for proactive service that keeps your risk-management goals at the forefront.
Better control over claims
Our healthcare liability claims management approach focuses on close partnership with customers, brokers, and defense counsel to deliver the best possible outcomes.
Through our investment in hiring and developing experienced claims staff, and a culture that promotes accountability, we are equipped to resolve claims efficiently and with each insured's best interests in mind.
Our managed care customers also benefit from the following support and value-added services:
Consultation on post-incident remediation efforts to help minimize litigation
Recommendations on experts to provide testimony
Attendance at mediations, arbitrations, and trials to provide insight on litigation strategy and appropriate case settlement values
Active monitoring of national healthcare publications to track liability trends, judgments, and case settlements in all 50 states
Even with the most complex losses, we know how to streamline the claims process and minimize potential liability, helping to protect your organization's reputation and bottom line.
Get in touch
Our commercial and specialty insurance products and services are distributed through brokers and agents. If you are interested in our solutions for your business, please contact your agent or broker. If you are an agent or broker, please reach out to our team for more information.
Jennifer Bray
VP & Managed Care Liability Product Manager, Ironshore
Additional solutions
Benefit plan sponsor liability

Our solution can help cover health care, dental, vision, disability, workers compensation, employee assistance, prescription benefit management, health care reimbursement, flexible spending account (including dependent care spending account) plans.
This website is intended to be informational. Descriptions are provided only as a summary outline of the products and services available and are not intended to be comprehensive and do not constitute an offer to sell or a solicitation. The products and services described may not be available in all states or jurisdictions. See your policy, service contract, or program documentation for actual terms, conditions, and exclusions. Any inquiries regarding the subject matter set forth herein should be directed through licensed insurance professionals.
Coverage and insurance are provided and underwritten by Liberty Mutual Insurance Company or its affiliates or subsidiaries. When we offer insurance products, we will state clearly which insurer will underwrite the policy. Some policies may be placed with a surplus lines insurer. Surplus lines insurers generally do not participate in state guaranty funds and coverage may only be obtained through duly licensed surplus lines brokers.