4 MIN READ
Published 03/14/2018
Emergency preparedness in healthcare: learning from the past to improve the future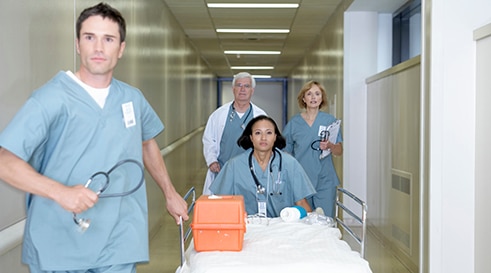 Disasters take many forms. From powerful hurricanes to record snowstorms, floods, wildfires and mass casualty events, they differ in severity and can strike with little warning. In 2017, we experienced a historic year for natural disasters, with hurricanes Harvey, Irma, and Maria joining Katrina and Sandy as the most devastating hurricanes on record, according to the National Oceanic and Atmospheric Administration. These disasters, along with other recent events, are prompting the healthcare industry to identify and address gaps in existing emergency preparedness plans in order to improve response and recovery efforts.
The healthcare industry's role in emergency preparedness
When catastrophes do happen, hospitals often become the center of the local response. There is no such thing as a "typical" emergency, and hospitals and other healthcare facilities must therefore prepare for a variety of events.
According to a recent Medical Group Management Association poll, 78 percent of healthcare leaders said their emergency preparedness plans were designed to cover natural disasters, fires, and tornadoes as well as other emergencies such as loss of computer systems, workplace violence, and active shooters.
In the U.S., state regulators and accreditors require healthcare facilities to create action plans for emergencies. And while these mandates help drive preparedness efforts, outcomes of recent events have helped the industry understand vulnerabilities and how to mitigate potential risks.
When catastrophes occur, hospitals often become the center of the local response. Outcomes of recent events have helped the healthcare industry identify vulnerabilities and how to address them.

— Jeff Duncan, Chief Underwriting Officer, Healthcare Practice, Liberty Mutual Insurance
Key challenges and lessons learned
Learnings from past events have helped demonstrate that the healthcare industry should approach emergency preparedness more holistically in order to identify and address issues that can affect response and recovery capabilities after a catastrophe.
Critical gaps in preparedness and recovery efforts emerged in the aftermath of recent hurricanes and other events, prompting concerns over issues that include credentialing difficulties, Medicare/Medicaid requirements, and infrastructure challenges:
Credentialing difficulties. During a catastrophe, the surge of patients may create a need for additional qualified medical staff from other facilities, including volunteers from other states. However, typically a healthcare organization must credential medical personnel before they can provide care. Without having a process in place to quickly credential and grant privileges to visiting personnel in a crisis, an organization may be unable meet the immediate needs of patients.
Medicare and Medicaid requirements. Any healthcare facility that participates in Medicare or Medicaid programs — including hospitals, nursing homes, outpatient surgical sites, dialysis facilities, and others — must comply with the Centers for Medicare & Medicaid Services (CMS) emergency preparedness requirements. However, the CMS' Final Rule on emergency preparedness requirements indicates that previous requirements were not consistent among facilities or comprehensive enough to address the complexities of actual emergencies. With the CMS' updated requirements, which went into effect in November 2017, facilities can better serve patients' needs and mitigate disruption to essential services during an emergency.
Infrastructure challenges. Maintaining critical building systems, such as electricity, gas, water, and sewers, during a disaster continues to be a significant challenge for healthcare facilities. If backup plans are not in place, a facility cannot respond appropriately until crashed systems are restored or help arrives. For example, a common concern for many facilities is the location of backup generators. Generators on ground or basement-level floors are at risk during a flood, which could leave a facility without power. Understanding a facility's power needs is also important. Should the generator handle all electrical demands or just the HVAC system? Is a dedicated power source needed for MRI scanners or to get surgical suites up and running? Looking at the bigger picture, how long can the facility continue to operate self-sufficiently while maintaining the necessary level of patient care?
Proactive emergency preparedness
No emergency preparedness plan is foolproof, but healthcare organizations can learn from the past and strive for continual improvement. Insurance brokers and carriers can be key partners in helping facilities proactively review their plans, identify potential risks and limitations, and make improvements. In addition, by practicing emergency preparedness plans, healthcare facilities can clarify roles and responsibilities among groups, improve inter-agency and department coordination, and identify shortfalls in plans and resources.
Here are some important actions we recommend as part of emergency preparedness efforts:
Conduct a risk assessment, taking into account location-specific factors, such as the geographic area, the population and businesses that are served, and the availability of emergency vehicles and equipment. Identify potential challenges and how to address them.
Review CMS emergency preparedness regulations, and take the necessary steps to remain in compliance.
Develop and implement an effective credentialing and privileging process.
Determine how a catastrophe may affect the facility's structure, vital equipment, and supplies.
Establish mutual aid agreements with other community healthcare facilities and vendors to assist with supplies, equipment, transportation, etc.
Develop better knowledge on how to respond effectively to care-related emergencies, such as operating generator systems and managing patients on critical life support or with dialysis needs.
Establish disaster drills and training and communication plans at facility and community levels.
Disasters such as hurricanes Harvey and Irma, as well as other catastrophic events, brought key challenges and valuable lessons learned to the forefront. By working closely with its staff, community, and insurance partners, a healthcare facility can respond effectively in disaster situations and continue to provide care to patients.
This website is general in nature, and is provided as a courtesy to you. Information is accurate to the best of Liberty Mutual's knowledge, but companies and individuals should not rely on it to prevent and mitigate all risks as an explanation of coverage or benefits under an insurance policy. Consult your professional advisor regarding your particular facts and circumstance. By citing external authorities or linking to other websites, Liberty Mutual is not endorsing them.