4 MIN READ
Published 06/10/2022
Emergency preparedness in healthcare: learning from the past to improve the future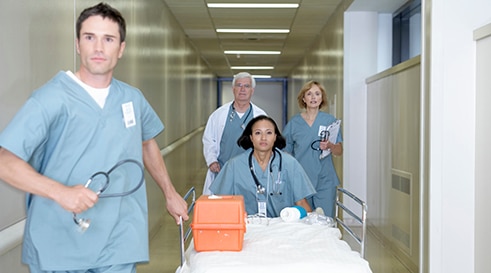 The past decade has demonstrated that disasters are on the rise, from powerful hurricanes to record snowstorms, floods, wildfires, and mass casualty events. Natural disasters struck 22 times in 2020 and 20 times in 2021, with the $145 billion price tag for 2021 ranking it the third-worst year in history for natural disasters. Workplace violence has also increased, especially in industries that interface more frequently with the general public. According to the most recent statistics available from the U.S. Bureau of Labor Statistics, for example, in 2018, healthcare workers accounted for 73 percent of all workplace injuries due to workplace violence.
For the healthcare sector, the uptick in disasters and violent incidences, combined with the recent COVID-19 pandemic, has motivated hospitals and other facilities to take a new look at their emergency preparedness plans. How prepared are facilities to handle hurricanes or wildfires? What happens if the power grid is out for a week? In today's article, we'll take a look at some of the lessons healthcare facilities have learned in the aftermath of the emergencies of the last several years, and how to ensure your own emergency preparedness plan is up to speed.
The healthcare industry's role in emergency preparedness
When disasters strike, hospitals frequently become the focal point of local response. And because there is no such thing as a "typical" disaster, hospitals and other healthcare facilities must prepare for a wide range of events.
State regulators and accreditors already require healthcare facilities to develop emergency response plans, and according to a recent Medical Group Management Association poll, 78 percent of healthcare leaders said their emergency preparedness plans now include emergencies such as natural disasters, computer system failure, workplace violence, and active shooters. However, despite these plans and regulations, many healthcare facilities and practices still find themselves overwhelmed when faced with disaster.
When catastrophes occur, hospitals often become the center of the local response. Outcomes of recent events have helped the healthcare industry identify vulnerabilities and how to address them.

— Dennis Cook, President, Liberty Mutual Healthcare
Key challenges and lessons learned
The response of healthcare systems to recent emergencies such as COVID-19 and natural disasters has revealed several gaps in preparedness and recovery:
Credentialing of emergency medical personnel. During a disaster, the influx of patients may necessitate the use of additional qualified medical personnel from other facilities, including volunteers from other states. However, before medical personnel can provide care, a healthcare organization must typically credential them. An organization may be unable to meet the immediate needs of patients if it does not have a process in place to quickly credential and grant privileges to visiting personnel in a crisis.
Medicare and Medicaid requirements. Hospitals, nursing homes, outpatient surgical sites, dialysis facilities, and other healthcare facilities that participate in Medicare or Medicaid programs must meet the Centers for Medicare & Medicaid Services (CMS) emergency preparedness requirements. However, according to the CMS's Final Rule on emergency preparedness requirements, previous requirements were not consistent across facilities and were insufficient to address the complexities of actual emergencies. The updated requirements, which took effect in November 2017, allow facilities to serve patients' needs better while also minimizing disruption to essential services during an emergency. Many facilities meet the minimum requirements on paper, but in practice, their emergency preparedness plans are found lacking.
Infrastructure challenges. Keeping critical building systems like electricity, gas, water, and sewers operational during a disaster remains a significant challenge for many healthcare facilities—meaning that their emergency preparedness plans have been failing under pressure.

The location of backup generators, for example, is a common concern for many facilities. Generators on ground or basement-level floors are vulnerable to flooding, which could render a facility powerless. Understanding a facility's power requirements is also critical. Should the generator power the entire electrical system or just the HVAC system? Is it necessary to have a dedicated power source for MRI scanners or surgical suites? If a disaster extends on for days, how long can the facility continue to be self-sufficient while still providing the necessary level of patient care?
Labor shortage concerns. Since March of 2020, nearly one in five healthcare professionals has resigned, according to Atlantic Magazine. The nursing profession has been hit especially hard, with an additional 1.2 million nurses needed by 2030. These losses have increased the risk of preventable errors in patient care and workplace injuries, as well as a reduced capacity for facilities to offer care. And in an unfortunate irony, the increased pressure on remaining personnel leads to increased burnout and further staff turnover, exacerbating the problem.
Steps for improving emergency preparedness
Despite the increased threats of recent years, there are practical steps that healthcare facilities can take to increase safety and mitigate risk. Don't forget that these steps should be periodically and systematically revisited. Reevaluating plans on a regular basis allows healthcare facilities to clarify roles and responsibilities among groups, improve inter-agency and department coordination, and identify any resource or planning gaps.
Conduct a risk assessment while considering location-specific factors such as the geographic area, the population and businesses served, and the availability of emergency vehicles and equipment. Determine potential problems and how to solve them.
Examine the CMS emergency preparedness regulations and take the necessary steps to ensure compliance.
Create and implement an efficient credentialing and prioritization process.
Determine the impact of a disaster on the facility's structure, critical equipment, and supplies.
Make mutual aid agreements with other community healthcare facilities and vendors to help with supplies, equipment, transportation, etc.
Improve your knowledge of how to respond effectively to care-related emergencies, such as operating generator systems and managing patients on critical life support or dialysis.
Design and implement disaster drills, as well as training and communication plans for your facility and community.
Create a system to address potential labor shortages, such as expediting credentialing professionals and arranging for part-time staffing from traveling nursing services to keep staff levels adequate and patient care consistent.
Building a culture of improvement
Although no emergency preparedness plan is perfect, building a culture of learning from mistakes and striving for continuous improvement can help healthcare facilities become more proactive. In this task, insurance brokers and carriers are valuable partners, helping facilities review plans ahead of time, identifying potential risks and limitations, and suggesting improvements.
Learn more about how Liberty Mutual can assist your healthcare practice in reducing its disaster-related risks, including dealing with labor shortages.
This website is general in nature, and is provided as a courtesy to you. Information is accurate to the best of Liberty Mutual's knowledge, but companies and individuals should not rely on it to prevent and mitigate all risks as an explanation of coverage or benefits under an insurance policy. Consult your professional advisor regarding your particular facts and circumstance. By citing external authorities or linking to other websites, Liberty Mutual is not endorsing them.