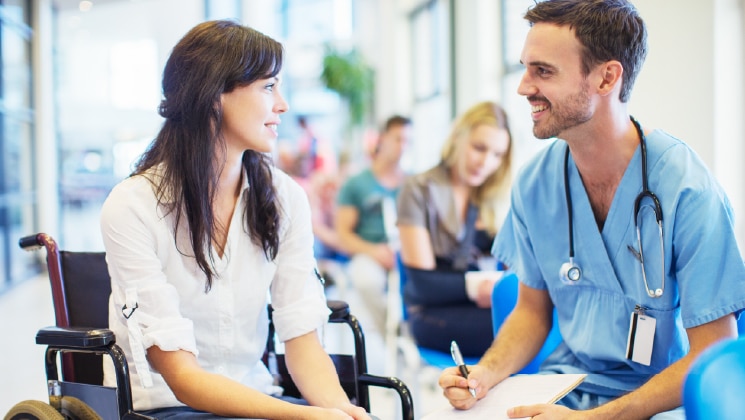 Hospital professional liability
Protection for alleged treatment errors
The combination of financial pressure and healthcare reform has spurred tremendous change in the way healthcare providers and payors are organizing themselves to deliver and finance care effectively.
Hospitals and physician practices are joining forces, independent community hospitals are forming alliances with like entities, and larger providers are making acquisitions to expand their reach. Organizations of all types are also taking on more financial risk as they move from "fee-for-service" to "fee-for performance" reimbursement methodologies.
With so much at stake, having the right insurance coverage is critical to help protect your organization's finances and reputation in the event of lawsuits alleging errors or mistakes in care.
Our hospital professional liability solutions help protect healthcare organizations against legal, financial, and reputational risk arising from treatment decisions and actions.
A protective partnership
Solutions for complex risks
Our healthcare liability solutions are suited to acute care hospitals, long-term acute care and rehabilitation facilities, critical access hospitals, and integrated delivery systems.
Key coverage highlights:
$1M/$3M or $2M/$4M in primary capacity
Stand-alone tail policies
$15M in Excess Capacity
Reinsurance for captives
Coverage differentiators include:
Child abduction expense reimbursement
Disinfection event expense reimbursement
Evacuation expense reimbursement
Government billing legal expense reimbursement
Legal defense expense reimbursement
Medical waste civil fines reimbursement
Personal information protection expense reimbursement
Public relations expense reimbursement
Professional liability for insured individuals who provide Charitable Medical Services anywhere in the world, up to $1M/$1M
Value-added risk-management services:
Our customers can also allocate "risk-management dollars" toward risk-management products and services, such as education and event reporting software solutions, from leading healthcare providers. We don't require the use of specific services or select vendors, as we understand that our insureds know their needs best and may have existing vendor relationships. To assist our insureds, we have proactively established relationships with some of the industry's leading healthcare risk-management providers.
It takes more than teamwork to provide top-tier coverage and services; it takes specialized expertise – something we're proud to bring to every customer relationship.
Our knowledgeable underwriters understand that integrated delivery means integrated risk and they have the expertise to develop creative solutions to meet your organization's needs. And we leverage the skills of dedicated healthcare liability claims specialists to help minimize litigation and control costs.
From program design to claims response, count on us for proactive service that keeps your risk-management goals at the forefront.
Better control over claims
Our healthcare liability claims management approach focuses on close partnership with customers, brokers, and defense counsel to deliver the best possible outcomes.
Through our investment in hiring and developing experienced claims staff, and a culture that promotes accountability, we are equipped to resolve claims efficiently and with each insured's best interests in mind.
Our physician group liability customers also benefit from the following support and value-added services:
Consultation on post-incident remediation efforts to help minimize litigation
Recommendations on experts to provide testimony
Attendance at mediations, arbitrations, and trials to provide insight on litigation strategy and appropriate case settlement values
Active monitoring of national healthcare publications to track liability trends, judgments, and case settlements in all 50 states
Even with the most complex losses, we know how to streamline the claims process and minimize potential liability, helping to protect your healthcare organization's reputation and bottom line.
Get in touch
Our commercial and specialty insurance products and services are distributed through brokers and agents. If you are interested in our solutions for your business, please contact your agent or broker. If you are an agent or broker, please reach out to our team for more information.
Nicole Hayes
VP & Healthcare Professional Liability Product Manager, Ironshore
This website is intended to be informational. Descriptions are provided only as a summary outline of the products and services available and are not intended to be comprehensive and do not constitute an offer to sell or a solicitation. The products and services described may not be available in all states or jurisdictions. See your policy, service contract, or program documentation for actual terms, conditions, and exclusions. Any inquiries regarding the subject matter set forth herein should be directed through licensed insurance professionals.
Coverage and insurance are provided and underwritten by Liberty Mutual Insurance Company or its affiliates or subsidiaries. When we offer insurance products, we will state clearly which insurer will underwrite the policy. Some policies may be placed with a surplus lines insurer. Surplus lines insurers generally do not participate in state guaranty funds and coverage may only be obtained through duly licensed surplus lines brokers.