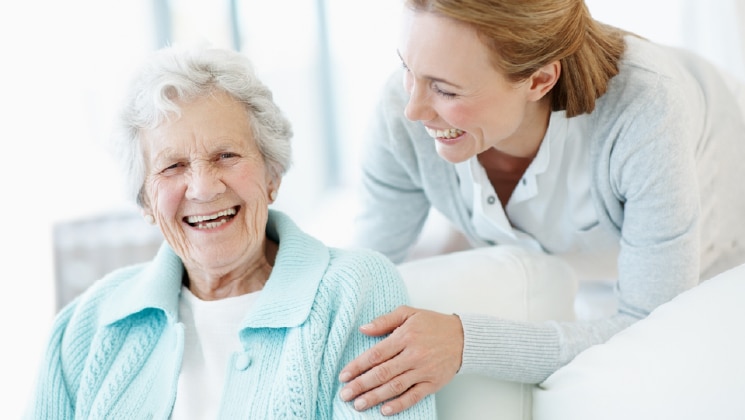 Senior care professional and general liability
Liability protection for senior care organizations
Senior care facilities face a variety of challenges: care models are evolving, the population continues to age, resources are tight, and regulations continue to increase. In this uncertain environment, having the right insurance solution is critical to help protect providers' bottom line and reputation.
We are ready to help, bringing an expansive perspective, strong problem-solving skills, and unique coverage enhancements to address the evolving and complex exposures of the long-term care sector.
Our senior care professional and general liability solutions help protect senior care facilities against legal, financial, and reputational risk arising from the services they provide.
*Solutions are for businesses, not individuals.
A protective partnership
Solutions for complex risks
Our solutions are designed for not-for-profit and for-profit senior care facilities, including independent, assisted, dementia/Alzheimer's and skilled nursing facilities, and continuing care retirement communities.
Key coverage highlights:
Claims made and occurrence coverage available
Primary policy limits $1M/$3M, with separate limits for:

Professional liability
General liability
Employee benefits liability

Excess limits available up to $10M
Coverage available for:

Public relations
Evacuation
Resident loss of property
Disinfection event expense
Regulatory proceeding defense coverage

Policies include a complimentary hour of legal review of admission agreements and/or contracts with telemedicine monitoring providers by Ironshore panel counsel.
Flexibility with respect to coverage for sexual misconduct
Express coverage for employed or contracted medical director
Separate or shared limits available for scheduled physicians by endorsement
Value-added risk-management services:
We provide preferred risk-management services for senior care clients. Accounts may be allocated a budget for risk-management services from an extensive menu provided by preferred vendors.
Our unique approach offers insureds and their brokers involvement in the selection of risk-management services, which range from access to highly skilled consultants who can help with policies and procedures or survey responses to software tools that can track incidents or risk indicators. We want to provide our policyholders with risk-management services that they know they need, not ones that the insurer thinks they need.
It takes more than teamwork to provide top-tier coverage and services; it takes specialized expertise – something we're proud to bring to every customer relationship.
Our knowledgeable underwriters understand the unique liability exposures that long-term care facilities face and have the expertise to develop creative solutions to meet your needs. And we leverage the skills of dedicated healthcare liability claims specialists to help minimize litigation and control costs.
From program design to claims response, count on us for proactive service that keeps your risk-management goals top of mind.
Our healthcare liability claims management approach focuses on close partnership with customers, brokers, and defense counsel to deliver the best possible outcomes.
Through our investment in hiring and developing experienced claims staff, and a culture that promotes accountability, we are equipped to resolve claims efficiently and with each insured's best interests in mind.
Our senior care professional liability customers also benefit from the following support and value-added services:
Consultation on post-incident remediation efforts to help minimize litigation
Recommendations on experts to provide testimony
Attendance at mediations, arbitrations, and trials to provide insight on litigation strategy and appropriate case settlement values
Active monitoring of national healthcare publications to track liability trends, judgments, and case settlements in all 50 states
Even with the most complex losses, we know how to streamline the claims process and minimize potential liability, helping to protect your facility's reputation and bottom line.
Get in touch
Our commercial and specialty insurance products and services are distributed through brokers and agents. If you are interested in our solutions for your business, please contact your agent or broker. If you are an agent or broker, please reach out to our team for more information.
Katie Wagner
VP, Senior Care Product Manager, Ironshore
This website is intended to be informational. Descriptions are provided only as a summary outline of the products and services available and are not intended to be comprehensive and do not constitute an offer to sell or a solicitation. The products and services described may not be available in all states or jurisdictions. See your policy, service contract, or program documentation for actual terms, conditions, and exclusions. Any inquiries regarding the subject matter set forth herein should be directed through licensed insurance professionals.
Coverage and insurance are provided and underwritten by Liberty Mutual Insurance Company or its affiliates or subsidiaries. When we offer insurance products, we will state clearly which insurer will underwrite the policy. Some policies may be placed with a surplus lines insurer. Surplus lines insurers generally do not participate in state guaranty funds and coverage may only be obtained through duly licensed surplus lines brokers.