3 MIN READ
Published 06/20/2018
Robots and drones in the warehouse: technology trends in wholesaling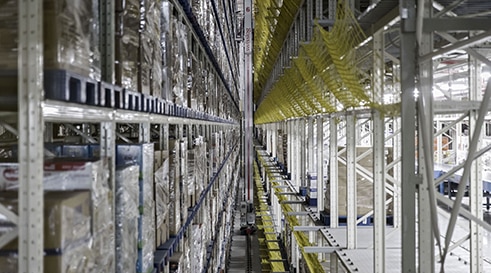 As labor costs continue to rise, more warehousing and distribution facilities are turning to robots, indoor drones, and other automation solutions to boost productivity and manage costs. This new era of technology brings efficiency, reduced overhead, and flexibility, but the challenges can be difficult to anticipate and manage. Learn more about the benefits associated with robots and drones in wholesaling—along with how to mitigate the potential risks.
Robots: revolutionizing the warehouse floor
Robots are already revolutionizing warehouses, reducing costs and allowing for more flexible and responsive operations—and their role will only increase as the technology continues to get faster, smaller, lighter, and stronger. Here are some of the current ways they are changing the wholesale operations:
Conveyors: Robots can replace conveyor systems in situations where sorting rates are lower than 30 per minute, saving money and minimizing the need to make significant investments in infrastructure.
Transport: Bots can transport cases or tow carts weighing as much as 1,200 pounds—and are less expensive than self-driving AVGs (automatic guided vehicles) or more permanent conveyor systems.
Warehouse: E-commerce warehouses require a great deal of space, some spanning 10 football fields or more. In the past, that meant each human picker walked several miles each day. Now bots can bring the product to the worker's pack-station and speed up order fulfillment from 90 minutes down to as little as 15.
Robots are already revolutionizing warehouses, reducing costs, and allowing for more flexible and responsive operations.
Drones: moving indoors to help wholesalers
Many people still associate drones with outdoor use, but they are rapidly becoming a game-changer for indoor warehouse use. Whether you periodically shut down to reconcile your stock or you employ regular cycle counting, conducting an inventory can be time-intensive, costly, and inexact. Here are two ways wholesalers are leveraging drones for inventory control:
RFID tags: Drone technology can instantly read RFID tags in different areas of the warehouse to identify inventory mismatches and locate individual items.
Images: Drones can also photograph as many as 30 frames per second of products on warehouse shelves. This information can be used to identify products that are incorrectly stocked or are in need of restocking.
For both inventory methods, the savings in staff hours, shutdown, and accuracy is hard to overestimate. A process that once took a month or longer can now take as little as a day.
Mitigating risk with planning and procedures
Although industry breakthroughs will always bring new risks, there are several actions wholesalers can take to mitigate potential challenges of using robots, drones, and other automation solutions in their operations:
When introducing new technology, risk analyses is key; consult with your insurance provider for advice.
1. Conduct a thorough risk assessment.
As an example, could the new technology interfere with other equipment, such as cranes or forklifts? Are there any service limitations to keep in mind? You may also need to make changes to floor layout, storage racks, or fire protections systems, for instance.
2. Create new policies and safety procedures to govern the use.
Indoor drone operations may not be regulated, for example, but that shouldn't stop your company from creating standards for operation, including only using drones made for indoor use, the days and times they will be used, how close employees will be to drone-use zones, who will be trained or hired to program and monitor the drones (and the criteria used to hire them), and where the drones will be kept for charging.
These plans might need updating as new providers are added to the roster. In addition, power loss, broken robots or drones, and other disruptions will require contingencies. Make sure that all vendors and partners know about updates and new expectations.
4. Reassess your insurance program to ensure that you are adequately covered.
While new coverage may not be needed, any changes in equipment could call for an update in limits. During a time of transitioning technology, risk analyses will be key; make sure you consult with your insurance provider to get advice.
Safely navigating the future of wholesaling
The benefits of cost and efficiency make the use of drones, robots, and other technologies a boon to the wholesaling industry—as long as risk mitigation is carefully considered. As we move into an era of intelligently engineered wholesaling, the future looks bright.
This website is general in nature, and is provided as a courtesy to you. Information is accurate to the best of Liberty Mutual's knowledge, but companies and individuals should not rely on it to prevent and mitigate all risks as an explanation of coverage or benefits under an insurance policy. Consult your professional advisor regarding your particular facts and circumstance. By citing external authorities or linking to other websites, Liberty Mutual is not endorsing them.