3 MIN READ
Published 02/12/2018
Risky business: fighting commercial auto fraud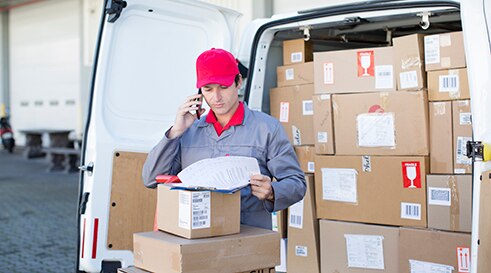 Commercial auto fraud takes many forms and affects all types of businesses — large and small. To help avoid falling victim, businesses should be aware of red flags that might indicate fraudulent claims and understand how to work with insurers to report them.
Insurance fraud remains big business
Insurance fraud costs business and insurers an estimated $80 billion each year, according to the Coalition Against Insurance Fraud. One of the most prevalent schemes happens when scammers intentionally stage accidents with commercial vehicles (e.g., a delivery car, van, or truck). Because most commercial vehicles typically carry higher insurance limits than privately owned vehicles, this type of fraud can be big business for scammers looking to capitalize on insurance claims. Companies can better protect themselves by proactively working with their commercial auto insurers to identify and report possible fraudulent claim activity.
Every company is a potential target for commercial auto fraud. If an insurer and business work together during the early stages of a claim, there's a better chance to identify fraudulent activity, successfully defend the business during litigation, and minimize loss.
Spotting commercial auto fraud red flags
There's no foolproof method to detecting commercial auto fraud. However, the National Insurance Crime Bureau considers the following conditions as red flags:
Property damage between the two vehicles does not match.
No police report exists for a crash with injuries and/or extensive property damage.
The vehicle involved is an older model and/or has prior unrelated damage.
The claimant vehicle was struck by a rental vehicle soon after the rental began.
All vehicles involved are taken to the same body shop for repair.
The claimant vehicle is not readily available for appraisal.
The crash occurred on private property near the residence of those involved.
The insurance industry has adopted a number of ways to make it easier to identify potential incidents and to increase the probability of prosecuting those involved. They include:
Emerging technologies and big data
Advances in technology have created a wealth of fraud-prevention tools. Today, more than 80 percent of U.S. insurers use some type of fraud-detection technology. From smartphones to telematics, health trackers to techno-equipped vehicles, these modern amenities have opened up hundreds of data points in which business can better identify and combat commercial auto fraud.
Predictive modeling can help identify historical patterns of fraud and use them to pinpoint commonalities key to fraudulent incidents. As an example, if an incoming claim indicates a possible match, it can be flagged automatically for review by an insurer's special investigations unit. The use of predictive modeling in commercial lines has been so effective in combating fraud that its use is expected to grow 55 percent in the next two years.
Video surveillance and database checks
Dash cams and other video surveillance in commercial vehicles are vital tools in bringing together key data for claim investigators, including the date, time, and location of a claim. Information is analyzed, and then linked to build a clearer visual of fraudulent patterns or unexpected associations, to reveal:
If the vehicle driven by the claimant was actually involved in a crash at the location cited.
If the number of individuals involved in the crash was different than reported.
If damage to the vehicle was different from or not as serious as originally claimed.
Database checks can also be effective in detecting potential fraud, highlighting whether:
The claimant has had a number of car crashes or other claims in the past.
Ties exist between the claimant and other people involved in what may have been a staged crash (e.g., they may be neighbors, work for the same employer, or have some other relationship).
Insurers have the ability to research and analyze claimant online posts, photos, and other media channels for key information related to a specific claim. Social media in fraud detection can:
Capture photos, videos, and discussions of claimant activities.
Provide special investigation teams and case managers with potential leads.
Uncover claimant connections or associations operating within a fraud ring.
Today's businesses don't have to accept commercial auto fraud as just another cost of doing business. Partnering with an insurer that keeps pace with emerging technologies can help businesses identify, reduce, and manage fraud exposures.
This website is general in nature, and is provided as a courtesy to you. Information is accurate to the best of Liberty Mutual's knowledge, but companies and individuals should not rely on it to prevent and mitigate all risks as an explanation of coverage or benefits under an insurance policy. Consult your professional advisor regarding your particular facts and circumstance. By citing external authorities or linking to other websites, Liberty Mutual is not endorsing them.