4 MIN READ
Published 02/27/2020
Three keys to successful car sharing – and the role of insurance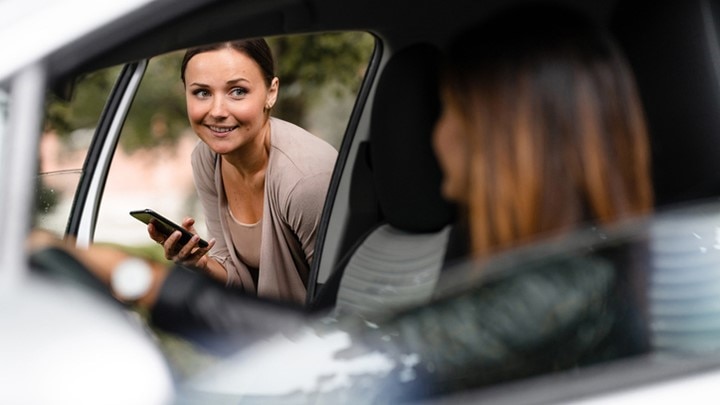 It's a fact: car-sharing services have quickly gained ground in recent years, pairing the sharing-economy approach with personal car rental. After all, proponents say, if you can temporarily rent out your home when you're not staying there, why can't you do the same with your car when you're not using it?
Early signs suggest that peer-to-peer (P2P) car-sharing services are indeed attracting both car owners and car renters. One comprehensive study published last year by the Transportation Sustainability Research Center at the University of California, Berkeley, estimates that more than 2.9 million people in North America were participating in P2P car sharing with a combined fleet of over 131,000 shared vehicles.
More than 2.9 million people in North America were participating in peer car sharing last year, with a combined fleet of 131,336 shared vehicles.
But in order to take advantage of the opportunities car sharing platforms offer, "hosts" – those individuals renting out their car, and "guests" – those doing the renting, need to ensure they understand the risks that are presented, and how coverage is afforded. As the car-sharing trend grows and matures, insurance is being fundamentally reimagined to more flexibly address these new coverage situations with built-in protections.
Here are three challenges that car-sharing platforms and their insurance carriers are intent on solving together.
1. For the host: "Sharing" your car for a fee is not the same as "permissive use"
Personal auto insurance policies typically feature a permissive use clause that extends coverage to someone else that the owner lets drive it occasionally. Generally, insurance follows the car, so when you borrow a car, you essentially "borrow" its car insurance, too.
This coverage, however, rarely applies when the vehicle is being used for commercial purposes, and many personal auto policies will specifically exclude coverage for third-party rentals in any P2P networks as a commercial business activity.
Moreover, only a few states have enacted laws that create insurance standards and a regulatory structure for personal car-sharing programs. Whether regulations exist or not, individuals acting as businesses by being car-sharing hosts need an insurance solution that supplements their personal auto policy.
The best platforms work with their insurance carrier to ensure that their hosts are adequately covered during the reservation period.
2. For the guest: Understand your options
If you own a car today, chances are that you have your own personal auto insurance policy. Do you know if that policy provides coverage to you when renting a vehicle? If so, does it apply to physical damage to the vehicle as well as any third-party liability you may encounter as a result of an accident during the reservation period?
How about your credit card? Some provide limited insurance for property damage to a rented vehicle. And these methods of coverage may come with varying deductibles that would be your out-of-pocket responsibility.
When you rent a vehicle that is less familiar to you than the one that you use every day, you may find yourself more likely to make a mistake on the road. The same is true if you will be driving in a location that you are visiting for the first time – like when you rent a car on vacation. These scenarios can increase your risk, and the importance of your insurance coverage.
Vehicle-sharing platforms typically offer you the option to buy insurance protection at the point of sale. Understanding how those offers compare to any other insurance that you may have in place will help you choose the coverage that best fits your situation.
3. For all who want to share: Know your responsibilities
Going the sharing-route can have a variety of benefits. As a host, you can earn some cash while putting your idle vehicle to work. And guests may find a wider selection of models to choose from, or perhaps even better prices, depending on where and when you plan to rent from a vehicle-sharing platform.
But with those benefits comes responsibility. All parties to the transaction should ensure they have read and understand the platform's terms of service – which are intended to help create a trusting environment for everyone involved. For example, hosts may have specific responsibilities around vehicle maintenance and guest license validation. Similarly, guests are likely required to operate the vehicle in a safe manner, and often must follow restrictions around who is allowed to drive the vehicle. And, following the rules – or not – could affect your liability.
When cars are shared, where does liability lie for things like accidents, breakdowns, or theft?
Navigating this multi-party landscape and determining which coverage responds when, and to whom, is a critical focus of Liberty Mutual's insurance program that helps to protect hosts, guests, and the vehicle-sharing platform during a reservation. As a leader in shared mobility solutions, Liberty not only provides coverage, but their dedicated claims experts understand the nuances and potential complexities of car-sharing liability scenarios, helping achieve the best possible outcomes for all involved when something doesn't go quite right.
Partnerships like this are working to mitigate the uncertainty around risk in this emerging space, which in turn eases consumer concerns and safely drives business growth.
Moving forward with confidence
As car-sharing and other mobility trends continue to change the transportation landscape, you can count on Liberty Mutual's foundational expertise to lead the way. With innovative and integrated insurance products tailored to the shared mobility environment, we're ready to roll when you are.
This website is general in nature, and is provided as a courtesy to you. Information is accurate to the best of Liberty Mutual's knowledge, but companies and individuals should not rely on it to prevent and mitigate all risks as an explanation of coverage or benefits under an insurance policy. Consult your professional advisor regarding your particular facts and circumstance. By citing external authorities or linking to other websites, Liberty Mutual is not endorsing them.