4 MIN READ
Published 04/28/2020
5 ways to manage complex supply chain risks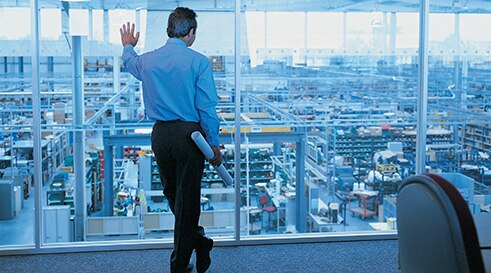 Today's global economy has made the world more interconnected — businesses regularly work with partners from all corners of the map. But as the business world expands, supply chains become more complex. Now, manufacturers and distributors face a variety of potential disruptions ranging from natural disasters, pandemics, and cyber threats to equipment breakdowns, counterfeit materials, and supplier delays.
Recent events stemming from spread of the novel COVID-19 virus demonstrate the extensive impact disruptions can have on businesses' supply chains. According to a recent survey, 94% of the Fortune 1000 companies saw coronavirus supply chain disruptions.
What remains clear is that addressing disruptions can be challenging — leaving businesses vulnerable to interruptions and potentially liable for faulty products. To keep their supply chains running smoothly, manufacturers and distributors must closely manage:
Supply chain partner relationships. Every supply chain consists of numerous players ranging from suppliers, manufacturers, and distributors, to dealers and retailers. These players will each have a unique role in producing a final product.
Company-specific operations. A business must also consider its own operations, including:

Owned and public infrastructure, such as buildings, utilities, roads, vehicles, and machinery;
Technology, such as computers, software, and servers; and
Staffing and the processes that employees use to get work done.
In a successful supply chain operation, all aspects of the chain work together so that each company can deliver its products on time and on budget.
Proactive supply chain planning for competitive advantage
Supply chain disruptions can affect a business in a variety of ways. If a supplier doesn't make a delivery, a business may be unable to fill orders. If a product component fails to meet quality standards, a business could face a product recall or legal or regulatory violations. These and other disruptions can also damage a business's customer relationships, reputation, market share, and profitability. Supply chain relationships also typically include contractual obligations with timelines and other operational demands.
A business's survival may depend on its resilience during a disruption and how quickly it can resume operations. Companies that proactively plan how to mitigate supply chain disruptions may have a competitive advantage and be better positioned to move forward.
The following practices can help manufacturers and distributors minimize potential supply chain disruptions:
1. Have a formal business continuity plan.
A business continuity plan is critical for minimizing disruptions during an emergency and helps protect your business, employees, and customers. In addition, a company's ability to quickly recover and resume operations after a disaster, whether as a result of a hurricane, fire, or other event, is vital to maintaining its customer base and reputation.
Conduct a risk assessment of your geographic area and operations to identify the most likely interruptions. Remember to also consider technological disruptions such as data breaches and cyber attacks.
Make plans for alternate business operations, including identifying temporary facilities, backup suppliers, critical manpower needs, reroutes for shipments, and access to inventory and equipment.
Form a cross-functional recovery team that can help the business recover and get operations up and running.
Secure important data, such as customer and employee records, business contracts, inventory, accounts payable/receivable, and other financial information.
Establish protocols for communicating with employees, customers, community and government agencies, and the media.
2. Know your supply chain partners (and their partners) well.
For suppliers, manufacturers, distributors, and any other partners you work with, understand their operations and supply chains — particularly when working with foreign companies. In today's economy, a business can no longer just be familiar with partners that are "one up" and "one down" in its supply chain. For example, if one of your suppliers works with tier 2 or 3 partners, how would a disruption to these operations affect your business? It's essential that every business fully understands the impact of other parties' roles in its network. To protect your operations, some additional questions to consider asking your partners include:
What specifications do they use during development — do they follow U.S. safety codes and consensus standards? How do they check the quality of the final product?
Do they have business continuity plans in place?
How do they manage cyber security and protect intellectual property?
Do they have a strong track record, and are they financially stable?
3. Build in supplier, inventory, and equipment contingencies.
Even in the world of lean and "just in time" processes, having contingency plans and access to extra inventory and equipment is critical.
Diversify suppliers across geographic regions, and don't rely solely on foreign sources that could be impacted by catastrophes or political instability.
Formalize relationships with alternate partners throughout your supply chain, including suppliers, distributors, and transporters, so replacement parts, equipment, and inventory are readily available.
Establish multiple facilities in different geographic areas so locations can support affected operations if needed.
Confirm network access is secure and back up electronic files via the cloud and/or a secure, off-site location daily.
4. Make product safety a priority.
Making product safety a business priority helps protect customers and your business against product liability lawsuits and product recalls, which can cause major disruptions to your supply chain and operations.
Use a systematic evaluation process to qualify and select your suppliers.
Create and follow a written design review process that identifies relevant safety codes, quality specifications, and consensus standards that should be met by partners throughout the supply chain.
Consult with customers to understand design specifications and final applications of products.
Perform regular audits to confirm quality is consistent with expectations and that there are no safety issues. Consider independent product testing.
Review instructions, user warnings, maintenance manuals, and any other marketing, sales, and technical communications developed to support the product.
Retain all documentation of processes and decisions throughout the product life cycle.
Establish formal product recall procedures so affected inventory is quickly identified and removed from the supply chain.
5. Reduce risk through contracts and insurance.
A company's risk management, financial, and legal teams should establish formal contracts with supply chain partners and review insurance needs with the company's insurance broker and carrier.
Detail terms and conditions, roles, responsibilities, and service expectations and assign liability appropriately.
Define the process for resolving known or suspected product safety risks. Clarify which parties will respond and in what manner if product defects arise.
Review the company's and partners' insurance programs to minimize the risk of coverage gaps. Consider coverage such as general liability, product liability and recall, equipment breakdown, cyber liability, and umbrella, and confirm limits are sufficient.
Verify that supply chain partners include the business as an additional insured on their general liability policies.
Advances in technology, evolving customer preferences, and the entry and exit of business partners are driving changes in the global economy and supply chain. Those companies that establish and follow robust risk management plans for their supply chains will be in the best positions to respond to these changes and recover from interruptions.
This website is general in nature, and is provided as a courtesy to you. Information is accurate to the best of Liberty Mutual's knowledge, but companies and individuals should not rely on it to prevent and mitigate all risks as an explanation of coverage or benefits under an insurance policy. Consult your professional advisor regarding your particular facts and circumstance. By citing external authorities or linking to other websites, Liberty Mutual is not endorsing them.