3 top risk management challenges in manufacturing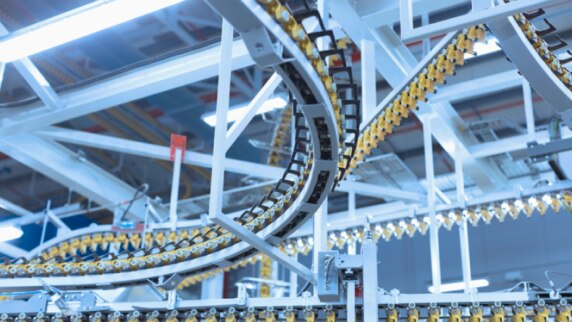 From incorporating emerging technology and addressing workforce shortages to managing complex supply chains and rebounding from natural disasters and other emergencies, the manufacturing sector has experienced significant disruption over the past few years. Even with these challenges, the industry continues to evolve, presenting new opportunities every day. Staying agile and competitive in this environment means being able to evaluate – and then manage – risk.
Here are three ways manufacturers are adapting their operations to streamline processes, minimize downtime, and reduce costs that may also come with new risks.
1. Accommodating workforce shortages in sustainable ways.
Attracting and retaining qualified workers remains an ongoing challenge for manufacturers – in fact, 68 percent of them cite it as their top concern today, according to a recent survey from the National Association of Manufacturers.
"Technology plays such a significant role in front-line production processes, so manufacturers need people who not only operate the machines, but also understand how they work—and that is harder to come by."

– Seth Hedrington, Senior Vice President and General Manager, West Division, Liberty Mutual Insurance
This skilled labor shortfall can impact workflow in several ways and can also heighten risk. For example:
Lengthening or adding shifts of the existing workforce can increase the likelihood of fatigue and the risk of injury.
Introducing new equipment and processes, like co-bots, or hiring less skilled individuals to fill the production gap may be effective in the long-term, but they can create unfamiliarity on the production floor, and that initially increases safety risk.
Putting additional strain on employees or equipment or relying on inexperienced staff to increase capacity may also make it more difficult to achieve consistent product quality, which has product liability implications and can also impact brand reputation.
Solution: Build a proactive and safety-integrated operation to improve productivity
Companies should think creatively and for the long-term to bridge the existing manufacturing skills gap. For example, partnering with local governments and secondary schools to offer technical training and apprenticeship programs can help build interest and needed skills with younger applicants.
Assistive devices like augmented reality wearables are also emerging as tools to help manufacturers train employees on critical tasks without wasting additional resources.
Given that a single hour of unplanned downtime can cost $300,000 or more an hour, companies should take steps within their operations to better protect employees, improve safety, and drive productivity, including:
Sustaining a well-skilled and informed workforce by providing the necessary safeguards, training, and protective equipment.
Limiting frequent scheduling changes, forced overtime, or schedules with back-to-back shifts or extended hours.
Getting employee buy-in on the adoption of new equipment, such as wearable technology or collaborative robots.
Proactively monitoring and maintaining critical equipment to reduce the risk of failures and breakdowns.
2. Adjusting supply chains to address unstable trade scenarios.
To manage costs, some companies are considering suppliers from regions not impacted by the tariffs. But significant risks always accompany a change in relationships. Product defect liability is chief among them, but the risk of supply chain interruption is also an issue.
"Working with vetted suppliers with established track records reduces the risk of business interruption. Introducing unvetted partners with lower costs may help in the short-term, but if they are unable to meet production or quality standards, this ultimately presents reputational and product liability risks and can threaten a manufacturer's ability to manage their contracts and relationships."

Charles Wilkinson, Manager, Industry Consulting, Liberty Mutual Insurance
Solution: Reevaluate supply chain networks with a sharp eye.
Diversifying supplier relationships is one way to address increasing costs, but the risks could outweigh the benefits without putting the right safeguards in place. To help stay ahead of the curve, consider:
Performing a risk analysis of existing suppliers to identify potential issues and ways to be more efficient.
Developing contingency plans to build resilience and agility into your supply chain, such as identifying back-up partners in certain regions, or remapping distribution networks.
Updating supplier contracts to clearly detail responsibilities and service expectations and assign liability appropriately.
3. Improving productivity via "smarter" facilities.
It's no secret that more manufacturers are incorporating smart technology and data automation to connect machines and speed production. In fact, businesses are expected to spend close to $267 billion on Internet of Things (IOT) by 2020, with investments in predictive maintenance, self-optimizing production, and automated inventory management as top drivers of this growth.
However, as manufacturers integrate IOT, blockchain, and other technology into daily operations, they also become more vulnerable to cyber-security risks.
As another watch out, this interconnectivity may create more opportunities to make unintentional or unauthorized changes to product design and specifications or material thresholds, which could impact product quality and safety.
Solution: Prioritize cyber-security and insurance protections.
While many manufacturers don't see themselves as targets for cyber-attacks, failing to mitigate this exposure can lead to significant losses. Taking the following steps can help safeguard your operation:
Conducting ongoing risk assessments to identify potential security vulnerabilities – especially with any new technology assets.
Monitoring network access and how information is shared internally and with third-party vendors.
Reviewing your cyber insurance policy for first and third-party coverage.
Staying agile as the manufacturing sector evolves
With the rapid pace of change in today's business environment, manufacturers must quickly recognize and respond to strategic opportunities to be successful. For example, manufactures are now using direct-to-consumer models to better control the customer experience and maintain bigger shares of the profits. Learn more about the advantages and potential risks of this trend in our article, The benefits and risks of direct-to-consumer strategies in manufacturing.
This website is general in nature, and is provided as a courtesy to you. Information is accurate to the best of Liberty Mutual's knowledge, but companies and individuals should not rely on it to prevent and mitigate all risks as an explanation of coverage or benefits under an insurance policy. Consult your professional advisor regarding your particular facts and circumstance. By citing external authorities or linking to other websites, Liberty Mutual is not endorsing them.