4 MIN READ
Published 03/10/2020
3 key ways blockchain can improve transparency in manufacturing
Test test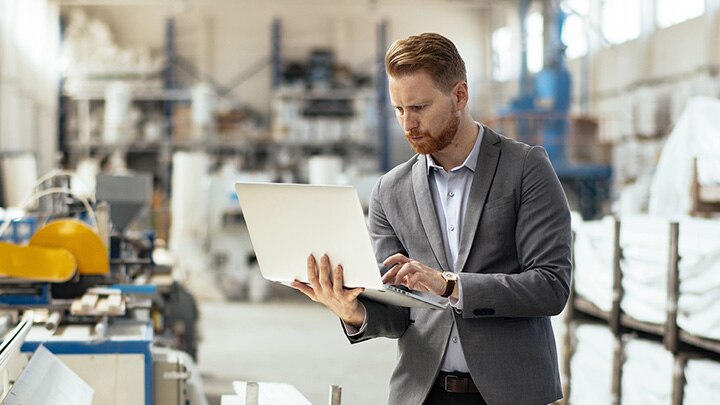 Blockchain-based technologies are advancing rapidly, carrying the promise to usher in new levels of trust and transparency across the manufacturing industry, from sourcing to supplier management to distribution. The end result is more efficiency, visibility, and accountability. Let's look at some of the transformative impacts in these three areas.
Sourcing the right materials is always a high priority for any manufacturer. Not only does it ensure quality and cost efficiency, but it also can lead to faster product-line innovations and lower the risk of counterfeit or defective goods.
Because it creates a secure and traceable form of shared recordkeeping, blockchain can bring automation, precision, and efficiency to the entire sourcing process. By helping track the movement of supplier goods at each stage, blockchain helps establish verified audit trails, critical supplier credentials, materials certifications, and qualification statuses. For example, blockchain-powered sourcing methods can act as the ultimate record of testing results and certifications related to the Production Part Approval Process (PPAP).
And with growing customer demand for detailed product information – the source, history, purpose, and path of the goods– it's becoming even more important for manufacturers to enhance sourcing transparency and product authentication.
More than 70% of 18,980 consumers from a research study by the IBM Institute for Business Value and the National Retail Federation, stated it's very or extremely important for companies to guarantee transparency and traceability when they're purchasing goods. Moreover, they're willing to pay more for brands that can offer that authenticity.
While sourcing transparency can help manufacturers build brand loyalty and profits, it can also play a critical role in the unfortunate event of a recall. In a recent statement about the E. coli outbreak linked to romaine lettuce that occurred in the fall of 2018, the U.S. Food and Drug Administration indicated that the "voluntary adoption of labeling best practices and technology-enabled traceability used by some in the industry" was one of three major factors that helped with its investigation.
By leveraging data and integrating blockchain technologies when sourcing, manufacturers can help differentiate themselves, better meet customer expectations, and improve safety.
From the manufacturer's floor to the retailer's shelf, blockchain technology has the potential to create smarter and more secure supplier management – tracking materials, determining where they arrived, who received and handled them, and how and when they moved to a next stage. By enabling a visible, near real-time ledger, the technology can ensure suppliers and customers are on the same page.
More than 70% of consumers say it's very or extremely important for companies to guarantee transparency and traceability when they're purchasing goods.
Integrating with Internet of Things (IoT) devices, this record keeps a data stream of checks and balances along the way. For example, say your shipments use IoT sensors that track the entire transportation journey, end-to-end. The tracking mechanism will monitor ownership and possession, along with locations, temperature, humidity, motion, and time. In this way, blockchain can provide up-to-the-minute status reports – to all parties involved.
And because blockchain-powered data is stored, timestamped, and linked in ways that can't be changed – only added to or updated –records have less potential for unauthorized edits and can be retained with other key pieces of information for the product lifecycle.
Accurate distribution information is vital for manufacturers to verify contracts and orders, plus confirm sold and delivered goods. Using IoT devices that monitor the status of shipments and execute payments upon delivery can give all parties transparent and traceable proof. And that capability could speed up the payment process.
Having such reliable data is important, considering that disputes about invoices for delivered products are common concerns among companies today. One analysis estimates that as much as $100 million is tied up in disputes among U.S. suppliers, distributors, and customers every day – each of which take an average of 40 days to resolve.
By enabling smart contracts along a blockchain network, a digital and automated record can serve as a single source for fulfillment, invoicing, and payment. This streamlined approach may also help ensure regulatory compliance; catch errors, misinterpretations, or fraud; and even set common expectations among involved parties to lessen the likelihood of contract disputes.
As much as $100 million is tied up in disputes among U.S. suppliers, distributors, and customers every day – each of which take an average of 40 days to resolve.
In these ways, blockchain has the potential to reduce the cost and complexity of business transactions as it monitors, reports, and validates key distribution results consistently from beginning to end.
Shaping new strategies via technology
Like any new technology, blockchain's relevance for any manufacturer will be guided by the business's unique nature and needs. Depending on the scope and type of manufacturing operations, suppliers, and equipment, what works for one company might not work for another. Liberty Mutual is following how this and other technologies may benefit manufacturers and can help your business assess potential risks. To learn more about the role of co-bots in manufacturing, read our article Co-bots in manufacturing: 5 key areas to mitigate risk.
This website is general in nature, and is provided as a courtesy to you. Information is accurate to the best of Liberty Mutual's knowledge, but companies and individuals should not rely on it to prevent and mitigate all risks as an explanation of coverage or benefits under an insurance policy. Consult your professional advisor regarding your particular facts and circumstance. By citing external authorities or linking to other websites, Liberty Mutual is not endorsing them.