4 MIN READ
Published 07/28/2020
Building trust in the new mobility market: 4 risk management challenges to address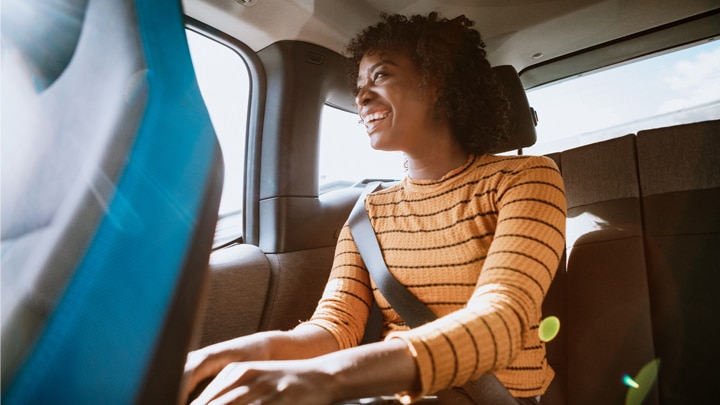 The way that people travel is changing. Rides are shared. Cars are shared. Even boats and RVs are shared. On-demand sharing is now part of our everyday lives and has become so successful in part because of shifting attitudes that place less emphasis on ownership and the advances in the technology that enable these services.
This fast-moving evolution is also sparking new relationships between drivers, passengers, new mobility service providers and insurers – and building trust among all parties is critical to maintaining the sharing ecosystem, according to David Blessing, chief underwriting officer and senior vice president of sharing economy and new mobility at Liberty Mutual Insurance.
"Insurers enable trust in this equation by backing it up with adequate protection," he says, "and they foster sustainability and scale by partnering to build a culture of risk management."
As the industry continues to evolve, here are four key risk management challenges new mobility service providers should address so they can best position themselves for success moving forward.
1. New forms of vehicle usage create coverage ambiguity
When it comes to protection in a shared mobility model, the lines between personal and commercial insurance get blurry.
For example, say a ride-share driver is logged into the platform, but not yet engaged in a ride request – and then has an accident with their vehicle. Is the accident covered by the driver's personal insurance, the platform's commercial insurance, or both? In scenarios where personal assets are used for commercial purposes, the line of separation can be unclear.
"Many personal insurance auto policies will exclude commercial use of vehicles. Some of them exclude ridesharing, delivery, or car-sharing explicitly," Blessing says. "Others allow an individual to purchase a policy or endorsement that will cover the driver for certain periods of the ride-share process."
Nearly three-quarters of consumers say they have a level of expectation around insurance protection when they either use or share services.
To help mitigate risk, it's important for drivers to understand what their personal policies cover and for the platforms to be clear about the insurance protection available to both their vehicle suppliers and the ultimate users of the service. The platform should clearly define its own responsibilities versus those of contractors and consumers and indicate specific circumstances where coverage may be void.
2. Consumers expect new insurance products
According to a recent survey of 2,000 shared-mobility consumers conducted by McKinsey & Co., we should expect the use of these services to increase. When asked to compare their current mobility usage with their probable choices 15 years in the future, for example, respondents said they see themselves using private cars 12% less and expect to choose ride-hailing and ride-sharing services 7% more. The ability to make those choices depends on many things, but confidence in having adequate insurance is a big one, other research shows. Nearly three quarters of consumers polled in a large-scale, global survey said they have a level of expectation around insurance protection when they either use or share services.
Because drivers and passengers need to trust that their sharing platform has insurance protections in place, the strength of the relationship between sharing operators and their insurers is paramount, Blessing explains.
To meet needs and lessen the risk of potential exposures that new mobility creates, insurers are responding. They're crafting new insurance solutions that merge aspects of personal and commercial coverage and fill potential gaps.
3. Regulations continue to evolve
Effectively formalizing what had initially been informal activity, most states have now clarified mobility operators' insurance obligations by setting minimum levels of required coverage. For instance, at least 51 states and territories have enacted legislation to set insurance coverage rules and standards for transportation network companies (TNCs). While only a handful of states have so far enacted laws regarding car sharing, the National Council of Insurance Legislators adopted peer-to-peer car sharing model legislation this year – putting a framework in place for states to potentially consider adapting to their needs during upcoming legislative sessions.
While the scope of regulation is still being defined, as new mobility options continue to grow, states and localities will likely consider additional measures to formally incorporate sharing services into their overall transportation systems – and continue to establish regulatory frameworks guiding their use.
That's why "it's important to understand the laws where you operate and any precedent set by the courts," Blessing notes, "and then have insurance limits in place that are commensurate with any additional risk you take on by facilitating business transactions between individuals."
4. Insurance can help drive sustainable growth
For peer-to-peer platforms that don't own assets, insurance may constitute one of their biggest business expenses.
"Beyond the cost of supply, rideshare drivers using their own vehicles or peer-to-peer car sharing hosts putting their own vehicles up for rent – insurance really becomes a significant portion of a platform's P&L," Blessing said.
Many sharing economy companies are not yet profitable, and their continued growth depends on balancing an expanding customer base with the cost of insuring the accompanying exposure.
"Getting to that point where a platform can be viable over the long term requires an understanding of how to manage insurance expense," says Blessing, "and having a carrier partner who can help them do that is so important."
Driving forward through proactive partnerships
Creating new, innovative insurance products to meet the needs of the shared-mobility market requires collaboration, risk management expertise, and strong customer service from across the personal and commercial insurance areas.
"Insurers enable trust in this equation by backing it up with adequate protection and they foster sustainability and scale by partnering to build a culture of risk management." – David Blessing.
Liberty Mutual Insurance's sharing economy and new mobility practice bridges together these resources. The group shares claims and underwriting expertise and different perspectives involved in managing personal and commercial claims.
The company also has a claims practice dedicated to the sharing economy and new mobility space. Adjusters understand insurance requirements in different states, the nuances in policy language, and the way that commercial policies fit with personal policies. "On the personal side, we understand how important it is to provide a simple and seamless experience throughout the claims process," Blessing said. "In addition, we have the experience to manage complex claims litigation with million-dollar limits at stake."
The claims team also works closely with the underwriting group to ensure there is consensus on policy intent. This collaboration also aids the development of new solutions that fill in the gray areas created by this commercial/personal hybrid industry.
Blessing notes, "We're solving for the whole ecosystem and are uniquely positioned to stay at the forefront and transform insurance from a practical necessity to a competitive advantage."
This website is general in nature, and is provided as a courtesy to you. Information is accurate to the best of Liberty Mutual's knowledge, but companies and individuals should not rely on it to prevent and mitigate all risks as an explanation of coverage or benefits under an insurance policy. Consult your professional advisor regarding your particular facts and circumstance. By citing external authorities or linking to other websites, Liberty Mutual is not endorsing them.