4 MIN READ
Published 11/30/2020
Navigating the challenges of novel treatments for COVID-19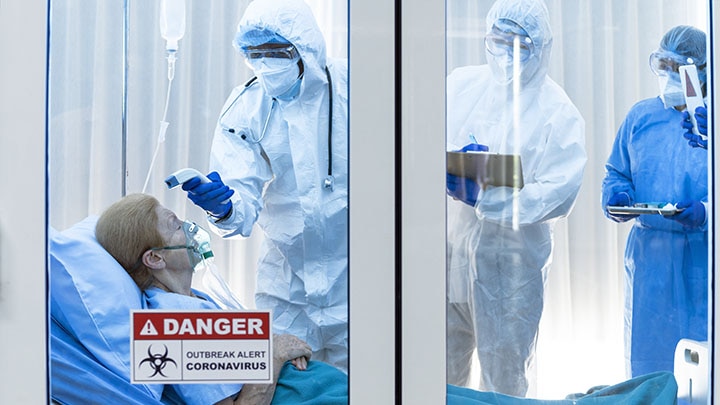 For healthcare professionals and medical facilities, navigating the changing care path for COVID-19 remains an ongoing challenge. From newly accepted treatments to off-label medication usage, regulatory and practice guidelines continue to shift rapidly – bringing ongoing updates to procedures and protocols. Here's what your risk management team should know when it comes to guarding against medical liability and protecting COVID-19 treatment decisions.
1. COVID-19 treatment guidelines are evolving quickly.
Currently, there is only one medicine – Remdesivir – approved by the Food and Drug Administration (FDA) for COVID-19. But a range of drugs approved for other indications, as well as multiple investigational agents, are being studied and used – mainly through emergency-use authorizations, compassionate-use provisions, or expanded off-label access.
From antivirals to immunomodulators, the issue is compounded by the growing numbers of COVID-19 related drugs, treatments, and therapies currently in development. According to the FDA, as of Sept. 30, 2020, there are now more than 350 active treatment trials and more than 550 development programs for therapeutic agents in the planning stages.
According to the FDA, there are now more than 350 active treatment trials and more than 550 development programs for therapeutic agents in the planning stages.
At the same time, recommendations are updated frequently based on safety and efficacy. For example, the FDA in June revoked its emergency-use authorization for hydroxychloroquine sulfate and chloroquine phosphate, saying the risks outweighed potential benefits.  
All these facts – coupled with the sheer urgency of the pandemic – make it more clinically challenging to determine when novel use or off-label prescribing may be warranted and appropriate.
2. Professional liability immunity protections are increasingly broad, but untested
An emergency declaration by the Department of Health and Human Services issued earlier this year – under The Public Readiness and Emergency Preparedness Act – provided liability immunity to health professionals against any claim of loss caused by the use of  items that the FDA recognizes as "covered countermeasures" against COVID-19 (such as drugs, biological product, or devices), except for claims involving ''willful misconduct."  Many governors included liability protections for healthcare providers dealing with COVID-19 in their pandemic emergency orders. Increasingly, state legislatures also have acted to formally shield healthcare providers, providing them certain immunities from liability claims regarding COVID-19.
While such measures are helpful, legal experts note that these state specific immunity laws are unprecedented and therefore also untried. Because of the lack of certainty over the "best" treatment for the virus at this time, there may not be a prevailing standard of care, suggests a recent report in the journal Health Affairs. And that means there's also no reference standard against which a provider's actions may be judged.
Because of the lack of certainty over the "best" treatment for the virus at this time, there may not be a prevailing standard of care.
3. Informed consent, disclosure of risk, and duty of care are paramount
Even with new immunity protections, healthcare providers have an ethical obligation to inform patients about treatments and their risks, benefits, and alternatives. And for novel treatments related to COVID-19, this vital standard of care becomes especially important, according to a recent ethics update by the American Medical Association (AMA).
For example, current AMA guidance reminds physicians that they must seek a patient's explicit consent to off-label use by disclosing:
How it differs from the standard therapeutic approach (when there is one);
Why the physician is recommending it;
Known or anticipated risks, benefits, and burdens of the recommended therapy and any alternatives;
Experience with the new use in the professional community in general and the physician's individual experience with it; and
Any conflicts of interest the physician may have with respect to the therapy.
Healthcare providers should ask themselves two essential questions. First, are you acting reasonably under the circumstances and given the most updated directives? And second, would another physician in the same situation provide this treatment as a reasonable course of action? Healthcare providers may avoid professional liability when prescribing treatments for off-label uses if they put the patient's interests first and can point to supporting and credible clinical data.
The National Institutes of Health  (NIH) COVID-19 Treatment Guidelines Panel updates its website with the most recent information regarding optimal management of COVID-19; you can find the most recent revisions and recommendations here.
Staying informed, being prepared
In these extraordinary clinical circumstances, the COVID-19 pandemic is likely to affect the medical professional liability insurance industry for some time to come – especially with new studies finding that some patients are suffering from long-term effects. Staying in touch with your insurer to review the latest trends, claims trends, and practitioner and facility protections can help you stay protected against continuing impacts. Learn more about our insurance solutions and review all of our COVID-19 resources here.
This website is general in nature, and is provided as a courtesy to you. Information is accurate to the best of Liberty Mutual's knowledge, but companies and individuals should not rely on it to prevent and mitigate all risks as an explanation of coverage or benefits under an insurance policy. Consult your professional advisor regarding your particular facts and circumstance. By citing external authorities or linking to other websites, Liberty Mutual is not endorsing them.