3 MIN READ
Published 03/28/2020
How big data drives insurance innovation and better experiences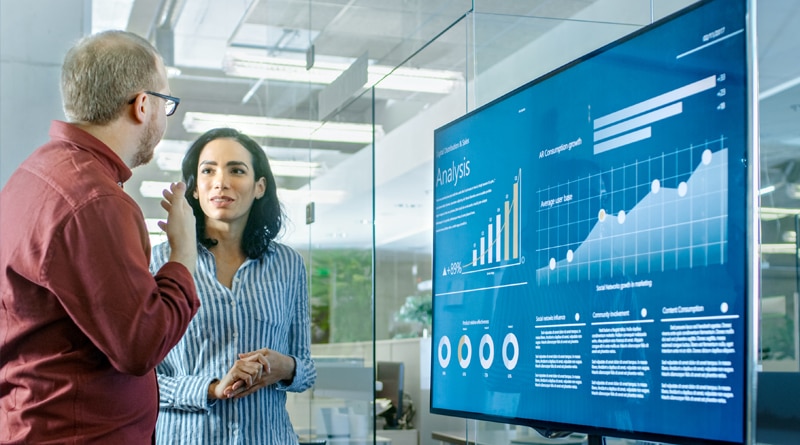 As advanced technologies continue to fuel disruptive changes in many industries today, insurers are intent on leveraging the benefits of big data, also known as data analytics, to help improve everything from customer service to underwriting.
Here are three areas where the value of data analytics and technology is already fueling insurance innovation and better customer experiences.
AI-based underwriting

Artificial intelligence (AI) is accelerating the technology revolution currently underway in insurance. In fact, according to one forecast, the transformative effect of AI and machine learning on the insurance process just can't be overstated. As AI continues to evolve, the report concludes, it's likely to shift insurance from the perspective of "detect and repair" to "predict and prevent." In our connected world of data and digital devices, for example, insurers already are leveraging usage-based information to better understand customer risks and coverage needs. This predictive data is inspiring new products, more tailored underwriting, and real-time service delivery. Consider a manufacturing facility where information from wearable-equipped employees and fleet telematics is connected to an actuarial database. Using AI algorithms, an insurer could calculate the business's risk based on employees' and vehicles' activities, as well as the probability and severity of potential events. The benefits of a data-driven approach help both customers and insurers by:

Encouraging safety;
Delivering more accurate risk assessments and underwriting;
Helping to reduce claims costs; and
Changing the customer-insurer relationship from reactive to proactive.

The bottom line? When first-hand data informs the insurance situation, the benefits can include better risk identification and underwriting evaluation and more tailored solutions.



Proactive policy management via automation

Technology is also creating easier access to more reliable data and speedier evaluation of risk.

Liberty Mutual Insurance and its technology partners are harnessing this power of big data to more accurately identify account opportunities and develop proactive coverage solutions for customers. 

Through its latest relationship with Intellect SEEC, for example, thousands of third-party data sources – like court filings, industry data, and government records, – are analyzed and packaged into actionable information so underwriters can more quickly identify, underwrite, and service potential accounts. The result is a win-win for brokers and customers, providing:

An enhanced ability to understand each potential customer's insurance service and product needs,
An ongoing window into an account to identify new needs, which can help to customize coverage options and solutions to meet changing risks.

With these deeper insights, Liberty Mutual can more quickly understand current and potential customer needs and create product solutions that help customers better manage their exposures. 

Smart contracts powered by blockchain

As blockchain technology continues to mature, the insurance industry is poised to study and reap the potential benefits it creates – from automating and streamlining manual processes to eliminating the chance of errors and fraud.

As a distributed digital ledger that can record transactions efficiently in verifiable and secure ways, blockchain may effectively turn paper contracts into sets of coded instructions that essentially define insurability. Smart contracts enabled by blockchain, for instance, may instantly authorize premium payments to and from a customer's bank account, thereby streamlining contract administration and payment verification. In addition to expediting the entire process of purchasing insurance and processing claims, blockchain may also be able to analyze transactions to confirm coverage and identify or prevent fraudulent claims.

For example, say a cargo truck is loaded with products and departs from the warehouse facility. Information regarding the value of the shipment, distance traveled, and route taken is automatically sent to the carrier's insurer. Using that information, a premium is calculated to insure the shipment and is immediately debited from the company's account. In this way, a blockchain solution supports a pay-as-you-go insurance program and facilitates billing and payment – all at once.

The result? By enabling customers and insurers to track and manage physical assets digitally, blockchain technology can help authorize and automate coverage through smart contracts – plus provide a permanent and transparent data trail should a claim occur.
Delivering better solutions and experiences
AI and smart technologies are reshaping the insurance experience, from delivering better risk assessments and underwriting to developing targeted, secure insurance solutions. Insurers are also applying different technologies to help improve the claims experience. Learn more about the use of technology in workers compensation claims in our article, Five emerging technologies that are improving the workers comp claim experience.
This website is general in nature, and is provided as a courtesy to you. Information is accurate to the best of Liberty Mutual's knowledge, but companies and individuals should not rely on it to prevent and mitigate all risks as an explanation of coverage or benefits under an insurance policy. Consult your professional advisor regarding your particular facts and circumstance. By citing external authorities or linking to other websites, Liberty Mutual is not endorsing them.