4 MIN READ
Published 11/13/2018
Five emerging technologies that are improving the workers comp claims experience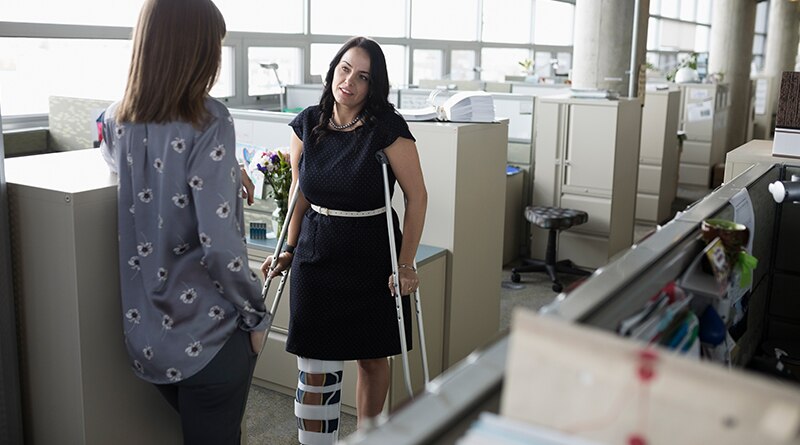 Technology has had an effect on the insurance industry, particularly on how workers compensation claims are managed. "A newly sharpened focus on the injured worker and the increasing use of technology to identify trends and to simplify and expedite certain elements of the claims process are having a major impact on the management of workers compensation claims," says Wesley Hyatt, Senior Vice President, Workers Compensation Claims, Liberty Mutual Insurance and Helmsman Management Services LLC.
With a stronger focus on improving the injured worker's experience, emerging tech is helping insurers become more proactive in their efforts to reduce employee anxiety and facilitate recovery. This, along with the fact that consumers are becoming more comfortable using technology in their everyday lives, is presenting insurers with new opportunities as to how they can better assist workers throughout the claims process – from beginning to end.
The following are five key areas that have presented insurers with opportunities to use technology to improve workers compensation claims management.
1. Improving communications
An area where technology has been effective in improving workers compensation programs and claims processes has been communications. The fact is, suffering a work-related injury is a stressful event. In addition to dealing with recovery, an employee must also work through the claims process – often for the very first time. In all cases, claims adjusters play a pivotal role in assisting workers during this difficult time. For this reason, any efforts made to improve and expand communications between the adjuster and injured worker are a substantial step in the right direction.
An example of improving the employee experience and delivering better outcomes for workers has been the launch of Liberty Mutual's SmartVideo. By way of a personalized video, injured workers are educated on the claims process and receive important details that include provider, pharmacy, and adjuster contact information. The premise is to expand on the human connection between adjuster and worker, alleviating an employee's stress and fears of the unknown which in turn, can help aid and lessen recovery time.
2. Expediting claim payments
Recent catastrophic events throughout the nation have allowed insurers to better identify key issues where weather-related occurrences have impacted injured workers. Two such areas include ensuring that during catastrophic situations, compensation checks are received by employees in a timely manner, and that pharmacy and care services continue without interruption.
For example, during a crisis, insurers have identified substantial delays in workers compensation checks due to mail interruption. For employees receiving checks via the mail, some insurers are looking to incorporate the technology to automatically transfer a paper compensation check to electronic funds transfer (EFT) when an interruption in mail delivery is predicted.
"It's important to partner with an insurer who works collaboratively with their individual legal teams to break down the barriers that could prevent employees from receiving their workers compensation checks – including onboarding the technology to know when to move individuals on EFT in a crisis," – Wesley Hyatt.
3. Improving the coordination of care and pharmacy delivery
Part of an effective claims management program involves facilitating an injured worker's coordination of care and pharmacy needs during the recovery process. This is of particular importance in a crisis situation, and one that is being addressed through technology by electronically linking together a network of doctors, facilities, and pharmacies.
For example, the coordination of care in a crisis can quickly escalate when there is a loss of power and necessary treatments for an injured worked cannot continue. It can also create barriers for obtaining needed medications from local pharmacies. This situation necessitates being able to tap into a digital network to immediately coordinate treatment for a worker in another state, as well as locating medications from other pharmacies.
4. Creating a better claims experience with bots
The area where technology has made a huge impact on improving the workers compensation experience for employees is claims management. Here, insurers are implementing new automated processes to drastically reduce the time typically required for the claim intake process. One way is with the increased use of web robots or "bots."
Bots are not meant to replace human intervention. Instead, they harness emerging technology so that it responds automatically when a workers compensation claims is filed, transforming a slow manual process to one that radically reduces intake time from hours to just minutes. This automation speeds up the processing and assignment of new workers compensation claims, creating greater flexibility for workers compensation claims experts by freeing them up from certain repetitive administrative tasks. In turn, it allows claims teams to focus on direct interaction with injured workers, connecting with them on a more personal basis and providing added value.
5. Addressing the opioid crisis
The insurance industry continues to monitor issues regarding opioid use. But even as opioid spend has declined in small numbers, there remains a lot to be done. One way insurers are addressing the opioid epidemic is with a strategy that includes incorporating the U.S. Centers for Disease Control and Prevention (CDC) guidelines as part of their claims management program.
In addition to training adjusters on when opioids are appropriate, technology can integrate CDC guidelines into claims systems, allowing adjusters and medical providers to become more proactively engaged in the process. This can include teams receiving automated alerts when a prescription may be unsuitable, creating an opportunity to talk with the provider and injured worker to get more information on the situation and to discuss possible alternatives to treatment.
"Since implementing CDC guidelines, we have experienced a 9 percent reduction in patients being prescribed with opioids," says Hyatt. "When it comes down to it, it's really about doing the right thing for the injured worker."
Technology where it's needed most
There will always be elements of the claim handling process that will require a human touch and empathy that shouldn't ever be automated. Which is why it's important to partner with an insurer that knows how to identify key issues and tasks that aren't value-added and where to apply technology where it is needed most.
This website is general in nature, and is provided as a courtesy to you. Information is accurate to the best of Liberty Mutual's knowledge, but companies and individuals should not rely on it to prevent and mitigate all risks as an explanation of coverage or benefits under an insurance policy. Consult your professional advisor regarding your particular facts and circumstance. By citing external authorities or linking to other websites, Liberty Mutual is not endorsing them.