3 MIN READ
Published 12/09/2017
Control workers comp costs by reining in physical medicine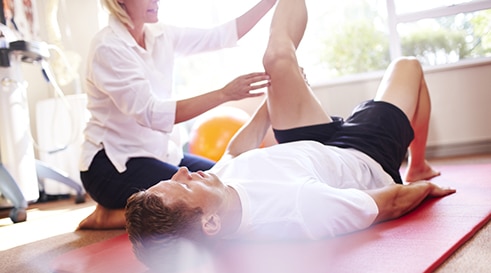 Physical medicine can account for the largest part of physician expenses, as much as 30 percent, in workers compensation claims according to the NCCI. Yet despite the growth of this expense, few employers are engaged in discussions around how best to manage it.
"Now is the time to look at physical medicine and think about how it impacts total cost of risk," said Frank Radack, Vice President and Manager, Claims Managed Care at Liberty Mutual Insurance. "Employers should investigate comprehensive solutions to keep costs manageable and to deliver quality, evidence-based care to injured employees."
There's no one magic solution for controlling physical medicine costs. However, employers that partner with experienced insurers to evaluate how physical medicine is used in their claims processes will find themselves ahead of the game.
Here are three ways to better manage physical medical expenses and total workers comp costs:
Identify Cost Drivers. Higher utilization of physical medicine is a key driver behind the increase in costs. Contributing factors include:


Comorbidities: Today, more people living and working longer. This has substantially increased the likelihood of co-morbid conditions (when two disorders or illnesses occur in the same person and simultaneously), resulting in a longer recovery time for an employee to seek the treatment needed to get healthy and return to work.

Alternate treatment options: More patients are looking for alternatives to surgery that include less invasive treatments to help get them back on the road to recovery. In addition, the Centers for Disease Control and Prevention released guidelines that recommend nonopioid treatments, such as physical therapy, for the treatment of chronic pain versus opioids.


Build Strategic Partnerships. While employers can't control fee schedule changes, they can get a better handle on physical claim costs by partnering with insurer that knows how to manage utilization with a multifaceted claims system that includes:


Qualified network vendors. A network of vendors who work exclusively in physical medicine understand the occupational space, and are focused on effective return-to-work (RTW) efforts that are best for both the employee and employer. A provider who doesn't understand RTW, or even know that the injured worker's employer has a modified RTW program, may over-utilize physical therapy.

Data analytics. Insurers with a data analytics program can study its providers' prescribing and referral patterns and outcomes. This allows them to build a network of point-of-entry general practitioners who understand physical medicine, along with a proven track record of optimal outcomes. This data analysis can help identify certain treatment types where utilization exceeds evidence-based guidelines and actionable insights to help drive improved outcomes.

Peer interventions. Peer-to-peer interventions play a big role in adjusting provider behavior and ensuring adherence to evidence-based guidelines. Partnering with an insurer that has a regional group of medical directors can:

Provide a level of expertise on more challenging claims
Discuss how to best redirect treatment to meet evidence-based guidelines
Share information and measure performance of physical medical care to help to improve efforts. For example, interventions that steer physical therapists back to established, evidence-based medical treatment guidelines that can reduce the use of passive therapy treatments.


Apply Careful, Close Management. Treatments such a physical therapy provide great value. But for employers to better control costs, they need to manage it correctly. This includes closely managing treatment plans. Active therapies that get people moving often help them get them back to work faster and at a lower cost says Radack. "But utilization review also helps to identify unnecessary treatments and signals the insurer to communicate evidenced-based expectations with the therapist or prescribing physician." To help employers in this area, Liberty Mutual's claims analytics team developed a physical medicine "scorecard" that measures treatment outcomes and vendor performance. For example, the scorecard may help identify specific geographic locations where treatments plans are outside of evidenced-based guidelines. The scorecard can also compare treatment costs among vendors and identify those that are higher than average. Liberty Mutual then collaborates with its vendor partners to develop actions plans to improve in these areas.

Physical medicine will continue to be an important part of employees' treatment plans in workers comp claims. Today, there is considerable opportunity for employers to take proactive steps to reduce the direct costs of claims while making treatment decisions that optimize patient outcomes.
This website is intended to be informational. Descriptions are provided only as a summary outline of the products and services available and are not intended to be comprehensive and do not constitute an offer to sell or a solicitation. The products and services described may not be available in all states or jurisdictions. See your policy, service contract, or program documentation for actual terms, conditions, and exclusions. Any inquiries regarding the subject matter set forth herein should be directed through licensed insurance professionals.
Coverage and insurance are provided and underwritten by Liberty Mutual Insurance Company or its affiliates or subsidiaries. When we offer insurance products, we will state clearly which insurer will underwrite the policy. Some policies may be placed with a surplus lines insurer. Surplus lines insurers generally do not participate in state guaranty funds and coverage may only be obtained through duly licensed surplus lines brokers.