8 MIN READ
Published 07/14/2023
Building renewable energy: utility scale solar farm location risks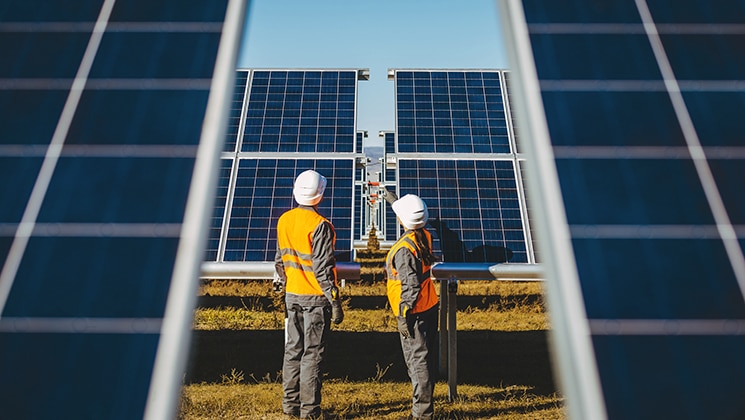 Climate change is one of the Earth's most pressing concerns. While seemingly minuscule, a 1.5-degree Celsius global average temperature increase could cause catastrophic damage and loss of life.
Hoping to prevent such loss, much of the world is rallying around efforts to reduce carbon emissions. And while many strategies can help, shifting energy production from fossil fuels to renewable energy sources is one of our primary opportunities to address climate change.
The effort is gaining serious momentum. Global renewable energy growth is increasing exponentially. According to the International Energy Agency, renewables are forecast to account for more than 90 percent of global electricity capacity expansion from 2022 to 2027. In addition, the Inflation Reduction Act's incentives reduce renewable energy costs for businesses, nonprofits, educational institutions, and state, local, and tribal organizations. This work is critical to lowering greenhouse gas emission footprints and accelerating the clean energy transition.
The role of solar in the great renewable buildout
Much of this renewable energy buildout will be in the form of solar photovoltaic (PV). As a lower-cost option for new electricity generation, PV should propel investment in the coming years.
In this thought leadership piece Liberty Mutual experts outline why the location of a utility scale solar installation is a key consideration.
This website is general in nature, and is provided as a courtesy to you. Information is accurate to the best of Liberty Mutual's knowledge, but companies and individuals should not rely on it to prevent and mitigate all risks as an explanation of coverage or benefits under an insurance policy. Consult your professional advisor regarding your particular facts and circumstance. By citing external authorities or linking to other websites, Liberty Mutual is not endorsing them.