6 MIN WATCH
Published 08/02/2022
Energy transition, differentiators, and challenges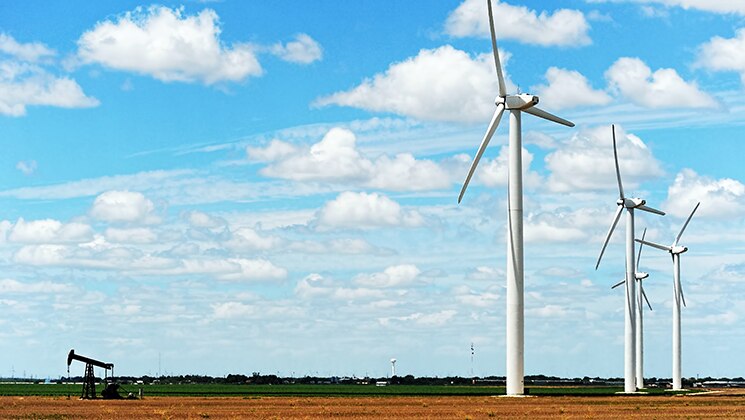 "The world is transitioning to a low-carbon economy, which will result in the largest reallocation of capital in human history. Trillions of dollars will be spent annually in new renewable technologies and greener infrastructure, creating enormous opportunities for growth and prosperity. As a global insurer and investor, we are committed to enabling this transition by providing leading risk advisory services to help customers advance their sustainability journeys, by insuring and investing in emerging sectors to support 'green' growth and striving to become the partner of choice for our brokers and others working to advance the transition."
In the following videos, Liberty leaders and experts discuss our commitment to innovating and developing holistic solutions to help our clients develop credible energy plans.
Liberty Mutual is dedicated to supporting clients as they seek to reduce their carbon footprint and use or supply alternative sources of energy.  We are engaged in cross-industry collaboration to improve and refine ESG data and risk management for the insurance industry and beyond.
Learn how Liberty Mutual's investments and decades of experience make us the right partners for the energy transition. We're committed to supporting clients in their own sustainability journeys.
The energy industry is facing new risks and opportunities. Liberty Mutual can help clients navigate every facet of risk management and develop holistic solutions.   
The state of the energy insurance market: top challenges
Clear industry insights lead to better protection. We're tracking the energy market trends that affect you and your business. In this video, hear Jessica Dekermanji, Chief Underwriting Officer, Energy, with Liberty's energy industry experts Kevin Fee, Tonya Kennedy, and Travis Bonine, discuss the state of the energy insurance market today and the top challenges facing brokers and buyers.
To learn more about how we are working together with purpose to help energy companies manage risk, visit our energy page. 
This website is intended to be informational. Descriptions are provided only as a summary outline of the products and services available and are not intended to be comprehensive and do not constitute an offer to sell or a solicitation. The products and services described may not be available in all states or jurisdictions. See your policy, service contract, or program documentation for actual terms, conditions, and exclusions. Any inquiries regarding the subject matter set forth herein should be directed through licensed insurance professionals.
Coverage and insurance are provided and underwritten by Liberty Mutual Insurance Company or its affiliates or subsidiaries. When we offer insurance products, we will state clearly which insurer will underwrite the policy. Some policies may be placed with a surplus lines insurer. Surplus lines insurers generally do not participate in state guaranty funds and coverage may only be obtained through duly licensed surplus lines brokers.