3 min read
Published 11/04/2020
10 key property insurance risks that can leave businesses exposed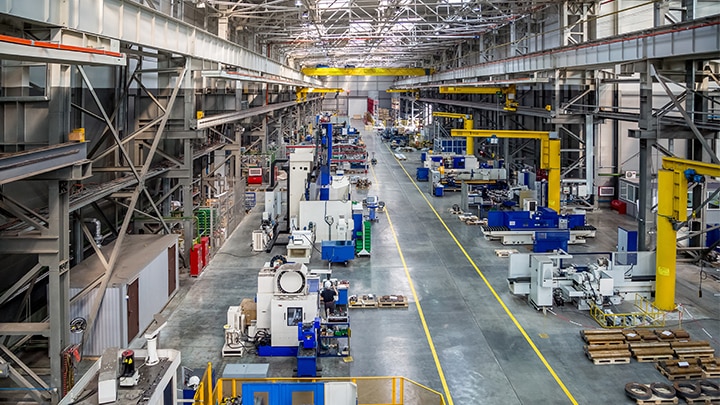 Companies face many property-related challenges in their efforts to safely resume operations and mitigate potential risks introduced by COVID-19 and other, more "usual" loss drivers. From severe weather and equipment maintenance to security measures and water damage, review key property insurance concerns that can leave businesses exposed if not considered as part of risk management planning.
The Property Risk Matrix featuring 10 areas that can leave businesses exposed to property loss
The Risk Matrix, produced by the editorial team at Risk & Insurance®, plots 10 property concerns that can introduce challenges for businesses, based on frequency and severity.
Severe weather
Extreme weather can wreak havoc on businesses, destroying equipment, making workspaces potentially unsafe, halting production, and more. So far in 2020, we've experienced a record-tying 16 billion-dollar weather disasters, according to the National Oceanic and Atmospheric Association. In this era of natural catastrophe risk, businesses should prepare by identifying vulnerabilities and creating business continuity plans. Understanding how your insurance carrier can help you restore operations and prevent further loss is critical.
Security measures
During the onset of COVID-19, many companies temporarily closed or downsized their physical locations as a result of work-from-home or hybrid in-office/at-home schedules. Yet businesses should still maintain the same safety measures to mitigate the risk of vandalism, fire, or other property loss.  Key actions include securing buildings to limit unauthorized access, maintaining security via electronic surveillance and alarm systems, and having adequate exterior and interior lighting.
Contingency planning
Natural disasters and other threats like workplace violence and even pandemics continue to challenge businesses. That's why having a business continuity plan is essential to ensuring your operation can respond and recover in the event of a catastrophe or other major business interruption. While continuity plans come in different shapes and sizes, there are certain elements that should be included, like pulling together a team to develop the plan, identifying key risks and potential resulting impacts, and documenting critical business functions. Now is the time to review and update the plans in place so your business does not suffer a long-term loss.
Equipment maintenance
The pandemic forced many businesses to shutdown with little notice, causing many to press pause on the necessary upkeep and routine maintenance of machinery, HVAC units, and other electrical equipment. Before resuming operations, have employees take the necessary steps before restarting these systems. Confirm what maintenance has been performed, if the necessary inspections and testing are complete, and when equipment can be restarted. Failing to take these steps could result in equipment and other property damage and injuries to staff.
Idle locations
While some businesses are inviting employees back and returning to "normal" occupancy, others have idle or vacant properties due to downsizing or work-from-home efforts. In these cases, having a facility plan in place can help reduce the risk of property loss and increase the likelihood of a positive transition back to full operations. The plan should include steps like securing the building, maintaining fire protection equipment, and powering down non-essential electrical systems or machinery.  And before employees return, review how to bring a business back up to speed.
Weather damage
New and off-site locations
Some businesses have added outdoor spaces or storage to maintain operations while following social distancing guidelines. Any new location or off-site locale should be added to existing property policies so that they can be considered in the event of a covered loss. If left unprotected, damage to these locations could result in significant losses.
WFH equipment
As part of the "new normal," more than 40% of employees are working remotely to help companies adhere with social distancing guidelines. While offering employees the ability to set up home workstations does promote safety and flexibility, businesses should keep track of any owned office equipment, like monitors, chairs, and computers, and account for them on their property policies to limit the risk of unexpected costs related to damage, theft, or other loss.
PPE storage
To follow CDC social distancing and safety guidelines, many businesses are acquiring personal protective equipment (PPE), like face masks and hand sanitizer, to help protect employees and reduce the spread of the virus. Hand sanitizer, which is typically stored in plastic containers, presents a challenging fire hazard, especially when stored in large quantities. In addition to limiting storage volume and having adequate sprinkler protection, consider these other measures to help reduce the risk of fire and property loss.
Different use of sites
Many businesses pivoted quickly in response to the pandemic. For example, some manufacturers began producing PPE, ventilators, or other essential equipment. However, these shifts can also introduce different risks. For example, a company many need to work with new suppliers, purchase machinery, or even store products differently to limit the risk of fire or contamination. Businesses should identify the potential impacts of these changes and address issues that could result in loss and related claims.
The Risk Matrix is featured with the permission of Risk & Insurance®. The Risk Matrix is produced by the Risk & Insurance editorial team.
This website is general in nature, and is provided as a courtesy to you. Information is accurate to the best of Liberty Mutual's knowledge, but companies and individuals should not rely on it to prevent and mitigate all risks as an explanation of coverage or benefits under an insurance policy. Consult your professional advisor regarding your particular facts and circumstance. By citing external authorities or linking to other websites, Liberty Mutual is not endorsing them.