2 MIN READ
Published 08/27/2020
New restoration services extend a lifeline to disaster-stricken businesses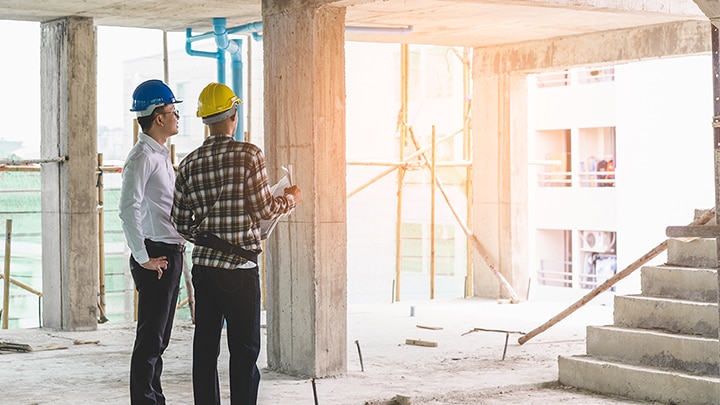 Extreme weather can wreak havoc on businesses, destroying buildings and equipment, making workspaces potentially unsafe, halting production and revenue, and more. Professional help is critical to get business back on track as soon as possible and help prevent further loss. But during catastrophic events, finding the right help isn't always easy.
That's why Liberty Mutual created a new full-service restoration program that provides midsize and large businesses a one-stop solution, with rapid, professional support when disaster strikes.
All the help you need, from emergency planning to rebuilding
When a hurricane, wildfire, or other catastrophe happens, we'll provide the option to start your claim and set up commercial mitigation and restoration at the same time with nationally recognized professionals. Our providers are ready to do it all: plan ahead, respond to emergencies, secure resources, deliver estimates, and rebuild damaged property.
Custom emergency plans designed to each customer's specific geographic and industry needs and ready to activate in case of catastrophe
Rapid, same-day response to water and fire emergencies
Full reconstruction services:

Roofing repairs/replacements
Fire and water damage repair or rebuild
Hazardous material remediation
Industrial/manufacturing line repairs
Catastrophe response
Speeding recovery amidst challenging situations
Our mitigation and restoration services have three major benefits for customers:
Restoring operations promptly, which could help reduce down time
Simplifying restoration and rebuilding by combining the claims and repair processes
A preplanned response strategy, ready to put in place should disaster occur, that focuses on returning to normal as soon as possible
These valuable services come with special features customers can appreciate, including:
Potential for discounted invoicing
Three-year warranties on all work
Partnership agreements that make it easier to settle claims
Timely service
Our industry-leading program is designed to help clients stem losses, at a time when catastrophic events like hurricanes, floods, and fires are happening more frequently. To learn more about our new restoration services, contact your Liberty Mutual representative.
This website is general in nature, and is provided as a courtesy to you. Information is accurate to the best of Liberty Mutual's knowledge, but companies and individuals should not rely on it to prevent and mitigate all risks as an explanation of coverage or benefits under an insurance policy. Consult your professional advisor regarding your particular facts and circumstance. By citing external authorities or linking to other websites, Liberty Mutual is not endorsing them.