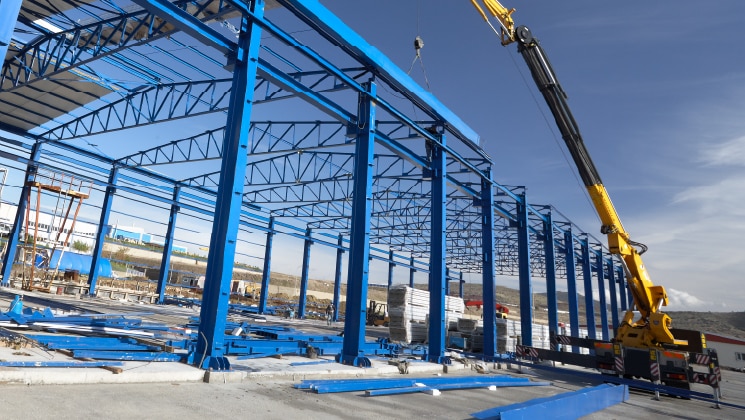 Protection for projects under construction
Whether it's for a single project or a diverse portfolio, contractors and property owners face unique risks while a project is under construction. From foundations to scaffolding, every aspect of unfinished structures can present risk-management challenges. Contractors need flexible program structures and broad coverages for protection during long and complex construction projects.
Our builder's risk solutions, offered by Liberty Mutual and Ironshore, take a flexible, full-service approach to projects under construction, helping to protect the value of your project from unexpected losses.
A protective partnership
Solutions for complex risks
Whether you're a contractor with multiple concurrent jobs or a property owner with capital improvements on the horizon, our suite of builder's risk solutions offers the broad protection you need as your projects change over time.
We can tailor solutions for an array of onshore construction projects, from high-rise office buildings and healthcare facilities to dams and bridges, whether via our Premier Protector — Builder's Risk™ proprietary form or our stand-alone builder's risk offering from our Specialty Property team.
Premier Protector — Builder's Risk highlights include:
Single project coverage: projects greater than $50M in value
Master builder's risk coverage: dedicated per project limits for projects of all sizes with pre-established terms and conditions
Flexible deductible options as well as numerous extensions included standard within the form to provide broad coverage for your project
Occupancy included and options available for hot testing and faulty workmanship coverage by endorsement
Our policy offers tailored protection for your projects, from materials and labor costs to construction management fees, temporary structures, and landscaping materials.
Specialty Property builder's risk coverage highlights include:
All risk coverage for property in the course of construction for principals and contractors
Hot testing, delay in completion, and terrorism coverage available
Probable maximum loss (PML) capacity, with line size up to $200M
Capacity deployed on 100 percent, quota share, or excess basis
Whether small or large, count on our solutions to help protect your projects and address your company's top risk-management challenges.
When you work with us, you benefit from insurance professionals who know the construction industry and work together to offer specially developed solutions for projects under construction.
Our dedicated underwriters, located across the country, have deep industry expertise and will partner with you to create a tailored program for your business. You can also benefit from the knowledge of dedicated property risk engineers who can identify exposures, quantify costs, and recommend practical solutions for your projects.
This fusion of collaboration and expertise results in a customer-centric approach that keeps your risk-management goals top of mind and helps lower your total cost of risk.
Better control over claims
On a job site, a delay can cost time and money.  Our property claims management approach focuses on mitigating loss and reducing downtime so your business and project can move forward.
Our people are at the core of our success and we empower them to make decisions and do their best for our customers every day.  You'll work with dedicated in-house property claims specialists with deep industry experience who receive extensive hands-on training on coverages, damages, and loss mitigation.
From before a loss occurs until after a claim is resolved, you can expect a streamlined experience that helps minimize business interruption and keep projects on track.
This website is intended to be informational. Descriptions are provided only as a summary outline of the products and services available and are not intended to be comprehensive and do not constitute an offer to sell or a solicitation. The products and services described may not be available in all states or jurisdictions. See your policy, service contract, or program documentation for actual terms, conditions, and exclusions. Any inquiries regarding the subject matter set forth herein should be directed through licensed insurance professionals.
Coverage and insurance are provided and underwritten by Liberty Mutual Insurance Company or its affiliates or subsidiaries. When we offer insurance products, we will state clearly which insurer will underwrite the policy. Some policies may be placed with a surplus lines insurer. Surplus lines insurers generally do not participate in state guaranty funds and coverage may only be obtained through duly licensed surplus lines brokers.