4 MIN READ
Published 07/28/2022
Water intrusion in construction: Understanding risks, identifying solutions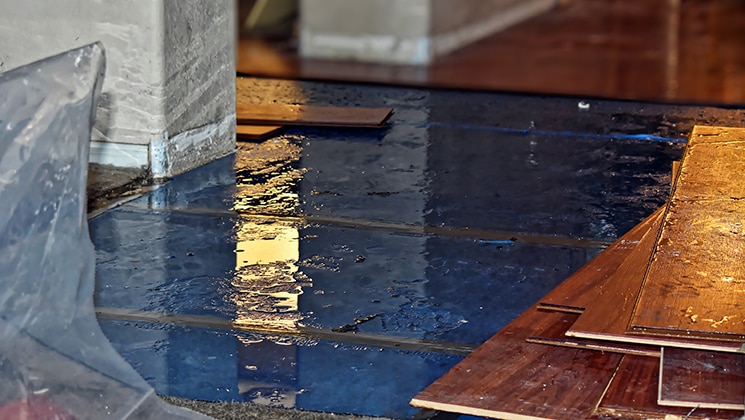 Project delays. Construction defect claims. Mold. Pollution. These are just a few of the impacts of water intrusion that threaten general contractors.
Water intrusion occurrences in commercial construction have increased over the last decade, rivaling fire incidents in both frequency and cost. Fortunately, the construction technology industry has risen to the challenge, creating new water intrusion technology products to minimize property damage and reduce claims. By incorporating these products into the building design phase — as one part of a comprehensive risk control plan — general contractors can help avoid the costs of water damage.
For contractors, water damage is more than a nuisance
"For general contractors, time is money," says Yaron Dycian, chief product and strategy officer at WINT-Water Intelligence, a company that detects and stops leaks at the source using artificial intelligence (AI). "One water leak left unattended can end up delaying a building project for weeks or months and cost millions in damages and rework."
On a construction site, where buildings are often left unoccupied, a small water leak can quickly turn into a major problem. For example, within hours of an unattended leak, construction materials can become saturated, and humidity begins to create a smell. Within days, mold becomes visible and structural components begin to expand and split. Commercial buildings, in particular, are vulnerable to water damage, as they have more water systems than homes.
Project delays affect not only general contractors, but also the ability of clients to start generating revenue. If the project is financed, this lost revenue could impact the time in which clients start to repay their loans. For all parties involved, the goal is clear: prevent water damage from the start.
Water intrusion devices reduce risk
As the Internet of Things (IoT) and cloud-based technology have eliminated cost and implementation barriers related to infrastructure, water intrusion technology has become more common in construction. These AI-enabled devices provide early detection of leaks, more timely notification of such, help to minimize property damage, and reduce claims during construction projects. There are more products on the market now than ever before.
These smart technology-based devices use algorithmic machine learning to understand normal water use patterns. Depending on the device, they are capable of:
Detecting abnormal water use patterns before the damage has a chance to spread

Automatically shutting water off

Identifying the source of the leak

Sending instant alerts to specified construction personnel
Installing water intrusion devices early on in the construction process — ideally during the design phase — and continuing to use them long after construction is completed minimizes the risk of water damage for both contractors and the end user of the structure.
Water intrusion: an ever-present risk to your property
Water intrusion is an ever-present risk to your property, both during construction and with completed projects.  We understand these risks, and can advise on mitigation efforts to help protect what you have.
Partner with insurance providers early on
General contractors interested in learning more about implementing water intrusion devices should start by talking with their insurance brokers and carriers. Insurance professionals can provide valuable insights on not only what coverage you should have, but can also recommend strategies for prevention, including identifying proper placement of the water intrusion devices. Consultation and collaboration early on in the preconstruction process is key to help minimize risk and reduce claims during projects.
Finally, don't forget to educate future property owners about the benefits of water intrusion devices. Using these devices contributes to buildings running efficiently over time, as they easily detect water leaks from plumbing, toilet fixtures, AC units, roof leaks, and other areas — a value-add for customers. General contractors and property owners should determine how the devices will be monitored upon the project's completion, as many providers offer varying levels of monitoring and detection which can extend post construction.
Avoid the high cost of water damage
The impact of water damage to both construction sites and completed buildings reaches billions of dollars each year. When used as part of a comprehensive risk control plan, water intrusion devices can help minimize property damage and reduce claims during and after construction projects. Advance planning with insurance carriers, developers, and property owners is an essential piece of protecting yourself from this construction risk.
This website is general in nature, and is provided as a courtesy to you. Information is accurate to the best of Liberty Mutual's knowledge, but companies and individuals should not rely on it to prevent and mitigate all risks as an explanation of coverage or benefits under an insurance policy. Consult your professional advisor regarding your particular facts and circumstance. By citing external authorities or linking to other websites, Liberty Mutual is not endorsing them.