3 MIN READ
Published 04/06/2023
Preparing for a challenging economic market: 3 tips for contractors just starting out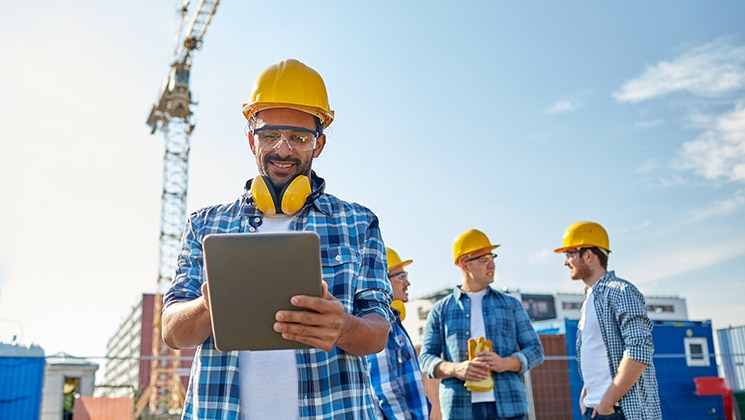 From substantial increases in material and supply costs to high interest rates and labor shortages, it's no secret that the construction industry has been faced with significant economic challenges over the last few years. While it may not always be possible to predict a recession, there are key steps contractors can take to help protect themselves if and when they happen.
Align with a team of partners that knows construction
As Surety Plus Vista Home Office Underwriter Todd Buechter states, "The first and most important step a contractor needs to take is to align themselves with partners who know construction." To set themselves up for success, it's critical for contractors to have a team of experts around them, such as a surety agent, CPA, bank, and construction attorney, to help guide their decision making.
While these partners might cost additional money up front, the long-term benefit of having a surety agent who understands their contractor and can place them with the right surety to meet their needs, a CPA who knows construction accounting, a bank that specializes in the construction industry, and a construction attorney on your side is an investment that can save money in the long run. When uncertain economic times arise, these experts can make recommendations from their years of experience in the industry and, in some cases, even share benchmarking data from across their portfolio to predict possible outcomes that inform the contractor's business plan.
"I hear from contractors four or five years down the road that they can't express how valuable these partners have been," Buechter says. "They're producing all these extra profits they wouldn't have seen otherwise."
Thoroughly review all contracts (and subcontracts)
While this may seem obvious, there are components of contracts that a construction attorney and surety underwriter know to look out for that a contractor may not catch. A surety underwriting team can thoroughly review liquidated damages and warranty clauses, indemnity, and other terms which may have provisions incorporated into them from the prime contract. Oftentimes when working with a repeat subcontractor, contractors may not always ask to see the prime contract, but a surety underwriting team can examine it meticulously to determine how it might impact the bonding, thus helping to protect the contractor if something problematic is found.
Another key factor to consider when reviewing contracts is to ensure escalation pricing is built in. This way, if there are unexpected increases in material and supply costs during the project due to unforeseen economic challenges, the contractor is not responsible for covering this increased cost.
Work with a carrier that offers nonstandard surety solutions
While the steps above can help contractors prepare for economic uncertainty, there is always a chance unique or unexpected challenges may occur. In these cases, contractors can look to a partner that has a team specializing in nonstandard surety. These teams may be able to provide bonds when another surety won't, such as if a newer contractor doesn't have significant experience, capital, or wants to take on a job much larger than anything they've done previously.
There are a few tools these sureties can use to provide approvals, including:
Funds administration. Funds administration, or funds control, is when a third party manages the receipts and analysis of all contract proceeds, controlling the funds from the owner and paying suppliers, vendors, and subcontractors throughout the project. This process can help inexperienced contractors or those who may not have the best internal accounting procedures in place. Because a trusted third party steps in to handle all the financials, sureties may be more inclined to write the bond for the contractor.

Collateral. There are a few types of collateral that sureties can accept in order to write a harder-to-place bond. The two most common are irrevocable letters of credit from an approved bank and wire-transferred cash, particularly if the contractor has significant personal resources available or someone willing to post collateral on their behalf. Sureties may also accept an assignment of life insurance or real estate deeds as collateral, but these are less common.

The Small Business Administration (SBA). The SBA guarantees surety bonds for certain surety partners, allowing them to write bonds for smaller contractors that might not meet the standard criteria. In 2022, the SBA provided surety assistance to more than 1,600 small businesses through SBA surety partners and bonding agencies, with final bids and bonds totaling more than $6.3 billion in contract value. The SBA gives some partners, like Liberty Mutual Surety, the authority to make bid and bond decisions in-house. This allows agents to work directly with the surety, saving them time and the hassle of completing all the paperwork required to submit the bid.
While every period of economic challenge and uncertainty is different, contractors can prepare by having the right team around them and working with a surety that offers both standard and nonstandard solutions. This enables contractors to transition seamlessly between standard and nonstandard, while staying with the same carrier.
This website is general in nature, and is provided as a courtesy to you. Information is accurate to the best of Liberty Mutual's knowledge, but companies and individuals should not rely on it to prevent and mitigate all risks as an explanation of coverage or benefits under an insurance policy. Consult your professional advisor regarding your particular facts and circumstance. By citing external authorities or linking to other websites, Liberty Mutual is not endorsing them.