5 MIN READ
Published 02/16/2023
Power outages in the U.S. are on the rise – are you prepared?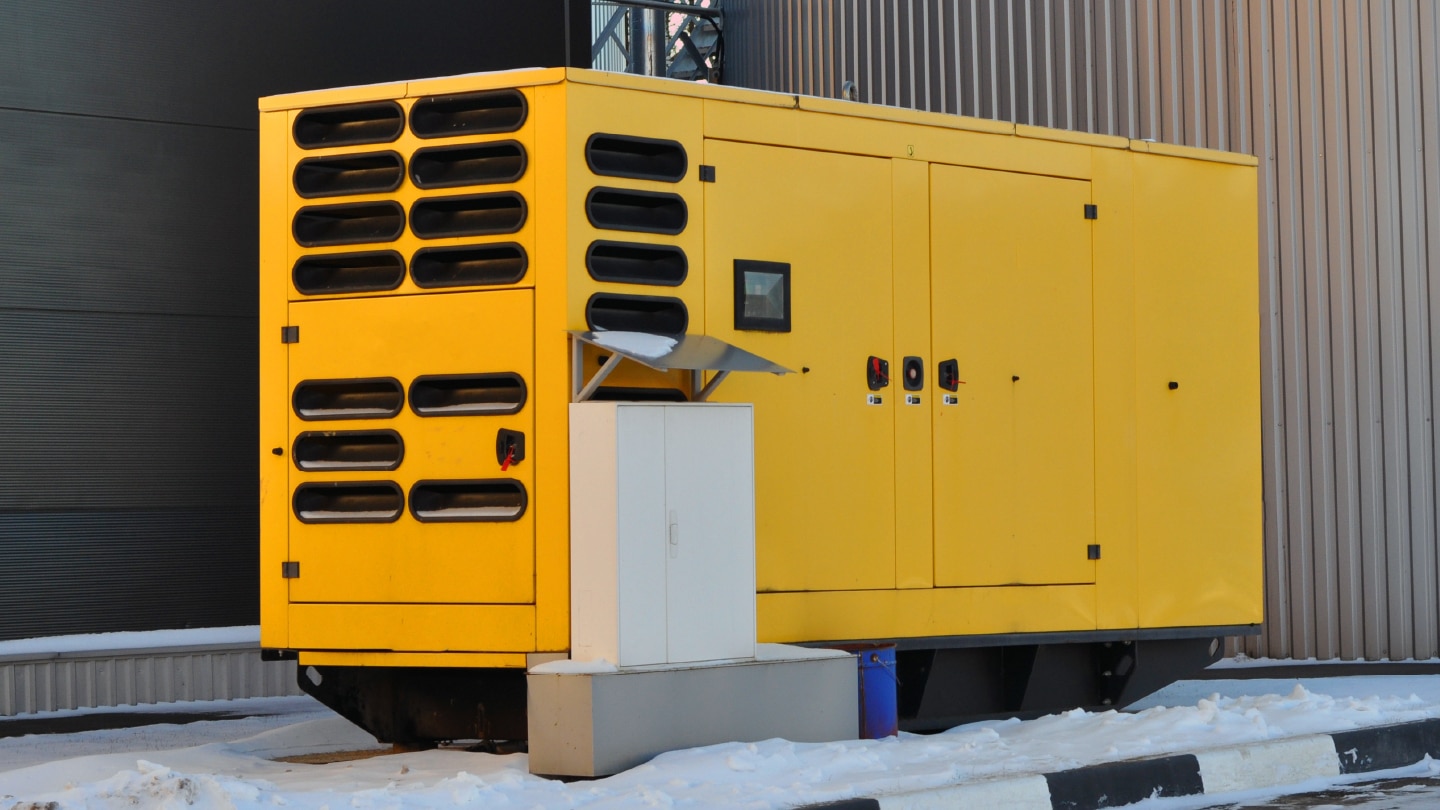 Did you know that power outages in the US are on the rise? The dramatic increase in extreme weather events and natural disasters means no business should take reliable electrical power delivery for granted. If and when your electrical utility service is interrupted, the consequences can be costly. Are your assets covered? Protecting the productivity and bottom line of your business means doing all you can to prepare and help protect against the potential impacts of power outages.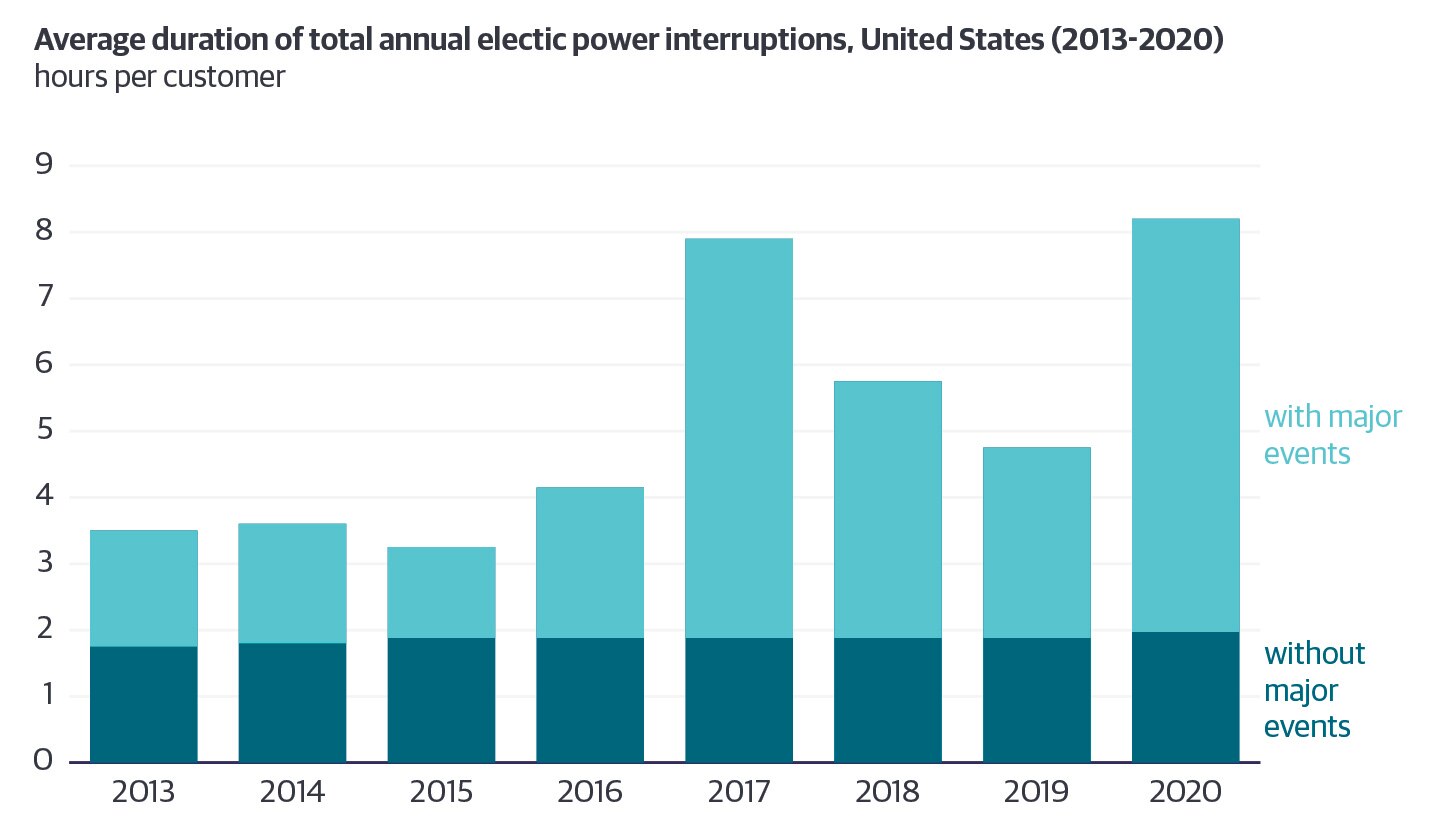 Power outages are estimated by the US Department of Energy (DOE) to cost businesses $150 billion annually1.
Have a detailed plan in place.
Practice your plan and maintain the equipment.
Install automatic emergency power generation.
According to the US Energy Information Administration (EIA), in 2020 U.S. customers incurred two outages a year with just over 8 hours in power interruptions.
Graph source: U.S. Energy Information Administration, Form EIA-861, Annual Electric Power Industry Report
Plan for the Next Power Outage
Do you know the answer to the following question? How at risk is your facility to power outages? Knowing the answer to this questions is the first step in your plan to protect against power outages. Some occupancies are mandated by local codes to install fully functioning automatic emergency power systems. Typically, local jurisdictions will adopt NFPA -110 and NEC Article 445 which provide specific rules for emergency power installations.
For those facilities that are not mandated by local codes to have emergency power systems – a self-evaluation could be necessary. An evaluation will generally cover three things:
Emergency generator installation decisions
The first decision is choosing a certified contractor who can answer all your questions and install a system to best protect your facility against power outages.

Next, you need to decide if the installation is going to be a permanent, on-site emergency generator or a rental unit with quick connection points.

Determine the unit size based on: present and future loads needed to keep energized during a power outage, needed wattage to start and operate, and the design of your system.

Determine whether the installation should be indoors or outdoors based on the size of the unit and the design of the electrical distribution system. Either choice comes with specific requirements. Always make sure to consider the natural disaster exposures for your area when choosing the location.

Determine the best fuel option for the generator. Factors that affect this decision include where your facility is located and the fuels available. Permits may also be required for air, flammable storage, and noise.

If the unit is a permanent installation, will it be automatic or manual? Whether automatic or manual, establish procedures for operators and ensure they are trained.
If the unit is portable, your contingency plan should include all information relative to installation, operation, and removal. A list of contractors, permits, safety and operational procedures, and installation equipment all should be in place and updated annually.
Every permanently installed emergency power system has required maintenance procedures. There are generally two options for the maintenance plan. The manufacturer will typically include a maintenance plan with the purchase of your unit or your facility technicians can set up a maintenance program per the manufacturer's recommendations. NFPA -110 also provides a list of recommended maintenance practices.
Maintenance list typically include:
Weekly unit start-up and exercise of the engine

6-month general maintenance checks
The illustrations, instructions, and principles contained in the material are general in scope and for marketing purposes. Our risk control services are advisory only.
We assume no responsibility for: managing or controlling customer safety activities, implementing any recommended corrective measures, or identifying all potential hazards. No attempt has been made to interpret any referenced codes, standards, or regulations. Please refer to the appropriate government authority for interpretation or clarification.
Insurance is underwritten by Liberty Mutual Insurance Company or its affiliates or subsidiaries.
©2023 Liberty Mutual Insurance, 175 Berkeley Street, Boston, MA 02116.
This website is general in nature, and is provided as a courtesy to you. Information is accurate to the best of Liberty Mutual's knowledge, but companies and individuals should not rely on it to prevent and mitigate all risks as an explanation of coverage or benefits under an insurance policy. Consult your professional advisor regarding your particular facts and circumstance. By citing external authorities or linking to other websites, Liberty Mutual is not endorsing them.