2 MIN READ
Published 12/09/2017
Minimizing school violence starts with planning and communication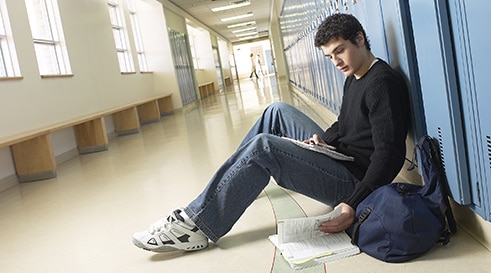 In 2014 alone, more than 486,000 nonfatal incidents involving 12-18-year-old students occurred in U.S. schools according to the Centers for Disease Control and Prevention. But you can take action to help reduce the risk of school violence, and keep learning environments safe for students, teachers and staff.
Zero in on high-risk areas that are more prone to school violence, including:
Parking lots and adjacent sites off school grounds.
School entrances.
Stairways and stairwells.
Restrooms.
Cafeterias.
Maximize safety in high-risk areas by providing:
Clear signage, adequate lighting, clear site lines, and appropriate supervision.
As few as possible entrances into each building.
A process to control entry by students, staff and visitors.
Enclosures at the base of stairwells that block access.
Students, parents, or community members may know about potential or alleged threats before school staff member, so it's best to create an environment where people are comfortable sharing information with school and public safety authorities.
Make sure school policy includes a mechanism for reporting potential or alleged threats.
Provide ongoing training for school staff on how to respond to information about an alleged or potential threat.
Know and practice your school crisis plans.
Your entire staff should know the detailed emergency crisis management plans for your building and your school district. These plans should include:
Prevention and intervention strategies.
Responses for specific emergencies.
Communication protocols.
Involving public safety and other officials in a crisis.
A process for coordinating district resources.
A schedule for regularly reviewing and practicing these plans with staff and students.
Stay on top of early warning signs.
Students who commit violent acts at school might exhibit warning signs or behaviors before they act. Training your staff to recognize and respond to them is crucial. These resources can help you assess threats and concerns, and learn more:
In addition, consult your department of education, local authorities and legal counsel to set recommendations that suit your school.
This website is general in nature, and is provided as a courtesy to you. Information is accurate to the best of Liberty Mutual's knowledge, but companies and individuals should not rely on it to prevent and mitigate all risks as an explanation of coverage or benefits under an insurance policy. Consult your professional advisor regarding your particular facts and circumstance. By citing external authorities or linking to other websites, Liberty Mutual is not endorsing them.