5 MIN READ
Published 04/27/2023
Meeting digital health complexities with confidence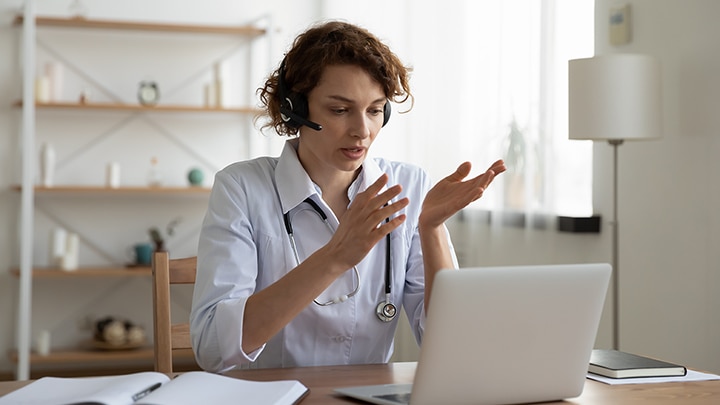 With the COVID-19 pandemic came the need to prioritize public safety and cope with an enormous strain on the healthcare system. To handle those needs, the industry accelerated a shift to virtual healthcare provision that is now irreversible. Digital health is here to stay; the new paradigm has quickly become the new normal, embraced by healthcare professionals and patients alike in a wide variety of circumstances.
The statistics confirm the pervasiveness of this broad change:
According to the National Institute of Health, "Digital health has a broad scope and includes the use of wearable devices, mobile health, telehealth, health information technology, and telemedicine." And it represents a major and growing share of the risk-management needs for healthcare providers.
In addition to the pandemic effect, a number of other factors are driving the increased and sustained demand for digital healthcare. This new modality of health provision provides needed flexibility at a time when the turnover among medical staff is higher than ever. In addition to a high burnout rate, there is the age factor, with two out of every five physicians in the U.S. expected to be 65 or older within the next decade. Add the chronic nursing shortage, which is aggravated by a 140 percent increase in nursing retirement. Just to keep up with demand, it has been necessary to add 50,000 new registered nurses a year since 2014. All of this adds up to staffing shortages — a problem digital health is well-equipped to address.
Digital health also provides resources to patients and locations that have traditionally been unable to access quality care. Instead of staffing rural and isolated facilities with a full battery of specialists, many of these services can be provided remotely, reducing the risk of cancellation due to travel time, accidents, or inclement weather. Moreover, digital health is ideal for remote therapy and counseling, telepharmacy consultations, and home monitoring, bridging the appointment availability gap for appointments for patients with chronic diseases and behavioral health conditions.
Complications and complexity
Although the adoption of digital health has led to increased access and added convenience for millions, the rapid pace of the shift has led to complications that medical professionals should both watch and plan for:
Accuracy
Digital health should be leveraged at the right time, and not all the time. Healthcare professionals should establish clear protocols to determine which clinical conditions can be handled virtually and which require in-person evaluation. Certain practitioners will have limitations with virtual settings as well. Relying on digital health in inappropriate situations can risk inaccurate diagnoses.



Financial viability
In the long run, if elective surgeries and in-person appointments continue to fall off, the trend toward virtual care could impact the financial health of healthcare organizations.



Cyber risk
Reliance on technology to provide healthcare has expanded privacy and regulatory exposures relating to patient data. Whether virtual connections are patient-to-physician, physician-to-physician, or patient-to-technology, the cyber risk from data breaches, ransomware attacks, violations of HIPAA among other regulatory statues, and reliance on owned or third-party technology is growing.



Credentialing
As the demand for digital care expands to more and more geographical regions, healthcare organizations may be pressed to confirm proper credentialing for telemedicine services quickly as they onboard new staff members.



Managing regulations and licenses
During the public health emergency, the federal government implemented waivers and exemptions expanding the use of digital health services, including interstate telehealth and controlled substance prescriptions. As these waivers expire, it is incumbent upon virtual healthcare companies to be aware of how delivering care will change for them. Plus, state laws vary for the use of telemedicine, and recent court decisions could impact the digital health landscape still further.
Mitigating risk through insurance coverage
The shift to telemedicine could lead to still more confusion, including an uptick in telemedicine malpractice claims and new regulations for practitioners to learn and follow. Fortunately, medical professionals can plan for and meet the new complexities with confidence by working with insurance partners that are closely following this changing landscape.
Healthcare services professionals can take advantage of these and other emerging technologies by partnering with an insurance provider who knows how to identify and help mitigate risk exposure.
Key coverages for digital health providers
Possible coverages that can help mitigate risk are:
Professional liability
Due to the velocity and far-reaching nature of the shift to digital health, this transformation implies both opportunities and increased risk. And as all the changes work themselves out, delivery may not always go as planned — or is alleged to not have gone as planned. In the healthcare field, a single lawsuit could be fatal. Professional liability coverage, therefore, helps provide protection against claims of medical malpractice for telehealth that are not covered by traditional medical malpractice policies.


Commercial general liability
This is the foundation of an enterprise's robust risk-management plan, particularly in the event of damage to a third party's property. General liability coverage can help protect the brand, operations, and relationships you've worked so hard to build.


Technology errors and omissions
Digital health implies a greater reliance on technology, not only in the administrative area, but in a constant and direct relation to patient outcomes. This policy helps protect against claims that your product or service didn't meet patient or medical industry standards for performance.


Cyber liability
Businesses depend on computers and other online systems daily. But this digital world also comes with cyber-related risks, such as system failures, privacy breaches, and ransomware attacks. Cyber liability coverage helps protect from  and respond to data breaches, viruses, malicious cyberattacks, and technology failure that could be devastating to your finances and reputation.


Products liability
Digital health implies the increased use of what are known as "wearable" devices, such as watches, bracelets, or heart monitors, worn on a patient's body to monitor vital signs and warn of the onset of dangerous health conditions. Robust product liability policies should help safeguard against failure of these devices, service disruptions, or other similar issues that could put a patient at risk.
Digital health is not going away, and that's a good thing for patients and providers alike. But, as with any change, there are growing pains to handle and pitfalls to avoid. And that's where a good insurance partnership comes in — to give you the insights to tackle the former and peace of mind when facing the latter.
This website is general in nature, and is provided as a courtesy to you. Information is accurate to the best of Liberty Mutual's knowledge, but companies and individuals should not rely on it to prevent and mitigate all risks as an explanation of coverage or benefits under an insurance policy. Consult your professional advisor regarding your particular facts and circumstance. By citing external authorities or linking to other websites, Liberty Mutual is not endorsing them.
This website is intended to be informational. Descriptions are provided only as a summary outline of the products and services available and are not intended to be comprehensive and do not constitute an offer to sell or a solicitation. The products and services described may not be available in all states or jurisdictions. See your policy, service contract, or program documentation for actual terms, conditions, and exclusions. Any inquiries regarding the subject matter set forth herein should be directed through licensed insurance professionals.
Coverage and insurance are provided and underwritten by Liberty Mutual Insurance Company or its affiliates or subsidiaries. When we offer insurance products, we will state clearly which insurer will underwrite the policy. Some policies may be placed with a surplus lines insurer. Surplus lines insurers generally do not participate in state guaranty funds and coverage may only be obtained through duly licensed surplus lines brokers.