2 MIN READ
Published 04/28/2021
Keeping it lean: 6 strategies for contractors to help reduce overhead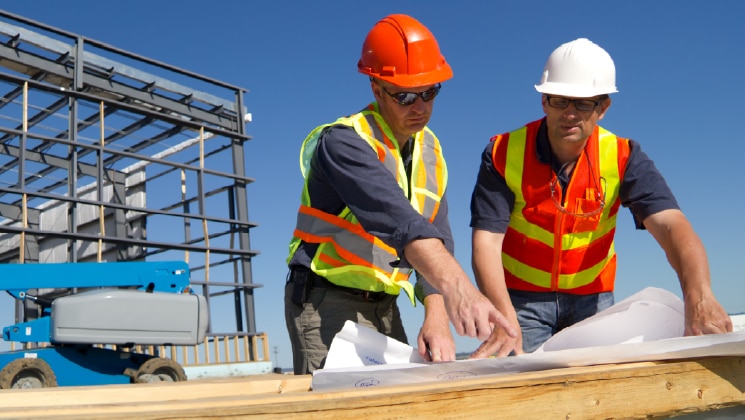 It's been a volatile year in the construction market. In March 2020, dozens of major cities and some entire states put a moratorium on construction to help reduce the spread of Covid-19. Meanwhile, hold-ups in the global supply chain drove up the cost of materials by as much as 80%. Many businesses tabled their construction projects to prepare not only for a possible global recession but also for a fundamental change in the use of commercial real estate.
For many contractors, this market turbulence has led to anxiety – and a temptation to chase business outside their normal territories or areas of expertise. But this is a mistake, according to Matthew Campbell, a Liberty Mutual Surety Plus underwriter specializing in the small to mid-size contractor space. Instead, he advises companies, "if the market does not present itself, keep it lean."
In this article, we'll dive into six strategies contractors can use to help get lean, avoid unnecessary risk, and survive an unpredictable market.
6 strategies to "get lean"
Since March 2020, we've seen a steady decline in non-residential construction spending, and current indices suggest that the slowdown of work will continue. Today's lean market is largely due to a volatile global economy, uncertainty about the future of commercial real estate, and anticipated corporate tax hikes under the Biden administration. And some construction markets have been hit harder than others. Hotels and lodging, for example, have seen a more than 25% decrease in growth in the last year. Many companies stayed afloat by relying on backlogs, but even those are drying up after a year of pandemic.
Rather than diving into risky projects, Campbell and the surety team recommend taking a leaner approach, focused around these six strategies:
Reflect on compensation structure
The cost of labor is a huge expense for many contractors, particularly if they offer employees healthcare and other benefits. It might make sense to take a different approach to your compensation structure during lean times, particularly if your team doesn't have a lot of work on their plates.
Paying employees a lower fixed or base salary and compensating them with bonuses or incentives is one strategy to reduce labor costs. With this model, you still compensate employees for their hard work, but it costs the company less during slower periods.
If your business is really struggling, doing universal pay cuts across the board is also an option. Although this will be unpopular, it will feel more palatable if managers and leaders are also part of the plan. With slowdowns in the market, savvy contractors should consider what size labor force they really need to get the job done.
While there may not be a lot of work to be done, working more efficiently can help you stretch every dollar. Standard construction KPIs, like employee and equipment downtime, may be lower during this market slowdown, but it's possible to compensate for that decrease in productivity in other areas.
Prioritizing safety on the job site can also help increase the quality of work, helping increase productivity and revenue per hour. As a contractor, you should take a close look at your KPIs, evaluate for the current market, and prioritize achieving those goals.
Manage and eliminate waste
With a massive increase in material costs since the start of the pandemic, it's more important than ever for contractors to reduce waste. For many contractors, this means more careful planning. Spending more time planning a project and ensuring you meet quality KPIs on the job site means you are less likely to order too many supplies or lose money on wasted materials because of a defect during the build.
Construction is also a capital-intensive company, so focusing on return on assets is essential to turn a profit. Take a hard look at your current equipment costs and pare down where you can.
Reduce high interest-bearing debt
During the pandemic, the government has funneled trillions of dollars of stimulus money into the economy to support small and medium-sized businesses. Since March 2020, commercial interest rates have decreased considerably, and stayed consistently low to support small business growth. Consider refinancing now, if you haven't already, to potentially save money long-term and reduce monthly costs.
With a lot of unknown variables in the construction marketplace, refinancing will help, but so will increasing the term of your loan. Ideally this will allow a contractor to better plan, minimize payments, improve cash flow, and weather the unknowns in years to come.
Manage inventory and supply chain
Some of the biggest challenges for construction workers this year have been the high cost of materials and hold-ups in the supply chain. According to one survey, 71% of contractors reported delays or disruptions because of a shortage of materials during the pandemic. Contractors need to strike a delicate balance between maintaining a stable inventory of supplies to fall back on in case of a shortage or hitch in the supply chain and reducing overhead costs associated with materials. Managing your inventory and evaluating risk in your supply chain can reduce the burden of lost time due to resource shortages.
When possible, it may be beneficial to work with project owners to navigate material price challenges and schedules. This could help alleviate strain on contractors' balance sheets, while potentially providing the owner with cost savings.
Sharpen your business strategy
It's been a challenging year for contractors across the board. Contractors had been experiencing one of the most lucrative periods of recent memory. Post pandemic, with the potential benefit of the stimulus trickle downs, wrapping up pre-pandemic backlogs, and material pricing at all-time highs, having a clear strategy in place could make all the difference during a more volatile market environment. The strategy may look different than in previous years. Campbell recommends against taking on unnecessary risk.
"Trying something outside of your day-to-day scope in a slowdown is not the right time to explore alternatives. Generally speaking it is a slowdown for everyone, and contractors know their expertise best. Jumping into someone else's proficiency can be a roll of the dice," he says – a gamble that can open you up to more risk.
Staying in familiar territory
"There is a well-known saying," says Campbell, "contractors don't go broke from starving; they go broke from overeating." When contractors seek out work that falls outside their normal geographic territories or is beyond their typical scope, they are increasing their risk – a dangerous game in an uncertain market.
Following these six strategies can help you stay ahead during a difficult period for the construction industry. And with optimism in the industry on the rise as of February 2021, there's hope that the lean time will soon be behind us.
This website is general in nature, and is provided as a courtesy to you. Information is accurate to the best of Liberty Mutual's knowledge, but companies and individuals should not rely on it to prevent and mitigate all risks as an explanation of coverage or benefits under an insurance policy. Consult your professional advisor regarding your particular facts and circumstance. By citing external authorities or linking to other websites, Liberty Mutual is not endorsing them.