4 MIN READ
Published 03/06/2018
How telemedicine Is redefining healthcare risk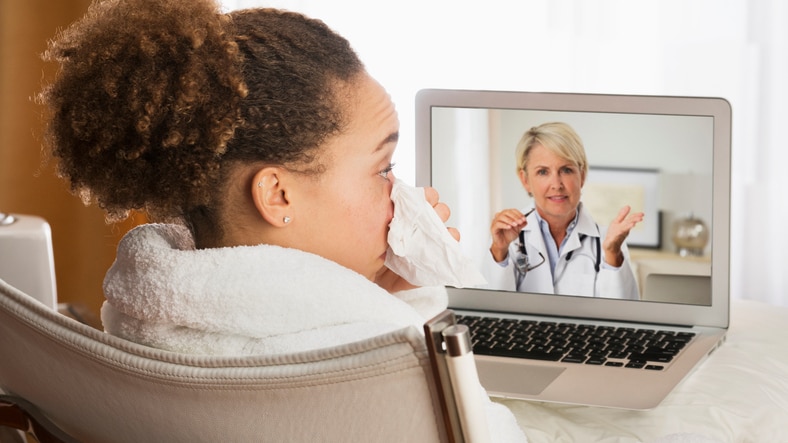 Telemedicine, which usually involves a doctor or other medical professional providing care to a patient via video conferencing, is rapidly gaining acceptance. The implications of this development are many, not the least of which is the pressure on risk managers to identify telemedicine-related exposures and devise a strategy for mitigating them.
The following Q&A will help you learn more about the risks involved in telemedicine, including recommendations for managing them.
According to one study, 158 million Americans will access telemedicine by 2020. What's driving this trend?
A number of factors are influencing telemedicine's acceptance, including:
A shortage of doctors in certain areas of the country.
The inability of older or infirm patients to get to the doctor quickly.
Patients' increasing willingness to use technology.
Providers' desire to be more efficient in providing patient care.
How do physicians and patients benefit from these "virtual" appointments?
The ability of a patient to "visit" a doctor via videoconferencing has several benefits. For one, patients staying in assisted-living facilities or nursing homes, or who aren't able to drive themselves, can receive care sooner. It's much faster for a doctor or physician's assistant to take a video call than to wait until the patient can get a ride to the doctor's office. Telemedicine's efficiency lets doctors quickly diagnose minor ailments, which can help patients avoid unnecessary hospital stays, and it frees up more of the doctor's time, which he or she can devote to diagnosing and treating complex cases.
The timeliness of telemedicine may also translate into fewer professional liability claims. A doctor working via video with a nursing home patient and staff can more quickly address pressure sore ulcers or recommend appropriate fall precautions to minimize the risk of bodily injuries to the patient.
What are some of the risks of using telemedicine?
One of telemedicine's most significant risks is misdiagnosis. "What if the internet connection was weak or the image quality wasn't high enough, which resulted in the doctor missing an area of shading that could suggest cancer?" asks Kristin McMahon, Head of Specialty Claims. A misdiagnosis could lead to a patient not receiving the proper treatment or even receiving the wrong treatment, either of which could result in a professional liability claim against the provider.
Another major telemedicine risk involves the use of technology itself. Sharing electronic records with third-party technology platforms that enable interactions with patients introduces cyber exposures that could compromise patient privacy and increase the risk of HIPAA violations.
Licensure is an additional exposure. Medical professionals must be properly licensed in the states where they provide care, but what happens when they "see" patients who could be anywhere? Telemedicine regulations can vary by state in areas such as informed consent, standard of care, credentialing of providers, and remote prescription practices.
Healthcare can't be treated like any other consumer service; it's much more complicated than requesting a ride to the airport. Telemedicine can provide convenience and efficiency, but in exchange, patients and providers may sacrifice quality of care.
What's the best risk management strategy for an organization committed to using telemedicine?
The most effective risk management strategy is to view telemedicine holistically, recognizing that its benefits and risks touch on many different aspects of your organization. Consider taking a cross-functional approach by involving the following areas in your organization's telemedicine operations and oversight:
Billing and Finance: These departments will need to determine how telemedicine-related reimbursements will work. Currently, 29 states and the District of Columbia mandate reimbursement for some telemedicine services.
Clinicians: They'll decide which staff will use telemedicine, and for which types of injuries/illnesses and which types of patients.
IT: In addition to implementing and maintaining the telemedicine system, technology staff should lead your data privacy and security efforts.
Legal and Compliance: These departments should lend their expertise to contractual, jurisdictional, and licensure issues, as well as data privacy and security.
The Team: All areas should help measure telemedicine's effectiveness and answer the big question: Are we improving the quality of care we provide?
How can risk managers better manage the insurance implications of telemedicine?
Issues such as diagnosis, licensure, and electronic records sharing can all increase an organization's risk exposures and should prompt a re-evaluation of your insurance program. Here are four ways risk managers can help lower their total cost of risk:
Work with your insurer and broker to make sure your current policies will meet your needs. You may need to obtain or increase cyber and professional liability limits.
Check your professional liability policy. Will it respond not only to the traditional exposure of a medical error but also to exposures brought about by telemedicine technology, such as misdiagnosis?
Make sure your technology partners have the appropriate cyber and E&O coverage.
Consider getting your medical malpractice and technology E&O coverage from the same insurer. This will help avoid potential conflicts if there's a liability claim that implicates both the provider who made the error and the technology that helped facilitate it.
As the use of telemedicine continues to grow, organizations that devote the time and effort now to carefully plan for its implementation, including its most appropriate applications, will best position themselves to succeed. By working with your insurers and brokers, you can create an insurance program that not only mitigates risk but also, in so doing, unleashes the full potential of telemedicine to improve the quality of care for your patients.
This website is general in nature, and is provided as a courtesy to you. Information is accurate to the best of Liberty Mutual's knowledge, but companies and individuals should not rely on it to prevent and mitigate all risks as an explanation of coverage or benefits under an insurance policy. Consult your professional advisor regarding your particular facts and circumstance. By citing external authorities or linking to other websites, Liberty Mutual is not endorsing them.