3 MIN READ
Published 01/05/2022
Healthcare's new reality: risk trends year in review
We've all been profoundly affected by COVID-19, whether as patients, medical professionals, or members of society. As we emerge from the pandemic, let's examine how public safety protocols have combined with technology to reshape healthcare—delivering benefits while also creating potential risks.
1. Increased use of digital health
The CARES Act removed regulatory and financial barriers for greater telehealth adoption.
Some key changes include:
Telehealth is available to all patients, not just those in rural areas.
Providers can deliver telehealth services across state lines, subject to state laws.
Doctors can provide remote patient monitoring services for acute and chronic conditions.
The widespread use of telemedicine has revolutionized the healthcare industry, but if this shift is permanent, what are the potential risk-management impacts?
Telehealth visits up 154 percent over a one-year span
46 percent of patients use telehealth for some visits
Virtual medical visits account for more than 20 percent of total in 2021
Professional liability:
Increased chance of misdiagnosis due to not being face-to-face
Reduced accuracy when patients take metrics at home. (e.g., blood pressure)
Higher compliance exposure with state rules if patients take virtual appointments out of state
Increased exposure to battery claims due to a lack of proper consent regarding telemedicine risks
Cyber:
Increased exposure for hackers to access patient/doctor communications
Liability:
Reduced exposure to communicable disease for customers
Less foot traffic on insured's premises
Workers compensation:
Less exposure to communicable disease for employees
Reduced patient handling exposure
How to respond
Be aware and consider how the increased use of telemedicine affects your risk exposure and partner with your broker and carrier to review coverage and risk-management practices.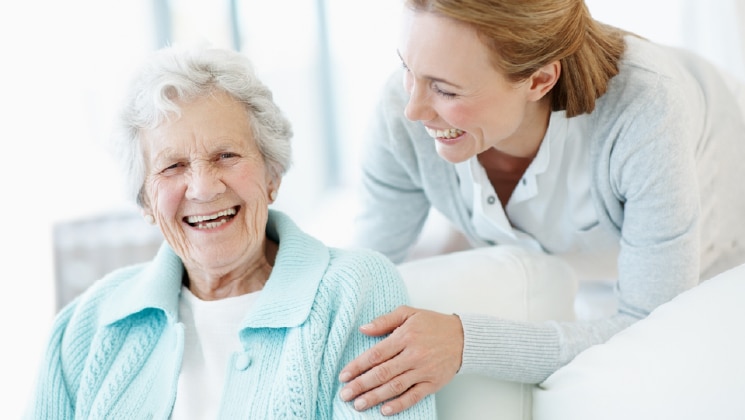 2. Evolution of senior care
The healthcare industry is changing to keep up with shifting customer preferences.
Many seniors do not want to go to aging resource facilities—they prefer to stay in their homes. Several factors are driving this shift in customer needs and healthcare operations:
Negative publicity regarding facility living conditions during COVID-19
Availability of different care options, including life plan communities, adult daycares, and assistive "at-home" technology
The potentially lower costs of "aging in place" care
The introduction of wearable technology
By 2050, the senior population in the U.S. (60+) is expected to grow 17 percent.
Adult daycare can cost one-fifth of a traditional nursing home and half the cost of a home health aide.
Wearable technology is improving senior care and safety and reducing loss by:
Helping healthcare professionals to track changes in heart rate and other vital signs—in real time
Transmitting warning signs of at-home slips/falls, reducing the risk of injuries
Improving quality of life by enabling seniors to live where they want
Improving the accuracy of a diagnosis and highlighting potential issues sooner via more frequent data collection
How to respond
To meet the needs of potential clients, senior care facilities should consider how to incorporate alternative care options, such as adult daycare and visiting nurses, into their operations and what that might mean for insurance coverage, employee staffing and training, technology needs, and more.
3. COVID-19-related litigation
Healthcare facilities are managing the risk of potential COVID-19 litigation related to patient care and employee exposure.
Healthcare facilities and their staff continue to provide critical care for patients and residents. However, they also face legal action effectively challenging the quality of care provided to those suffering from COVID-19. In addition, given the nature of healthcare work, employees are also at higher risk of exposure to COVID-19.
The plaintiffs' bar spent $34 million in 2020 on 176,000 television ads that specifically solicited clients to pursue COVID-19 claims.
As of September 1, 2021, approximately 250 COVID-19-related lawsuits have been filed against healthcare entities (the majority in the long-term care and senior living industry).
Fortunately, there are protections in place to help the healthcare industry manage potential liability exposures.
Under the Public Readiness and Emergency Preparedness (PREP) Act, health professionals are immune from liability related to COVID-19 treatment, except for claims involving "willful misconduct."
More than 40 states have at least some level of immunity by legislation or executive order to protect against COVID-19-related litigation.
In response to the pandemic, several states have passed legislation or used executive authority to extend workers compensation coverage to include COVID-19 as a work-related illness. What this means for healthcare organizations:
Due to the nature of healthcare work, employees can be at higher risk of exposure to COVID-19.
Healthcare organizations may see an uptick in the frequency and severity of workers compensation claims.
Our perspective:
Liberty Mutual is keeping a close eye on presumption laws and the potential impacts on workers compensation claims.
We have also engaged with policymakers to request tailored presumptions
So far, COVID-19-related workers compensation claims activity has followed countrywide surges.
Here are tips that healthcare providers can follow to help guard against liability concerns:
Protect yourself and others from COVID-19, following all public health orders and guidance at the federal, state, and local level.
Keep up with current guidelines on how to prevent the spread of COVID-19 and how to diagnose and treat it.
Provide instructions while communicating with patients and families.
Understand that informed consent, disclosure of risk, and duty of care
remain paramount.
Document all interactions, how you respond to changes in CDC and other
guidelines, and the training provided to staff.
Lastly, partner with your insurance carriers on issues as they arise,
communicating early and often.
While this overview highlights the current state of the healthcare industry, its emerging trends, and possibility for risk, reading the full report will help you gain greater insight and perspective to guide your planning decisions.
This website is general in nature, and is provided as a courtesy to you. Information is accurate to the best of Liberty Mutual's knowledge, but companies and individuals should not rely on it to prevent and mitigate all risks as an explanation of coverage or benefits under an insurance policy. Consult your professional advisor regarding your particular facts and circumstance. By citing external authorities or linking to other websites, Liberty Mutual is not endorsing them.
This website is intended to be informational. Descriptions are provided only as a summary outline of the products and services available and are not intended to be comprehensive and do not constitute an offer to sell or a solicitation. The products and services described may not be available in all states or jurisdictions. See your policy, service contract, or program documentation for actual terms, conditions, and exclusions. Any inquiries regarding the subject matter set forth herein should be directed through licensed insurance professionals.
Coverage and insurance are provided and underwritten by Liberty Mutual Insurance Company or its affiliates or subsidiaries. When we offer insurance products, we will state clearly which insurer will underwrite the policy. Some policies may be placed with a surplus lines insurer. Surplus lines insurers generally do not participate in state guaranty funds and coverage may only be obtained through duly licensed surplus lines brokers.