4 MIN READ
Published 03/06/2018
Eight steps to a safer patient/resident handling program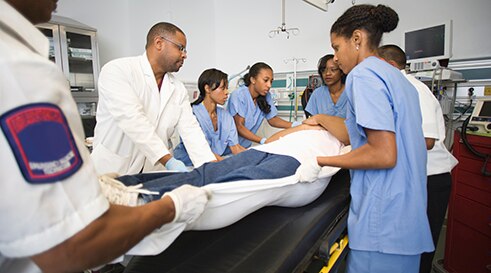 When you think of professionals who are constantly lifting, twisting, and maneuvering, most people think of a pro athlete rather than a healthcare worker. But whether it's moving a patient from his hospital bed to a stretcher for transport or helping a long-term-care resident sit up in her chair, caregivers exert a lot of physical energy. This makes healthcare workers susceptible to a wide range of injuries — from low back pain to torn ligaments. Consider the following:
A study by the Bureau of Labor Statistics found that hospital workers have a higher rate of injury and illness than workers in other traditionally dangerous industries, such as construction and manufacturing, and "routinely face hazards related to lifting, moving, or otherwise physically interacting with patients."
According to the National Institute for Occupational Safety and Health, in 2015 the cost of injuries due to overexertion within the healthcare industry totaled $1.7 billion.
Americans are working and caregivers are no exception. However, the duties performed by caregivers are relatively unchanged, and employees are performing the same patient-handling tasks at age 55 that they did at 25 — with greater risk of injury.
While many healthcare organizations are understandably focused on those entrusted to them, they often overlook the connection between the health and safety of patients/residents and that of caregivers. With an effective safe patient handling (SPH) program, organizations can strengthen that connection while aiming to both reduce injuries to caregivers and produce better outcomes for patients/residents.
"Forward-thinking healthcare providers recognize the important link between caregiver safety and patient/resident safety. They understand how investments in equipment and education can deliver value by improving safety and reducing injuries."

– Jeff Duncan, Chief Underwriting Office, Healthcare Practice, Liberty Mutual Insurance
Eight steps for creating, implementing, and measuring a SPH program
1. Secure management commitment.
Regardless of how thorough your facility's health and safety programs are, without strong senior management support, these initiatives often fail before they are able to take hold. Prioritize supporting a culture of safety within your organization, including investing time and money in essential safety resources. Focusing on reducing patient/resident and caregiver injuries through an effective SPH program is critical to the entire organization's success — and bottom line.
Create a working task force that reflects the entire organization's multidisciplinary makeup. Appoint members from areas such as legal, finance, maintenance, marketing, leadership, and engineering. Most important, make sure there's a healthy complement of those who provide direct care, including certified nursing assistants and physical/occupational therapists. They'll prove invaluable in promoting the new program to their coworkers and will serve as great examples. The task force's agenda should include all aspects of planning and implementing the program, as well as measuring its effectiveness and planning its future.
Conduct a comprehensive needs assessment that includes an inventory of your current assistive equipment and an ergonomic assessment of the rooms/areas where SPH tasks are undertaken. Use past loss data, as well as "near miss" reports, to categorize the levels of risk associated with handling tasks in various clinical areas. Survey your caregivers to determine which types of handling tasks they perform most often, the equipment they find most helpful, and the types of pain, discomfort, or injuries they've experienced.
4. Invest in assistive equipment.
Based on your inventory, caregiver survey, and other research, purchase ceiling lifts, powered sit-to-stand devices, mobile lifts, and other devices that support the goals of your developing program. These devices can all help minimize manual patient/resident handling, in turn reducing injuries to caregivers and those they assist. Your new program should specify the proper storage of equipment as well as a schedule of preventive maintenance that can help keep it in excellent working condition.
5. Distribute your new SPH program.
With an appropriate degree of fanfare, issue your new SPH program, in printed form and on your intranet, to all employees. To encourage everyone's buy-in, include a brief overview of how it was developed and by whom. Make sure the piece includes the program's goals, instructions on assessing the mobility of each resident/patient, specifics on each type of lifting/maneuvering/positioning, the process for reporting incidents, and caregiver rights and responsibilities. Stress the importance of taking a proactive approach to SPH in everything from anticipating the evolving needs of individuals (e.g., decreasing mobility with age, changes in orientation due to medication) to promptly reporting equipment problems (e.g., a stubborn wheel on an assistive device).
6. Educate your staff about the program.
Involve all employees to some degree, whether or not they provide direct care, so that everyone understands the protocols and goals of the new program. Appoint unit peer leaders who can set an example and serve as a resource for other caregivers. Encourage a proactive approach by caregivers that not only incorporates SPH education into new-hire orientation but also provides updated education to current employees annually or whenever new protocols are mandated.
7. Encourage incident reporting.
Establish non-punitive protocols for reporting incidents — not just those resulting in loss — and use them as teaching moments. This will encourage caregivers and others to report a range of incidents that can be used to prevent future ones. Each report should include as much relevant data as possible, including the workers and equipment involved, the mobility assessment of the patient/resident, and the handling actions taken. A post-incident examination can often identify weaknesses or gaps in the protocol or problems with the equipment that might otherwise go undetected.
8. Measure the program's effectiveness.
Prior to implementation, establish baseline data to measure your results against. To assess the new program, use both leading indicators (those that are clearly observable, e.g., the frequency with which caregivers use the assistive equipment) and lagging indicators (the number of incidents and injuries involving caregivers and patients/residents). Also, survey staff about their use of proper protocols; interactions with equipment, incidents, or injuries; and their evaluation of the program's effectiveness.
Recognizing the connection between the well-being of your caregivers and that of your patients/residents is, of course, just the beginning of improving safe handling practices. Locking in management support, taking a holistic approach to developing the program, and involving caregivers at every step can help your organization reduce loss, improve outcomes, and become a leading healthcare provider in your community.
This website is general in nature, and is provided as a courtesy to you. Information is accurate to the best of Liberty Mutual's knowledge, but companies and individuals should not rely on it to prevent and mitigate all risks as an explanation of coverage or benefits under an insurance policy. Consult your professional advisor regarding your particular facts and circumstance. By citing external authorities or linking to other websites, Liberty Mutual is not endorsing them.