4 min read
Published 03/23/2021
Courts during COVID: Prepare for the new normal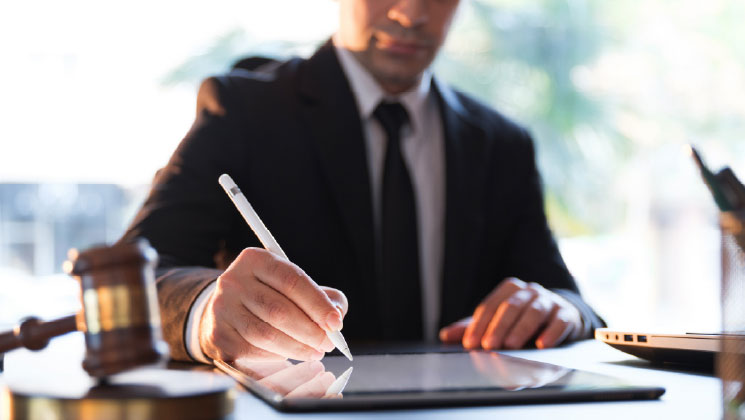 The COVID-19 pandemic continues to affect all assets of life and business, including litigation. Concerned over people's safety and welfare, courts are looking for alternative methods to create a new, temporary normal for the trial process. How can they remain open while keeping public safety in mind?
To answer that, the courts have leveraged technology to their advantage. Here are just three ways the courts are addressing the backlog created by the ongoing pandemic, along with some key concerns to keep an eye on:
As most states are not able to fully reopen right now, more courtrooms are looking to "Zoom Trials" as a convenient way to conduct safe proceedings without worrying about cleaning physical spaces, social distancing, or COVID exposure.
"Technology has really been leveraged during this time to keep the wheels of justice rolling," explained Kristin McMahon, SVP, Specialty Claims and Canada, Global Risk Solutions North America, at Liberty Mutual Insurance. "Zoom has been an ideal platform for the more administrative pieces of a case, including motion practice."
However, as a new process, there are still concerns to watch for:
The jury pool: Zoom court requires access to quality computer and internet access — creating the potential for discrimination and inequity in the jury selection process, especially for those without regular internet access or parents with school-age children at home.
Comfort on camera: From attorneys to witnesses, not everyone is as comfortable speaking to others through a computer screen. This discomfort may affect the perception of someone's testimony, swaying jurors in a different direction than they might have gone had the trial been conducted in person.
Courtroom logistics: Virtual trials could disrupt the flow of testimony. Presenting exhibits and raising objections during certain lines of questioning will require more forethought to have a similar impact online as it would in person.
Virtual mediation and arbitration
Even before the pandemic, arbitrations and mediations were taking advantage of virtual tools. But since the lockdowns, there has been a larger focus on bringing negotiations into the virtual world. These settings are also bringing a bigger inclination to settle —the prospect of litigation during a pandemic serving as the main driver.
While this process has a number of advantages, we continue to monitor these few factors:
Comfort with technology: Many times, mediators and arbitrators are retired lawyers and judges who may be uncomfortable or unfamiliar with the latest technology.
Lack of downtime: Traditionally, the downtime during discussions with an arbitrator allows for reflection and introspection – often leading to faster resolutions. This nuanced time is now absent during virtual proceedings, with people usually logging off or distracted offscreen.
Lack of body language: Over a screen, we lose the ability to read someone's body language or gauge whether they would be an effective witness during trial.
Reopening of physical courts
Though there has been a greater reliance on virtual court options, some states have already started to reopen courtrooms to resume activity. This has a few advantages, namely the courts are already designed to hold trials, whereas as a Zoom trial requires more set up.
But in-person court requires a lot more thought and logistics planning to be done correctly during the pandemic, including:
Safety concerns: With buildings reopening, there are extra safety concerns that courts would have to address, including looking for mold and Legionnaires disease. Also, to help prevent the spread of COVID, buildings will also have to accommodate social distancing and cleaning protocols for jurors, attorneys, judges, and staff.
Inconsistency: COVID procedures vary state-to-state, and even city-to-city in some areas. Travel restrictions, reopening limitations, and other pandemic protocols complicate issues in bringing parties together.
Reading the room: Witnesses, jurors, attorneys, judges – everyone is wearing masks while in person. This makes it difficult to connect with witnesses and for attorneys to read how the trial is going. Will some spend less time discussing the case, make quicker decisions, or come to verdicts faster to limit exposure?
Keeping a pulse on the ever-changing court landscape
While courts across the U.S. decide what method is best, cases and the people behind them are eagerly waiting for their day in court. In order to feel prepared and ready for what comes next, we are already waiting on the frontlines, keeping a pulse on the ever-changing court landscape.
"We're constantly looking at the way the courtrooms are changing and reporting on how our claims professionals have fared during virtual court," explained Meg Sutton, SVP, Casualty, at Liberty Mutual. "We're looking at what's working, what's effective. And we're using that to inform our decisions as we move forward so our customers have the right strategies in place."
This website is general in nature, and is provided as a courtesy to you. Information is accurate to the best of Liberty Mutual's knowledge, but companies and individuals should not rely on it to prevent and mitigate all risks as an explanation of coverage or benefits under an insurance policy. Consult your professional advisor regarding your particular facts and circumstance. By citing external authorities or linking to other websites, Liberty Mutual is not endorsing them.