4 MIN READ
Published 04/30/2018
Combating sexual misconduct in schools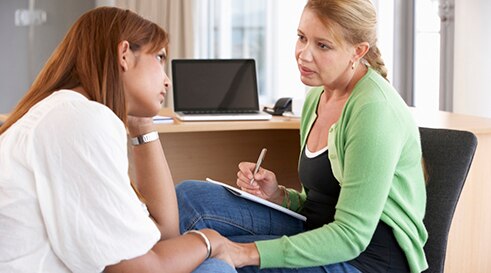 Schools are charged with providing a safe environment for students, both emotionally and physically. When they fail, the consequences are often severe. Today, awareness surrounding sexual misconduct is widening, and being raised in many different areas such as sports, the workplace, and schools.
More victims are coming together, standing up and fighting back. Unfortunately, schoolchildren can have a harder time finding their voice, putting them at significant risk for abuse.
Over the past several years, public schools have grappled with issues to create an increased awareness of sexual misconduct and abuse, as well as efforts to up their prevention strategies.
In a recent press release, U.S. Secretary of Education Betsy DeVos addressed the critical issue of sexual misconduct in our schools. "Schools must continue to confront these horrific crimes and behaviors head-on. There will be no more sweeping them under the rug," said DeVos. But the process also must be fair and impartial, giving everyone more confidence in its outcomes."
Today, incidents of sexual misconduct continue to grow. According to an investigation by the Associated Press, there were approximately 17,000 reported incidents of sexual abuse committed by fellow students in the U.S. in 2011 and 2015. In a report by The Boston Globe, at least 67 New England private schools handled accusations regarding staffers who sexually abused or harassed better than 200 students, resulting in at least 90 lawsuits since 1991.
In addition to being responsible for the emotional and physical well-being of students, schools are also tasked with protecting their reputations and bottom lines. To safeguard themselves and their students, institutions are required to understand and identify their exposures to possible sexual misconduct, how to best mitigate those risks, and the most appropriate way in which to respond to allegations. Here, we look at all three of these issues and the important role each plays in our schools.
There are two types of sexual misconduct and molestation most common to the school: student-against-student and staff-against-student.
Different forms of misconduct include:
Staring or leering
Suggestive gestures
"Accidental" physical contact
Bullying
Sexual jokes or gossip
Offers or requests for sexual favors
The ability to identify when inappropriate actions has become increasingly difficult with the prevalence of smartphones, social media and texting. Whether student-against-student or staff-against-student, sexual predators can take their behavior out of a public setting and away from the watchful eyes of peers, administrators, and parents by going online. Today's digital communications have become a useful tool for teachers to take advantage of newer technologies. However, with these new communications, there remains the possibility for opportunities for inappropriate behavior, which can be harder to track.
"Educators use technology such as texting and social media professionally, but it also opens the door for inappropriate contact with students,"

– Steve Deig, Technical Director of Risk Control Services, Liberty Mutual Insurance
Schools must also be cognizant of situations where they may be unintentionally increasing risks for misconduct when addressing other exposures. For example, to protect staff and students against an active shooter, many schools permanently cover interior classroom doors and windows to minimize a potential shooter's line of sight—even when a school is not undergoing an active shooter drill. By keeping windows covered when not in an active drill, schools are inadvertently creating opportunities for inappropriate behavior outside the line of sight from others. Measures should be taken to evaluate all potential exposures and how they may affect every situation.
The best approach to minimizing the risk of sexual misconduct is to be proactive and remove opportunities for events to occur. Proactive measures include:
Educating the entire faculty on how to identify signs of sexual misconduct, understanding school policy on how to handle situations, and knowing local regulations and their state's laws
Establishing a thorough screening and hiring practice for all staff and volunteers to vet any persons who may come in contact with students
Keeping all windows clear and unobstructed
Assigning hall monitors who can check halls, empty classrooms, stairwells, cafeterias, parking lots, and recreational areas
Establishing social media and technology policies to delineate what is considered appropriate channels and types of communication between teachers and students
Responding to allegations
As liability increases, so have claim settlements. Today, every jurisdiction has a different definition of child sexual abuse and different reporting rules. Failure to report an incident in a timely manner could result in repercussions against the school and individual in both civil and criminal courts. If allegations are brought against a school accusing it of negligent hiring, improper training and supervision, failure to report, negligent retention—consequences can reach into the millions of dollars.
Training faculty and staff of school policies that can affect child sexual abuse is critical. It should also include jurisdictional requirements so it is well understood how to identify improper behavior and what to do about it. This is important as some individuals may be hesitant to report potential abuse based on a gut feeling or suspicion.
"Don't take allegations lightly," says Deig. "Err on the side of the safety of the student and investigate every claim and report every allegation or suspicion of abuse."
Partnering with the right insurer
Even the most careful institution can't prevent every incident. For this reason, it's imperative for schools to check their insurance coverage and partner with an insurer that knows the local legal and regulatory landscape and understands the unique exposures of schools and school districts.
Because liability issues and exposures often intertwine with sexual misconduct, the right insurer should also provide guidance to legal resources and training services to ensure compliance.
"We provide training and recommend the best resources that bring in legal counsel to advise on state regulations and how to respond to specific situations," says Deig.
In addition to its own sexual misconduct coverage, a school should require third-party contractors who have access to and contact with children, to hold similar policies regarding sexual misconduct exposures. Keep in mind that standard general liability policies may not always include coverage for such claims.
To help, not only has Liberty Mutual designed specific sexual molestation and misconduct (SMM) coverage for schools, but our claim professionals are dedicated to youth-serving organizations and are well-versed in the exposure. The same goes for our assigned defense counsel. We also provide school teacher E&O and umbrella coverage in addition to its SMM policies. Partnering with Liberty Mutual's public entity team provides schools with the expertise to better understand their institution's concerns, advise them on where they can limit their risk, and ultimately, help advocate for them when issues arise. Contact your Liberty Mutual representative for more information.
This website is general in nature, and is provided as a courtesy to you. Information is accurate to the best of Liberty Mutual's knowledge, but companies and individuals should not rely on it to prevent and mitigate all risks as an explanation of coverage or benefits under an insurance policy. Consult your professional advisor regarding your particular facts and circumstance. By citing external authorities or linking to other websites, Liberty Mutual is not endorsing them.