4 MIN READ
Published 04/24/2023
Bullying at school: 5 reasons to prioritize prevention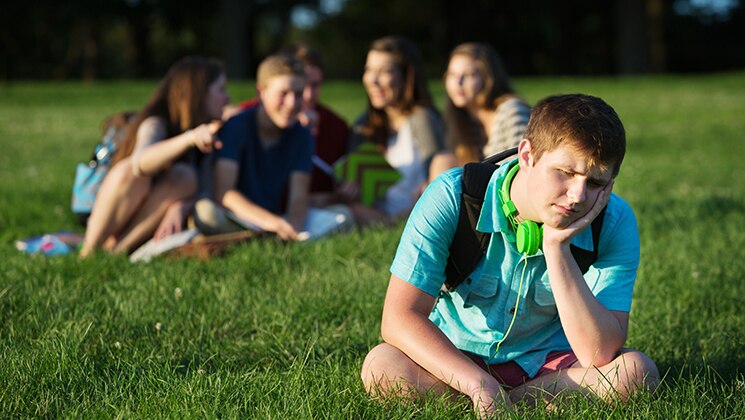 The troubling reality of bullying is nothing new, but its growing prevalence and potential lasting impacts have deepened in many ways — making it a crucial priority in school environments today. Here are five reasons schools should keep bullying awareness and prevention top of mind when it comes to risk-management strategy.
1. The incidence of bullying continues
2. Bullying can have long-lasting effects on students' health
Mounting evidence suggests that bullying can have long-lasting effects on victims' mental and physical health — even changing students' entire educational trajectory. According to the most recent CDC 2 data, bullying may increase students' risk for anxiety, depression, substance use, and academic problems. Additionally, research from the National Institutes of Health3 indicates that cyberbullying is linked to suicidal thoughts and attempts.
"Although the rate of nonfatal violent victimization at school for 12- to 18-year-olds was lower in 2019 than in 2009, there were more school shootings with casualties in 2021," National Center for Education Statistics (NCES) Commissioner Peggy G. Carr says. "While the lasting impact of these crime and safety issues cannot be measured in statistics alone, these data are valuable to the efforts of our policymakers, school officials, and community members to identify and implement preventive and responsive measures.4"
By addressing bullying early on, schools could better protect the health and safety of individual students as well as the student population from larger-scale, violent incidents.
3. Litigation naming school defendants is becoming more common
It's not hard to find media reports across the country detailing lawsuits that accuse school systems of failing to protect students from bullying or failing to act when it occurs. As public awareness of bullying and more widespread understanding of its causes and consequences have grown, so too have legal protections and standards surrounding such charges. Indeed, absence of clearly defined policy and inaction can now lead to both tort and Title IX claims of:
Sexual harassment or discrimination

Gender-based or sexual orientation-based harassment

Intentional infliction of emotional distress
These claims, along with the damaging effects of bullying, may only add to potential settlement or verdict amounts if legal remedy is sought.
4. Cyberbullying expands the scope of risk
Cyberbullying — bullying that occurs primarily through the use of social media via electronic devices — is rising right along with the prevalence of student use of technology. According to the National Institutes of Health3, the increased use of the internet by students during the COVID-19 pandemic has strongly impacted cyberbullying trends.
Most victims of cyberbullying are often also victims of traditional bullying4. Because principals, teachers, guidance counselors, and parents may not overhear or see cyberbullying taking place, it can be harder to recognize.
Although all states have laws requiring schools to respond to bullying, not all include cyberbullying nor do they specify the exact role schools should play in responding to bullying that takes place outside of school (such as texts or social media posts after the school day ends). What makes the issue more challenging for schools is addressing off-campus student misconduct. The school should respect an alleged perpetrator's legal rights while also maintaining an environment that protects other students and encourages learning.
5. Effects on attendance have an economic cost
When children don't go to school to avoid getting bullied, school absences may result in reduced funding for public school systems in states that use daily attendance numbers to calculate state aid. Schools that receive funding based on children's presence rather than based on total enrollment will have lower revenue when children miss school for any reason.
Assessing your risk management approach
To be effective, bullying awareness and prevention should be woven into the entire school culture and curriculum. Creating positive environments that are driven by civility, peer respect, belonging, and connectedness can help reduce the risk that bullying behaviors take hold. Staying protected with the right insurance program should also be a key part of your risk mitigation strategy.
For more on how Liberty Mutual supports schools and helps them manage risk, visit our public entities page.
This website is general in nature, and is provided as a courtesy to you. Information is accurate to the best of Liberty Mutual's knowledge, but companies and individuals should not rely on it to prevent and mitigate all risks as an explanation of coverage or benefits under an insurance policy. Consult your professional advisor regarding your particular facts and circumstance. By citing external authorities or linking to other websites, Liberty Mutual is not endorsing them.