4 min read
Published 03/23/2021
Balance remote-work risks: 6 central areas to review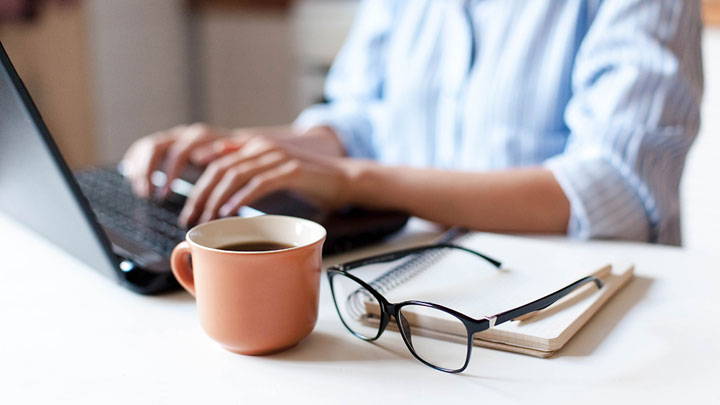 Remote work makes many parts of the job easier – and cheaper. Avoid the common pitfalls with the right policies and procedures in place. Consulting with your human resources team (or an employment lawyer if necessary) to ensure compliance can be crucial in managing your virtual workplace risks.
Here are six key areas of your business to monitor for risk as you work remotely:
Ensure compliance with the Fair Labor Standards Act of 1938 and establish a process within your teams for work during non-standard business hours and accommodations for time zones and schedule adjustments.
Timekeeping tools: Avoid discrepancies in remote-employee claims around required meal periods, rest breaks, and overtime by implementing appropriate timekeeping methods. Monitor the reports and remind non-exempt employees to stay within the agreed parameters.
Overtime: Stay ahead of potential overtime deficits by establishing a clear set of guidelines for employees to record and report work beyond their scheduled hours.
Although employees may request reimbursement for expenses incurred while working remotely (use of their personal cell phone, electricity, Internet, and other home office costs), employers are not generally required to reimburse for these expenses. However, there are some exceptions:
Under the FLSA, if these expenses affect the salary basis test or minimum wage earnings, employers may be responsible for reimbursement.
Relevant laws in some states may require a different strategic plan of action, particularly: California, Illinois, New Hampshire, Massachusetts and Pennsylvania.
Discrimination & harassment
Harassment, bullying, and unfair treatment can still occur during remote work, and employers cannot forget their obligation to review employee concerns.
Liability laws: In general, companies will be held vicariously liable for unlawful discrimination or harassment by a supervisor, but if the conduct is by a co-worker, the employer is liable only to the extent it was negligent in discovering the behavior and taking action to end it.
Training opportunities: All employees can benefit from training on avoiding discriminatory behavior, but employers should be particularly sure to provide training to those who are supervising others in states such as California, New York and Connecticut, where training on sexual harassment is mandated.
Disability accommodations
A remote work policy cannot treat employees differently on the basis of disability – this means employers should not ask employees who disclose they have a medical condition to work in the office or to work remotely based on an assumption the person cannot work in the other locale. Other factors to consider include:
As you re-open to allow in-person work, it is important to balance the needs of employees who wish to remain in a remote setting due to pre-existing conditions such as asthma. We recommend reviewing the most up-to-date guidance from the Equal Employment Opportunity Commission on appropriate accommodations: https://www.eeoc.gov/
For any remote employees seeking assistance under the Americans with Disabilities Act, a process should be established within your organization to assess and assist a strategic work plan for them.
Worker safety & compensation
Although your employees may be virtual, courts will consider remote workers at home to be on the employer's work premises when determining whether an injury is compensable under workers compensation laws, even though the employer has no direct control over that environment. What does this mean for your business?
OSHA obligations: Under OSHA, employers are required to provide a safe workplace, even if that isn't in the normal place of business operations. Review whether employees, especially if they must travel, have safety options such as PPE, paper towels, and hand sanitizer with at least 60 percent alcohol.
Remote injuries: A recent court case found that injuries resulting from a trip over the family dog while in the middle of a work task could be compensable. It's hard to control for that sort of situation, but given the obvious risk of ergonomic injury for employees who work on keyboards, consider conducting virtual reviews of an ideal home office set-up for your team.
As employee workforce ebbs and flows during COVID-19, the impacts of virtual workspaces extend to new hire procedures, protected leave plans, and future furloughs. Stay informed on the latest FMLA and federal legislation in these key areas:
Hiring: At will offers are key to maintaining flexibility during such a tumultuous time. Employers should be careful they do not enter into an employment contract when offering a position. As a general rule of thumb, new employees are obligated to produce proof of citizenship or work authorization in person, unless your workplace is fully remote.
Leave of Absence: Remote employees still have the ability to take protected leave under FMLA, the ADA, or state law depending on your business. Employees will also have the right to take paid leave under FFCRA (until the end of 2020 absent an extension), state law in certain cases, or leave pursuant to a short-term or long-term disability plan. [USERRA]
Reduction in Force: If you are executing a RIF to save costs, remember to consider requirements under federal WARN (which generally requires 60 days' notice where there are mass layoffs, among other events) or mini WARN requirements under certain state laws. Similarly, when making alternate cost-saving measures (such as reduction of hours and furloughs, consider UC and FLSA responsibilities as well as potential WARN issues.
This website is general in nature, and is provided as a courtesy to you. Information is accurate to the best of Liberty Mutual's knowledge, but companies and individuals should not rely on it to prevent and mitigate all risks as an explanation of coverage or benefits under an insurance policy. Consult your professional advisor regarding your particular facts and circumstance. By citing external authorities or linking to other websites, Liberty Mutual is not endorsing them.