3 MIN READ
Published 08/25/2020
Addressing emerging risks with evolving innovation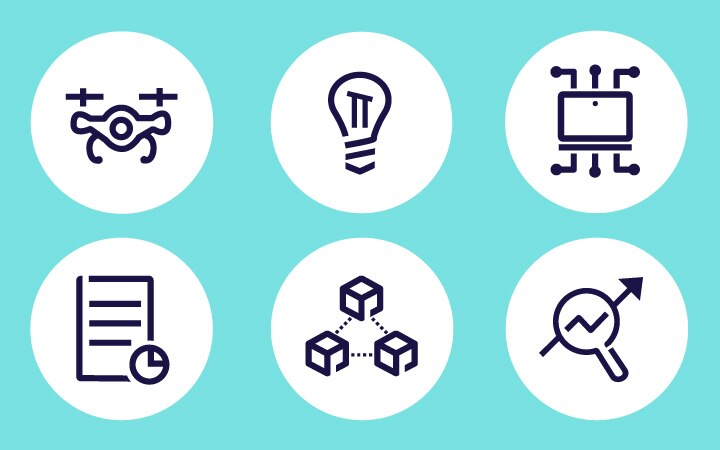 Innovation has become as much a part of business as financial forecasting or sales enablement – and insurance is no exception.
But in a field where risks are anything but abstract, it's important to understand what the practical impacts of innovation are today and could be tomorrow. That's why Liberty Mutual Insurance has created an innovation team exclusively focused on the needs of midsize and large companies facing both familiar and novel risks. In today's constantly changing business environment, smart risk-taking is a must to innovate and compete.
"Our team's purpose is to foster strategic risk-taking and accelerate growth – within our customers' operations and our own," says Brendan Smyth, Senior Vice President and Product Manager, Global Innovation and Insights, Liberty Mutual Insurance.
We embrace a pioneering approach to innovation seasoned with pragmatic accountability. To best support our customers, we want to anticipate the consequences of innovation and find —and fund —genuinely useful innovations.

-Brendan Smyth, Senior Vice President and Product Manager, Global Innovation and Insights, Liberty Mutual Insurance
At the highest level, the group is most concerned with two dimensions: 1) preparing for future developments, and 2) strengthening Liberty Mutual's existing offerings.
Future developments for new, shifting, and growing risks
The innovation team is concentrating on three areas:
Anticipating the impact of new trends and technologies on your industry, specific operation, and unique needs
Preparing ourselves and customers for the future: where risk is shifting and growing, particularly in exposures to cyber, business interruption, and reputational risk
Developing new products, services, and business models
An example comes from Liberty Mutual's cross-functional Mobility team, which brings together underwriting, claims, and other subject matter experts from across the organization. The team gains insights from the personal and commercial insurance areas in order to study the latest mobility trends and identify the unique liability and risk challenges in this evolving sector. The company's commitment to this new mobility ecosystem is very real – Uber, Care by Volvo, Turo, and Outdoorsy are mobility clients.
Evolving our offerings to address unmet needs
By continuously examining changing market and risk trends, the innovation team can anticipate and help address currently unmet needs through:
Ensuring our existing products can meet current and emerging demands, and creating new risk solutions for the remaining gaps
Exploring new markets and business models opened by new technologies, changing regulations, and other developments
Encouraging innovation and collaboration through our new academic and business partnerships
"We're putting our commitments into action. Liberty Mutual has formed a five-year, $25 million collaboration with MIT to support artificial intelligence (AI) research to accelerate the application of AI to business and industry," says Smyth. "We're also partnering with Edge Case Research and Underwriters Laboratories to determine the risks and define safety standards to advance the progress of autonomous vehicle technology, along with our efforts with Partners for Automated Vehicle Education (PAVE) to educate the general public on this emerging technology."
And Liberty Mutual continues to put its innovative approach in action, focusing on these current and upcoming initiatives:
Enhancing resiliency and accelerating understanding of climate risk for our construction customers through our partnership with Jupiter Intelligence, a global leader in predicting, managing, and mitigating climate risks through probabilistic climate risk data
Expanding our parametric insurance solution to the U.S. market. As part of the offering, a pre-determined payment is made if a triggering event (such as severe weather) occurs and is expected to cause a loss.
Offering employee assistance program (EAP) services in partnership with Magellan Healthcare to help companies better manage stressors that can affect employee mental health and wellbeing — such as pandemic-related issues and opioid prescription misuse — so they can maintain productivity and lower total cost of risk.
Creating a new way for our team, customers, and research partners to more readily connect and interact with each other. For example, we are collaborating with some of our customers and MIT to explore risk management challenges presented by new technology and AI.
"We are excited about these initiatives, but they are just the beginning — innovation never ends," explains Smyth. The most impactful innovations aren't created in silos; they materialize when individuals, teams, and organizations with different perspectives come together to address shared challenges and needs. "We look forward to engaging with our customers on this journey as we pursue creative ways to meet new and emerging demands."
This website is general in nature, and is provided as a courtesy to you. Information is accurate to the best of Liberty Mutual's knowledge, but companies and individuals should not rely on it to prevent and mitigate all risks as an explanation of coverage or benefits under an insurance policy. Consult your professional advisor regarding your particular facts and circumstance. By citing external authorities or linking to other websites, Liberty Mutual is not endorsing them.