4 MIN READ
Published 11/30/2020
3 impacts of long-term COVID-19 on workers comp claims healthcare employers need to know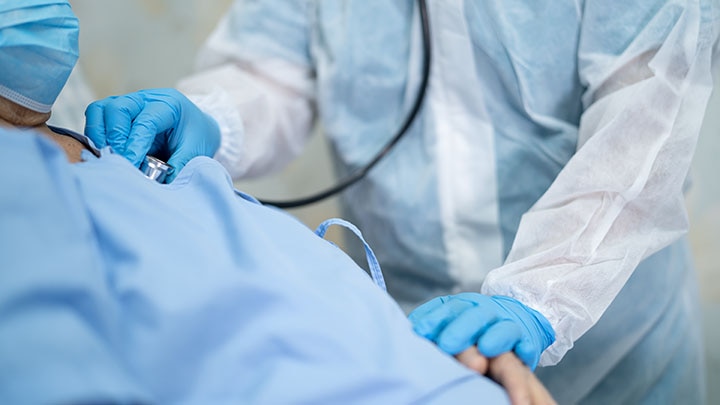 While hospitals, long term care providers, and other medical professionals have faced a range of issues as a result of the COVID-19 pandemic, a new concern facing healthcare employees and employers is beginning to gain attention. The long-term impact of the virus is complicating injured worker recoveries, causing staffing constraints in hospitals, and hampering insurers and insureds' ability to project claim costs.
It's become clear, for example, that a growing number of patients will experience mild to moderate symptoms for a prolonged period of time, according to an article published by the University of California Davis detailing what's being referred to as "Long COVID" or "long hauler" patients. Research suggests that certain patients experience an expanding array of potentially chronic symptoms, including health impacts that may surface later. With the relatively high concentration of COVID-19 workers compensation claims in the healthcare industry, it's an important development to monitor.  Here are three things healthcare employers should know and prepare for, as the uncertainty of long-term COVID-19 continues to be studied and evaluated.
1. COVID-19 claims are likely to be unique, not straightforward
With all the uncertainties of COVID-19, a common denominator seems to be that it can affect everyone differently. While some people return to normal fairly quickly, others experience a volatile recovery that includes relapses, and can take several weeks. According to The Journal of the American Medical Association:
Roughly 10% of COVID patients experience prolonged symptoms
Even among those that experience mild symptoms, over 33% of patients had not recovered fully two to three weeks after testing positive
In one study 87% reported the persistence of at least one symptom
Because COVID-19 is such a new disease, little is known so far about what's causing the persistence of symptoms or the appearance of new ones – and what's hindering full recovery. Among the longer-term health problems associated with COVID-19 are shortness of breath, fatigue, cognitive issues, cardiovascular effects, gastrointestinal issues, low-grade fever, intolerance to physical or mental activity, and muscle and joint pains.
This means that each COVID-19 occurrence may have distinct consequences – continuing to challenge risk-planning and complicating claim-cost calculations over the long term.
One study finds that the chance of full recovery from COVID-19 infection by day 50 is less than 20% for patients with prolonged symptoms.
2. COVID-19 claims may have long tails, with full impact unknown until later
Because some healthcare employers have scaled back operations at various points of the pandemic with workers logging fewer hours, working remotely, or being furloughed, they may see a modest decrease in the number of annual workers compensation claims, and, as noted above, the majority of COVID-19 claims have not been severe.
But concerns remain about the potential challenge that both employers and insurers may face with the long-tail nature of COVID-19 claims. According to the "2020 State of the Line Guide" by the National Council on Compensation Insurance (NCCI), there are several aspects that could easily extend active claims. The report highlights COVID-19 claim-duration predictions; among them:
Severity of illness will dictate costs – from low-cost medical care to treat mild symptoms, to hospital stays and/or extended rehabilitation for more serious cases;
Delayed medical care and physical therapy for other non-acute conditions may contribute to injury creep – extending claim duration and putting upward pressure on costs; and
Some COVID-19 claims may also involve a mental component and could require temporary or long-term treatment.
The still-evolving long-tail nature of these claims means that premiums collected today must cover losses for years to come. And that could have a significant impact in terms of the cost of insurance.
The still-evolving long-tail nature of certain COVID claims means that premiums collected today must cover losses for years to come.
3. COVID-19 experiences pose challenges to return-to-work norms and staffing
A key part of managing workers compensation costs is ensuring timely medical care in order to support return to work as quickly and safely as possible after recovery. But with delays and reductions in elective procedures, as well as patients delaying care and reducing their healthcare spending, the industry has seen broad furloughs and layoffs; workers on leave may not have jobs to which they can return. Fewer return-to-work and light-duty opportunities may be available, which could also boost claim duration.
In critical industries like healthcare, longer periods of absence due to longer-term illness and recovery present special concerns – potentially compounding the staffing shortages, burnout, and credentialing issues already being experienced due to the elevated care demands that the pandemic has created.
In a recent survey by Milliman, more than 40% of hospital, clinic, home care, and long-term care organizations are encouraging employees who test positive for COVID-19 to apply for workers compensation if there is known occupational exposure. About 32% are providing other leave benefits such as quarantine pay and short-term housing.
To ensure adequate staffing in departments dealing directly with COVID-19 patients, 56% of the healthcare organizations polled say they've shifted their staff to COVID-19 priorities. Some say they are asking for voluntary floats, while others are reassigning non-essential staff, Milliman reports.
Monitoring a changed environment
When assessing the potential longer-term COVID impact, many factors play a role in affecting your organization's claims experience. As you continue to navigate risk management during this time, make sure you partner with your insurer. If you haven't reached out already, now is the time. Liberty Mutual's team of workers compensation experts have experience with other historical global infectious disease investigations and can offer insights to help predict and balance potential long-term impacts. Learn more about our COVID-19 claims handling and care here.
This website is general in nature, and is provided as a courtesy to you. Information is accurate to the best of Liberty Mutual's knowledge, but companies and individuals should not rely on it to prevent and mitigate all risks as an explanation of coverage or benefits under an insurance policy. Consult your professional advisor regarding your particular facts and circumstance. By citing external authorities or linking to other websites, Liberty Mutual is not endorsing them.