4 MIN READ
Published 06/12/2023
11 growing public entity risks in 2023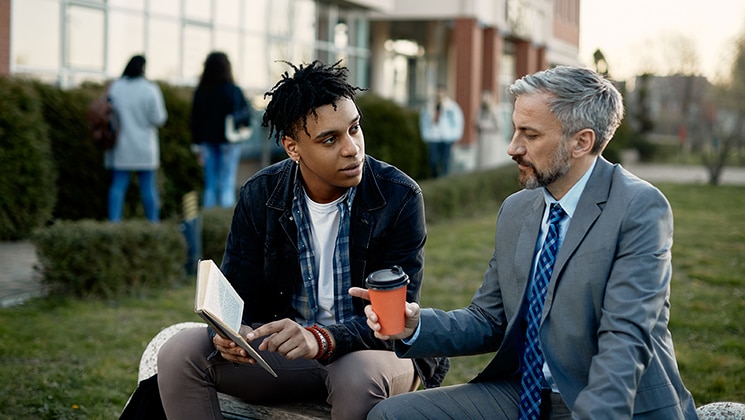 Every day, schools and government entities are tasked with important work. At the same time, they must face risks like violent incidents, bullying, aging infrastructure, cyberattacks and more. The good news is that by understanding the unique issues and challenges they may be up against, public entities will be in a better position to help mitigate their potential risk exposure. The following 11 emerging risks are some of the top concerns facing public entities today.
While only the most extreme violent event headlines grab public attention, statistics indicate violent events are on the rise. Research from the FBI shows a steady increase in both incidents and casualties over the past two decades1. This is why it is imperative to plan for the unthinkable. These four general steps can help public entities build a team, plan, communicate, train, and audit policies for threats.
Public school educators are feeling burned out, creating massive staffing shortages with 55 percent of educators reporting they are ready to leave their position.2 While emerging educator shortages predate the pandemic, they have expanded in the last few years to other positions such as nurses, bus drivers, and support staff. States and cities across the country have also experienced loss in the broader public workforce and are finding it difficult to fill the vacancies. The impact is being felt in every area, from critical public health and safety to rail dispatchers and even first responders3.
3. Law enforcement changes
Law enforcement and policing are experiencing major shifts in how services are mobilized and provided. Staffing shortages, changing public sentiment toward the police, and increased violence are a few of the critical trends impacting law enforcement4. In addition, body and vehicle cameras have been used to help improve officer safety, increase quality of evidence, and reduce agency liability.
Bus driver shortages are not just impacting schools: they are challenging all transportation agencies. More than 70 percent of transit agencies have reported having to cut or delay service due to worker shortages5 Across the United States, the government sector owns and operates almost 650,000 vehicles6. This makes it essential to ensure new drivers receive training and fleet management procedures are in place. Motor vehicle accidents are the leading cause of deaths at work. Of those deaths in 2020, 56 percent were not employed in positions where operating a motor vehicle was their primary responsibility.7
Mounting evidence suggests that bullying in schools can have long-lasting effects on victims' mental, social, academic, and physical health. What's more, it can impact both those that are targeted and others in the environment who witness it going on. This is why it is imperative that bullying awareness and prevention remain top of mind and incorporated into risk-management strategies.
Whether your organization serves the public in a government, educational, or service role, today's public entities face growing and unique risks when it comes to confronting and combating sexual misconduct. It is critical to have procedures in place to manage reports, accusations, and investigations. Each institution's policy should detail how allegations must be reported, to whom, the specific steps of the investigation process, and how the results of the investigation will be communicated.
7. Cyberattacks and ransomware
Schools and local governments have a large amount of data and often limited defenses, which can leave them vulnerable to hackers. According to the 2023 Security Report, cyberattacks were at an all-time high and rose 38 percent over 2021.8 In 2021, the K-12 Cybersecurity Act was initiated specifically to study the risks facing elementary and secondary schools.9
In September 2022, Suffolk County, New York, faced a malicious ransomware attack that forced it to go offline. Beyond the personal information that had been stolen, the county was forced to write paper checks, emergency dispatchers were taking 911 calls by hand, and office workers were dusting off fax machines.10
There are approximately 100,000 public school buildings in the U.S., with 56.8 million students projected by 2026. In addition to learning, these buildings serve a variety of student and civic needs, including hosting sporting events, community gatherings, and even serving as emergency shelters. And yet, estimates suggest more than half of districts need to update or replace multiple building systems ꟷ a challenging prospect when state capital funding for schools has been decreasing.
Looking beyond schools, the American Society of Civil Engineers gave the United States an overall infrastructure grade of C- in its latest report card. In the U.S., there is a water main break every two minutes, 43 percent of roads are in poor or mediocre condition, and the number of high-hazard dams in deficient condition exceeds 2,300.11
Economic conditions and construction costs are rapidly changing, making it more important than ever to ensure property values are accurately reflected on your insurance policies. Construction costs have increased, driven by higher material costs, labor shortages, and supply chain disruptions. If property valuations are not reviewed annually and updated, public and private institutions are at risk for serious financial difficulty in the event of damage or loss.
10. Biometric privacy laws
Public entities, including schools, are similar to many other organizations that use biometrics.
With the new state laws regulating biometrics, administrators must understand the privacy laws that apply to their state and ensure compliance to avoid potentially costly class action lawsuits.12 It's important for administrators to understand the privacy laws that apply to their state and to have a plan in place for compliance.
11. Increased employment-related litigation
Lawsuits stemming from age discrimination, harassment, wrongful termination, failure to promote, and other employment-related charges remain key concerns for public entities. In 2022, the EEOC filed 73,485 workplace discrimination charges against both public and private entities, securing $382 million in monetary benefits for victims. To help minimize litigation risks, attention should be placed on HR and legal compliance, as well as fundamental workplace due process.13
Prepared to handle public entity risks
It's important for schools and government entities to be aware of potential risk factors so they know how to anticipate, mitigate, and respond to protect their communities better. Working with a trusted insurer can help them prepare for the unexpected.
To learn more about how Liberty Mutual supports schools and other government organizations, visit our public entity page.
This website is general in nature, and is provided as a courtesy to you. Information is accurate to the best of Liberty Mutual's knowledge, but companies and individuals should not rely on it to prevent and mitigate all risks as an explanation of coverage or benefits under an insurance policy. Consult your professional advisor regarding your particular facts and circumstance. By citing external authorities or linking to other websites, Liberty Mutual is not endorsing them.