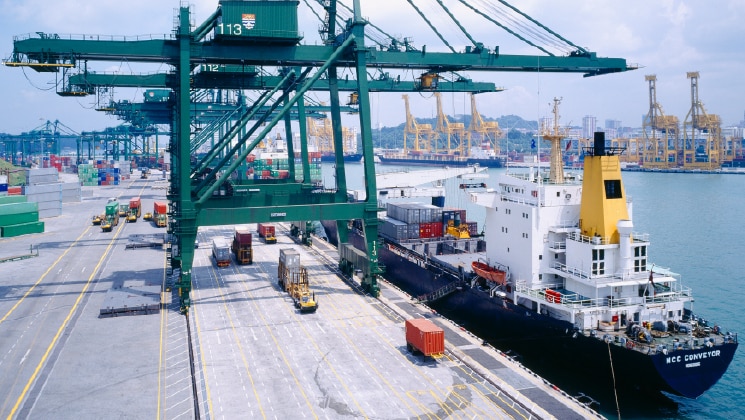 For maritime liability risks
There are a variety of risks facing marine companies today. Whether they're occurring on the water or at the dock, these incidents can result in property damage or bodily injury to third parties. Our marine liability solutions can help protect against related claims and costly lawsuits that can affect a company's reputation, bottom line, and operations.
A protective partnership
Solutions for complex risks
The specialized world of maritime business faces risks and challenges unlike any other. That's why the world's ports and their operators, cargo owners, vessel operators, transporters, and shipbuilders rely on our maritime liability solutions to help protect their operations.
Key coverage highlights:
Primary capacity up to $5M
Comprehensive general liability coverage including product and completed operation for marine risks (marine general liability)
Stand-alone marine liability for stevedores, wharfingers, ship repairers, and terminal operators
Care, custody, and control exposures
Sudden and accidental pollution coverage
Worldwide coverage
Annual and multiyear policy options
Excess and bumbershoot capacity up to $25M
Bumbershoot liability
Excess liability; can also include auto liability
And every policy is backed by the financial strength, security, and capacity of a Fortune 100 company. 
When you work with us, you'll benefit from dedicated marine underwriters who have the industry expertise and local underwriting authority to tailor coverage to meet your needs. Located across the country, they understand liability risks facing maritime business owners and operators.
Add our dedicated marine risk engineering and surveying teams that can help identify exposures, quantify costs, and recommend practical solutions along with local marine claims specialists who are focused on helping your business recover.
We combine this expertise with a customer-centric service approach that keeps your risk-management goals top of mind and helps lower your total cost of risk.
Better control over claims
Claims of damage to a client's property or injury to a third party can result in costly jury awards or out-of-court settlements – and distract from your business priorities. Our dedicated marine claims team focuses on resolving claims quickly, limiting litigation, and controlling costs.
Our people are at the core of our success, and we empower them to make decisions and do their best for our customers every day. You'll work with claims specialists with deep maritime experience who will:
Deliver expert support and service
Issue payments in a timely manner
Leverage our worldwide claims, legal, and subrogation networks
If you experience a loss, we're ready to help. Please contact us at marineclaims@libertymutual.com.
This website is intended to be informational. Descriptions are provided only as a summary outline of the products and services available and are not intended to be comprehensive and do not constitute an offer to sell or a solicitation. The products and services described may not be available in all states or jurisdictions. See your policy, service contract, or program documentation for actual terms, conditions, and exclusions. Any inquiries regarding the subject matter set forth herein should be directed through licensed insurance professionals.
Coverage and insurance are provided and underwritten by Liberty Mutual Insurance Company or its affiliates or subsidiaries. When we offer insurance products, we will state clearly which insurer will underwrite the policy. Some policies may be placed with a surplus lines insurer. Surplus lines insurers generally do not participate in state guaranty funds and coverage may only be obtained through duly licensed surplus lines brokers.