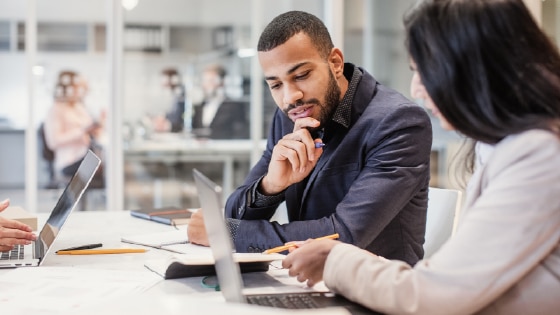 Agent and broker dashboard
Proud to be your partner
Strong relationships are the foundation of everything we do. As a global carrier comprising regional and local teams, we value the relationships we've built with agents and brokers worldwide. We'll stand beside you, driving relentlessly toward a single goal: better protection for your clients. Learn more about the tools and resources available to you and how we can work together.
Midsize and large brokers — property and casualty
At Liberty Mutual, we're ready to partner with you to provide your clients tailored coverages, expert services, and industry-specific strategies – all in one place. With a strong understanding of the marketplace and a holistic approach, we're here to make your job easier. Let's do something great together.
Get in touch
Let's work together! Contact your underwriter or a member of our distribution team.
Small commercial agents and brokers — property and casualty
With the right kind of support, you can do more for your small business clients. That's why at Liberty Mutual, we make sure you've got the technology, services, and local expertise you need, with the flexibility to work the way you want.
---
Helping you succeed website
Designed with small commercial agents and brokers in mind, this website offers valuable information to help you navigate our available resources and technology so you can manage your agency as efficiently and profitably as possible.
---
Surety agents and brokers
At Liberty Mutual, we strive to be trusted advisors to our agents and brokers. We work with you to provide custom bond solutions for you and your clients and offer continuing education courses, research, thought leadership, and state-of-the-art bond technology.
Need access or forgot your username and password?
Contact your agency administrator or the Liberty Mutual Surety Agency Interface Support Group at 866-773-4495.
National Bond Center
Our National Bond Center (NBC) provides responsive and flexible service for your customers' bond obligations. Our NBC underwriters understand your time-sensitive and specialized needs and have the expertise to assist with a variety of transactional commercial bonds, including fidelity and probate, as well as transactional bonds for smaller contractors.
Our NBC team is available Monday through Friday, 8 a.m. to 7:30 p.m. ET. We look forward to hearing from you at 1-888-844-2663 or via email at bonds@libertymutual.com.
This website is intended to be informational. Descriptions are provided only as a summary outline of the products and services available and are not intended to be comprehensive and do not constitute an offer to sell or a solicitation. The products and services described may not be available in all states or jurisdictions. See your policy, service contract, or program documentation for actual terms, conditions, and exclusions. Any inquiries regarding the subject matter set forth herein should be directed through licensed insurance professionals.
Coverage and insurance are provided and underwritten by Liberty Mutual Insurance Company or its affiliates or subsidiaries. When we offer insurance products, we will state clearly which insurer will underwrite the policy. Some policies may be placed with a surplus lines insurer. Surplus lines insurers generally do not participate in state guaranty funds and coverage may only be obtained through duly licensed surplus lines brokers.