All in with Liberty Mutual Speaker Series
We're excited to announce our 2021 speaker series, All in with Liberty Mutual – virtual sessions designed to inform and inspire.
All in will cover…well, all you need!
From current industry topics and the future state of insurance to inspiration from distinguished speakers outside the industry, All in with Liberty Mutual gives you all you need, all in one place.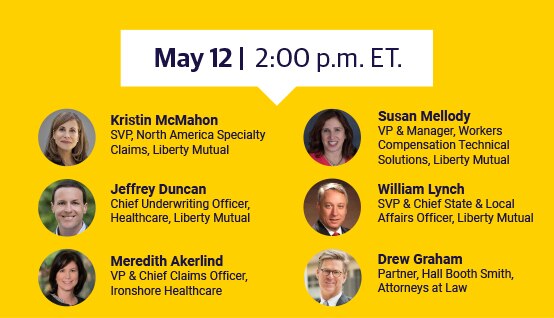 Litigation for Healthcare Providers
COVID-19 has created a host of novel legal concerns for healthcare providers, with varying levels of state and federal liability protections, along with compensability presumptions for workers compensation. From litigation fears to new risk management strategies, our panel of dedicated experts will discuss the state of the industry and how to help healthcare providers navigate these new pathways.
Economy and Macro Trends
Liberty Mutual Chief Investment Officer Neeti Bhalla Johnson will share her insights on the economy with an eye on trends and transitions facing businesses and economies. From geopolitical tensions and tech wars to generational shifts and the future of insurance, she will cover a lot of content during this not-to-be-missed webinar.